LOS ANGELES QUOTES
quotations about Los Angeles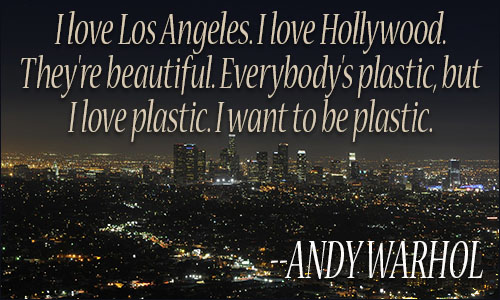 I love Los Angeles. I love Hollywood. They're beautiful. Everybody's plastic, but I love plastic. I want to be plastic.
ANDY WARHOL, attributed, The Mammoth Book of Zingers, Quips, and One-Liners
1 likes
---
Fall is my favorite season in Los Angeles, watching the birds change color and fall from the trees.
DAVID LETTERMAN, The Late Show with David Letterman
1 likes
---
New York is one of the capitals of the world and Los Angeles is a constellation of plastic.
NORMAN MAILER, Miami and the Siege of Chicago
1 likes
---
Los Angeles: where dreams go to make movies about themselves dying.
LIZ FELDMAN, Los Angeles Magazine, Jun. 2005
1 likes
---
No second chances in the land of a thousand dances, the valley of ten million insanities.
RY COODER, Los Angeles Stories
1 likes
---
Los Angeles is just New York lying down.
QUENTIN CRISP, attributed, 1001 Greatest Things Ever Said about California
1 likes
---
In Los Angeles you get the sense sometimes that there's a mysterious patrol at night: when the streets are empty and everyone's asleep, they go erasing the past. It's like a bad Ray Bradbury story.
CARLOS RUIZ ZAFON, The Independent, Jun. 24, 2012
0 likes
---
Of all the Christbitten places in the two hemispheres, [Los Angeles] is the last curly kink in the pig's tail.
STEPHEN VINCENT BENET, attributed, Halliwell's Filmgoer's Companion
0 likes
---
Los Angeles is one of those places where somebodies become nobodies and nobodies become somebody.
CARLOS RUIZ ZAFON, The Independent, Jun. 24, 2012
0 likes
---
These days, the City of Angels wasn't the easygoing place it had once been--and the hope of actually finding anyone living even an approximation of an angelic existence was slim indeed. Devils, yes: Those were relatively easy to locate.
DEAN KOONTZ, Dark Rivers of the Heart
0 likes
---
Los Angeles is seven suburbs in search of a city.
ALFRED HITCHCOCK, attributed, The Mammoth Book of Great British Humour
0 likes
---
Los Angeles is the home of the three little white lies: "The Ferrari is paid for," "The mortgage is assumable," and "It's just a cold sore!"
MILTON BERLE, Los Angeles Magazine, Jun. 2005
0 likes
---
To live sanely in Los Angeles ... you have to cultivate the art of staying awake. You must learn to resist (firmly but not tensely) the unceasing hypnotic suggestions of the radio, the billboards, the movies and the newspapers; those demon voices which are forever whispering in your ear what you should desire, what you should fear, what you should wear and eat and drink and enjoy, what you should think and do and be.
CHRISTOPHER ISHERWOOD, "Los Angeles", Horizon, Oct. 1947
0 likes
---
I'd move to Los Angeles if New Zealand and Australia were swallowed up by a tidal wave, if there was a bubonic plague in England and if the continent of Africa disappeared from some Martian attack.
RUSSELL CROWE, attributed, 1001 Greatest Things Ever Said about California
0 likes
---
I spoke with the crows before leaving for Los Angeles. They were the resident storytellers whose strident and insistent voices added the necessary dissonance for color. They had cousins in California, and gave me their names and addresses, told me to look them up. They warned me, too, what they had heard about attitude there. And they were right. Attitude was thick, hung from the would-be's and has-beens and think-they-ares, so thick that I figured it was the major source of the smog.
JOY HARJO, "The Power of Never", How We Became Human: New and Selected Poems 1975-2002
0 likes
---
L.A. is the loneliest and most brutal of American cities; New York gets godawful cold in the winter but there's a feeling of wacky comradeship somewhere in some streets. L.A. is a jungle.
JACK KEROUAC, On the Road
0 likes
---
Just as the gladiators laid bare the mentality of the Romans, L.A.'s obsession with dramatic freeway chases may reveal a scar at the bottom of our collective psyche.
GREGORY RODRIGUEZ, "Freeway Radicals", Los Angeles Magazine, May 1998
0 likes
---
I think it's only right that crazy people should have their own city, but I cannot for the life of me see why a sane person would want to go there.
BILL BRYSON, The Lost Continent
0 likes
---
I'm in Los Angeles today;
garbage cans comprise the medians
of freeways always creeping
even when the population's sleeping.
And I can't see why you'd want to live here.
DEATH CAB FOR CUTIE, "Why You'd Want to Live Here", The Photo Album
0 likes
---
As I holed up in the City of Angels, I was also aware of a comforting feeling of anonymity. In the world's biggest third-class city I could pass unnoticed. I spoke the language. I was familiar with the currency. I could drink the water. I could almost breathe the air, late April air, compounded of interesting hydrocarbons.
JOHN DANN MACDONALD, A Deadly Shade of Gold
0 likes
---