LOSS QUOTES
quotations about loss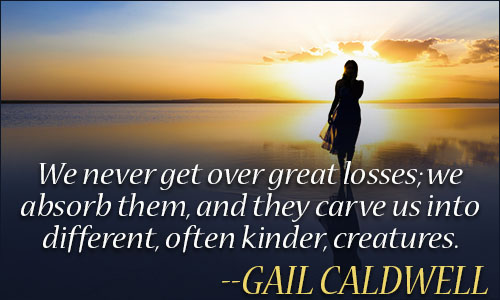 Don't grieve. Anything you lose comes round in another form.
RUMI, attributed, The Philosophy Book
4 likes
---
Anyone who has lost something they thought was theirs forever ... finally comes to realise that nothing really belongs to them.
PAULO COELHO, Eleven Minutes: A Novel
2 likes
---
Whoever said that loss gets easier with time was a liar. Here's what really happens: The spaces between the times you miss them grow longer. Then, when you do remember to miss them again, it's still with a stabbing pain to the heart. And you have guilt. Guilt because it's been too long since you missed them last.
KRISTIN O'DONNELL TUBB, The 13th Sign
2 likes
---
The fear of loss is a path to the Dark Side.
YODA, Star Wars Episode III: Revenge of the Sith
1 likes
---
Take care to sell your horse before he dies. The art of life is passing losses on.
ROBERT FROST, "The Ingenuities of Debt"
1 likes
---
The loss which is unknown is no loss at all.
PUBLILIUS SYRUS, Maxims
1 likes
---
We lost not only through death, but also by leaving and being left, by changing and letting go and moving on. And our losses include not only our separations and departures from those we love, but our conscious and unconscious losses of romantic dreams, impossible expectations, illusions of freedom and power, illusions of safety -- and the loss of our own younger self, the self that thought it would always be unwrinkled and invulnerable and immortal.
JUDITH VIORST, introduction, Necessary Losses
1 likes
---
Oh, everything is gorgeous once it's gone.
GREGORY MAGUIRE, Wicked
1 likes
---
We must know the pain of loss; because if we never knew it, we would have no compassion for others, and we would become monsters of self-regard, creatures of unalloyed self-interest. The terrible pain of loss teaches humility to our prideful kind, has the power to soften uncaring hearts, to make a better person of a good one.
DEAN KOONTZ, The Darkest Evening of the Year
1 likes
---
If we do not suffer a loss all the way to the end, it will wait for us. It won't just dissipate and disappear. Rather, it will fester, and we will experience its sorrow later, in stranger forms.
ELIZABETH LESSER, Broken Open: How Difficult Times Can Help Us Grow
1 likes
---
Little soul,
you have wandered
lost a long time.
The woods all dark now,
birded and eyed.
Then a light, a cabin, a fire, a door standing open.
JANE HIRSHFIELD, "Amor Fati"
1 likes
---
Regret is ... an unavoidable result of any loss, for in loss we lose the tomorrow that we needed to make right our yesterday or today.
GERALD LAWSON SITTSER, A Grace Disguised
0 likes
---
I never seem to have anything that if I lost it I'd care too much about.
J. D. SALINGER, The Catcher in the Rye
0 likes
---
Loss is the hardest thing ... but it's also the teacher that's the most difficult to ignore.
DEAN KOONTZ, Odd Hours
0 likes
---
Nothing that grieves us can be called little: by the eternal laws of proportion a child's loss of a doll and a king's loss of a crown are events of the same size.
MARK TWAIN, "Which Was the Dream?"
0 likes
---
Only loss teaches us about the value of things.
ARTHUR SCHOPENHAUER, Aphorismen zur Lebensweisheit
0 likes
---
'Tis better to have loved and lost
Than never to have loved at all.
ALFRED TENNYSON, "In Memoriam A.H.H."
0 likes
---
You snooze, you lose.
AMERICAN PROVERB
0 likes
---
It's only after we've lost everything that we're free to do anything.
CHUCK PALAHNIUK, Fight Club
0 likes
---
For 'tis a truth well known to most,
That whatsoever thing is lost,
We seek it, ere it comes to light,
In every cranny but the right.
WILLIAM COWPER, The Retired Cat
0 likes
---