LOVE QUOTES
quotations about love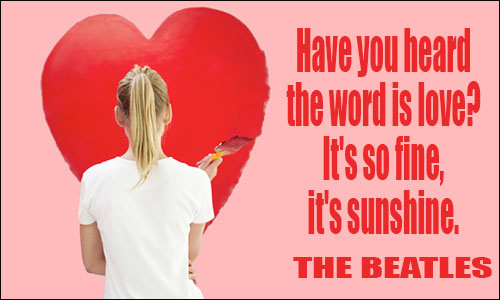 Love is jealous that any should come before her, or after. She would be all in all. If a man will trust her and live in her, he shall know all things.
JENNETTE LEE, The Ibsen Secret
175 likes
---
Friendship often ends in love; but love in friendship -- never.
CHARLES CALEB COLTON, Lacon
115 likes
---
Love never dies a natural death. It dies because we don't know how to replenish its source. It dies of blindness and errors and betrayals. It dies of illness and wounds; it dies of weariness, of witherings, of tarnishings.
ANAIS NIN, Cities of the Interior
68 likes
---
Love your enemies.
BIBLE, Matthew 5:44
50 likes
---
Everyone has a right to love and be loved, and nobody on this earth has the right to tell anyone that their love for another human being is morally wrong.
BARBRA STREISAND, The Advocate, Aug. 17, 1999
45 likes
---
Love will not serve those who do not live for her, and in her, and to whom she is not the breath of life.
JENNETTE LEE, The Ibsen Secret
41 likes
---
When one loves somebody everything is clear -- where to go, what to do -- it all takes care of itself and one doesn't have to ask anybody about anything.
MAXIM GORKY, attributed, How to Achieve Peace of Mind
36 likes
---
Love and a cough cannot be hid.
GEORGE HERBERT, Jacula Prudentum
26 likes
---
They do not love that do not show their love.
WILLIAM SHAKESPEARE, The Two Gentlemen of Verona
24 likes
---
How do I love thee? Let me count the ways.
I love thee to the depth and breadth and height
My soul can reach.
ELIZABETH BARRETT BROWNING, Sonnets from the Portuguese
23 likes
---
Love is sweet torment.
ENGLISH PROVERB
23 likes
---
The course of true love never did run smooth.
WILLIAM SHAKESPEARE, A Midsummer Night's Dream
21 likes
---
Now do I know that Love is blind, for I
Can see no beauty on this beauteous earth,
No life, no light, no hopefulness, no mirth,
Pleasure nor purpose, when thou art not nigh.
Thy absence exiles sunshine from the sky,
Seres Spring's maturity, checks Summer's birth,
Leaves linnet's pipe as sad as plover's cry,
And makes me in abundance find but dearth.
But when thy feet flutter the dark, and thou
With orient eyes dawnest on my distress,
Suddenly sings a bird on every bough,
The heavens expand, the earth grows less and less,
The ground is buoyant as the ether now,
And all looks lovely in thy loveliness.
ALFRED AUSTIN, "Love's Blindness", Lyrical Poems
21 likes
---
Love ceases to be a pleasure, when it ceases to be a secret.
APHRA BEHN, The Lover's Watch, Four o'clock
18 likes
---
Seize the moments of happiness, love and be loved! That is the only reality in the world, all else is folly.
LEO TOLSTOY, War and Peace
17 likes
---
We don't believe in rheumatism and true love until after the first attack.
MARIE VON EBNER-ESCHENBACH, Aphorism
15 likes
---
Love rules his kingdom without a sword.
ITALIAN PROVERB
15 likes
---
Love doesn't just sit there, like a stone, it has to be made, like bread; re-made all the time, made new.
URSULA K. LE GUIN, The Lathe of Heaven
13 likes
---
As love is the most noble and divine passion of the soul, so is it that to which we may justly attribute all the real satisfactions of life, and without it, man is unfinished, and unhappy.
APHRA BEHN, The Fair Jilt
12 likes
---
Love, n. A temporary insanity curable by marriage or by removal of the patient from the influences under which he incurred the disorder. This disease is prevalent only among civilized races living under artificial conditions; barbarous nations breathing pure air and eating simple food enjoy immunity from its ravages. It is sometimes fatal, but more frequently to the physician than to the patient.
AMBROSE BIERCE, The Devil's Dictionary
12 likes
---