LUCK QUOTES
quotations about luck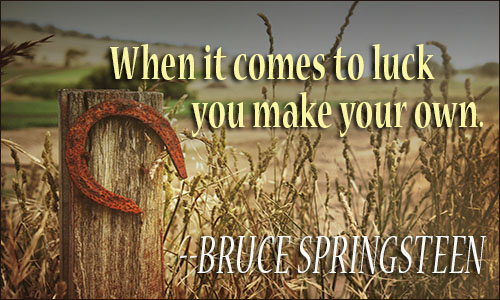 I find that the harder I work, the more luck I seem to have.
JOHN HEYWOOD, Proverbs
12 likes
---
People always call it luck when you've acted more sensibly than they have.
ANNE TYLER, Celestial Navigation
9 likes
---
Luck, good or bad, is the invisible play of mind upon affairs, the effect of mental aptitudes and habits which are not in sight, but which work and bring forth their due issues.
JAMES VILA BLAKE, Essays
8 likes
---
The lucky or successful person has learned a simple secret. Call up, capture, evoke the feeling of success. When you feel successful and self-confident, you will act successful. Define your goal or end result. Picture it to yourself clearly and vividly. Then simply capture the feeling you would experience if the desirable goal were already an established fact. Then your internal machinery is geared for success: to guide you in making the correct muscular motions and adjustments; to supply you with creative ideas, and to do whatever else is necessary in order to make the goal an accomplished fact.
MAXWELL MALTZ, Psychocybernetics
7 likes
---
Shallow men believe in luck ... strong men believe in cause and effect.
RALPH WALDO EMERSON, The Conduct of Life
6 likes
---
Luck is the savior for the few but a demon for the masses.
MICHAEL TITORENKO, Verses for the Down and Out
6 likes
---
Good luck is the twin brother of hard work.
ANONYMOUS, Paint, Oil and Drug Review, 1897
5 likes
---
Luck always seems like it belongs to someone else.
DAVID LEVIEN, City of the Sun
5 likes
---
No luck was dumb because luck was just another name for miracle.
MARGARET ATWOOD, The Year of the Flood
4 likes
---
You never know what worse luck your bad luck has saved you from.
CORMAC MCCARTHY, No Country for Old Men
4 likes
---
Good luck in most cases comes through the misfortune of others.
JACKIE STEWART, attributed, Reflections on Success
4 likes
---
I will ride my luck on occasion, but I like to pick the occasion.
REX STOUT, Might As Well Be Dead
3 likes
---
I've had bad luck and I've had good and neither one lasted long enough to dry spit.
JO CLAYTON, Diadem from the Stars
3 likes
---
Luck is looking for a needle in a haystack and coming out with the farmer's daughter.
PHYLLIS MARTIN, Quips, Quotes and Savvy Sayings
3 likes
---
Luck makes friends.
OVID, attributed, Day's Collacon
3 likes
---
Good luck is often with the man who doesn't include it in his plans.
ANONYMOUS
3 likes
---
The only sure thing about luck is that it will change.
BRET HARTE, "The Outcasts of Poker Flat"
2 likes
---
All psychological studies indicate that a person's luck is influenced by his state of mind.
JUNE SAWYER, Weekly World News, Jan. 26, 1999
2 likes
---
Indeed, there is hardly a word in the vocabulary which is more cruelly abused than the word "luck." To all the faults and failures of men, their positive sins and their less culpable shortcomings, it is made to stand a godfather and sponsor. We are all Micawbers at heart, fancying that "something" will one day "turn up" for our good, for which we have never striven. Go talk with the bankrupt man of business, who has swamped his fortune by wild speculation, extravagance of living, or lack of energy, and you will find that he vindicates his wounded self-love by confounding the steps which he took indiscreetly with those to which he was forced by "circumstances," and complacently regarding himself as the victim of ill-luck. Go visit the incarcerated criminal, who has imbrued his hands in the blood of his fellow-man, or who is guilty of less heinous crimes, and you will find that, slumping the temptations which were easy to avoid with those which were comparatively irresistible, he has hurriedly patched up a treaty with conscience, and stifles its compunctious visitings by persuading himself that, from first to last, he was the victim of circumstances. Go talk with the mediocre in talents and attainments, the weak-spirited man who, from lack of energy and application, has made but little headway in the world, being outstripped in the race of life by those whom he had despised as his inferiors, and you will find that he, too, acknowledges the all-potent power of luck, and soothes his humbled pride by deeming himself the victim of ill-fortune. In short, from the most venial offense to the most flagrant, there is hardly any wrong act or neglect to which this too fatally convenient word is not applied as a palliation. It has been truly said that there is a fine generality in the expression--a power of any meaning or no meaning--which fits it for all purposes alike. It is the great permanent non-papal, and self-granted indulgence of all mankind.
WILLIAM MATHEWS, "Good and Bad Luck", Hints on Success in Life
2 likes
---
The greatest advice that good luck has for you is this: "Do not look for me. I will find you."
MARK BENEDICT, The Method of Selling: Your Key to Successful Sales with Over 70 Creative Selling Techniques
2 likes
---