LUST QUOTES
quotations about lust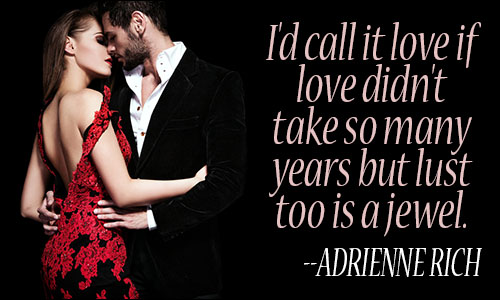 Lust is the craving for salt of a man who is dying of thirst.
FREDERICK BUECHNER, Beyond Words
8 likes
---
Lust is a sharp spur to vice, which always putteth the affections into a false gallop.
FRANCIS QUARLES, Emblems
5 likes
---
Lust, forgetful of future suffering, hurries us along the forbidden path.
CLAUDIAN, attributed, Day's Collacon
4 likes
---
People are distracted by objects of desire, and afterwards repent of the lust they've indulged, because they have indulged with a phantom and are left even farther from Reality than before. Your desire for the illusory is a wing, by means of which a seeker might ascend to Reality. When you have indulged a lust, your wing drops off; you become lame and that fantasy flees. Preserve the wing and don't indulge such lust, so that the wing of desire may bear you to Paradise. People fancy they are enjoying themselves, but they are really tearing out their wings for the sake of an illusion.
JALALUDDIN RUMI, The Pocket Rumi Reader
3 likes
---
Each of us is born with a box of matches inside us but we can't strike them all by ourselves.
LAURA ESQUIVEL, Like Water for Chocolate
3 likes
---
There is lust and then there is love. They are related, but still very different things. To indulge in one requires little but honeyed speech and a change of clothes; to obtain the other, by contrast, a man must give up his rib. In return, his woman will undo the sin of Eve, and bring him back into Paradise.
ANNE FORTIER, Juliet
3 likes
---
There is no disease so destructive as lust.
CHANAKYA, Vridda-Chanakya
2 likes
---
If they substituted the word "Lust" for "Love" in the popular songs it would come nearer the truth.
SYLVIA PLATH, The Unabridged Journals of Sylvia Plath
2 likes
---
Between the horses of love and lust we are trampled underfoot.
U2, "So Cruel", Achtung Baby
2 likes
---
Society drives people crazy with lust and calls it advertising.
JOHN LAHR, The Guardian, Aug. 1989
2 likes
---
Lust is an immoderate wantonness of the flesh, a sweet poison, a cruel pestilence; a pernicious poison, which weakeneth the body of man, and effeminateth the strength of the heroic mind.
FRANCIS QUARLES, Emblems
2 likes
---
Lust is a pleasure bought with pains, a delight hatched with disquiet, a content passed with fear, and a sin finished with sorrow.
DEMONAX, attributed, Day's Collacon
2 likes
---
Lusts are the cords with which Satan binds men; our fiery trials are God's messengers sent to loose these bands.
A. RITCHIE, attributed, Day's Collacon
2 likes
---
Lust is a mysterious wound in the side of humanity; or rather, at the very source of its life! To confound this lust in man with that desire which unites the sexes is like confusing a tumor with the very organ which it devours, a tumor whose very deformity horribly reproduces the shape.
GEORGES BERNANOS, The Diary of a Country Priest
2 likes
---
Lust is a tool, desire a trap. Wield the first, and you can take someone's soul. Fall into the second, and they can take yours.
RILEY SHANE, Blood Rose
2 likes
---
Disdain to warm thee at lust's smoky fires,
Scorn, scorn to feed on thy old bloat desires:
Come, come, my soul, hoist up thy higher sails,
The wind blows fair; shall we still creep like snails,
That glide their ways with their own native slimes?
FRANCIS QUARLES, Emblems
1 likes
---
Lust is the oldest lion of them all.
MARJORIE ALLEN SEIFFERT, "Lorenzo's Bas Relief for a Florentine Chest"
1 likes
---
Love is nothing but lust misspelled.
DAN SIMMONS, Olympos
1 likes
---
Lust is, of all the frailties of our nature, what most we ought to fear; the headstrong beast rushes along, impatient of the course; nor hears the rider's call, nor feels the rein.
NICHOLAS ROWE, The Royal Convert: A Tragedy
1 likes
---
Lust carries her sharp whip
At her own girdle.
JOHN WEBSTER, The White Devil
1 likes
---