MARTIN LUTHER QUOTES
German friar, priest and professor of theology (1483-1546)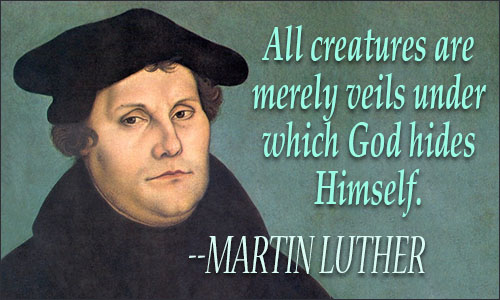 In the bonds of Death He lay
Who for our offence was slain;
But the Lord is risen to-day,
Christ hath brought us life again,
Wherefore let us all rejoice,
Singing loud, with cheerful voice,
Hallelujah!
MARTIN LUTHER, "In the Bonds of Death He Lay"
3 likes
---
Leave the ass burdened with laws behind in the valley. But your conscience, let it ascend with Isaac into the mountain.
MARTIN LUTHER, Commentary on the Epistle to the Galatians
3 likes
---
A lie is like a snow-ball; the longer it is rolled, the larger it is.
MARTIN LUTHER, Watchwords for the Warfare of Life
2 likes
---
Where the battle rages, there the loyalty of the soldier is proved.
MARTIN LUTHER, D. Martin Luther's Werke
1 likes
---
Our Lord has written the promise of resurrection, not in books alone, but in every leaf in springtime.
MARTIN LUTHER, attributed, The Lutheran Witness, 1935
1 likes
---
No greater mischief can happen to a Christian people, than to have God's word taken from them, or falsified, so that they no longer have it pure and clear. God grant we and our descendants be not witness to such a calamity.
MARTIN LUTHER, "Of God's Word", Table Talk
1 likes
---
That the Bible is God's word and book I prove thus: All things that have been, and are, in the world, and the manner of their being, are described in the first book of Moses on the creation; even as God made and shaped the world, so does it stand to this day. Infinite potentates have raged against this book, and sought to destroy and uproot it--King Alexander the Great, the princes of Egypt and of Babylon, the monarchs of Persia, of Greece, and of Rome, the emperors Julius and Augustus--but they nothing prevailed; they are all gone and vanished, while the book remains, and will remain for ever and ever, perfect and entire, as it was declared at the first.
MARTIN LUTHER, "Of God's Word", Table Talk
1 likes
---
We do not become righteous by doing righteous deed but, having been made righteous, we do righteous deeds.
MARTIN LUTHER, "Disputation against Scholastic Theology"
1 likes
---
The Clergy is the greatest hindrance to faith.
MARTIN LUTHER, Table Talk
1 likes
---
We must make a great difference between God's Word and the word of man. A man's word is a little sound, that flies into the air, and soon vanishes; but the Word of God is greater than heaven and earth, yea, greater than death and hell, for it forms part of the power of God, and endures everlastingly.
MARTIN LUTHER, "Of God's Word", Table Talk
1 likes
---
I cannot forbid a person to marry several wives, for it does not contradict Scripture.
MARTIN LUTHER, letter to Chancellor Gregory Brück, January 13, 1524
1 likes
---
He who loses sight of the word of God, falls into despair; the voice of heaven no longer sustains him; he follows only the disorderly tendency of his heart.
MARTIN LUTHER, "Of God's Word", Table Talk
1 likes
---
Many have been deceived by outward appearances and have proceeded to write and teach about good works and how they justify without even mentioning faith.... Wearying themselves with many works, they never come to righteousness.
MARTIN LUTHER, The Freedom of a Christian
1 likes
---
All creatures are merely veils under which God hides Himself and deals with us.
MARTIN LUTHER, Watchwords for the Warfare of Life
0 likes
---
True humility does not know that it is humble. If it did, it would be proud from the contemplation of so fine a virtue.
MARTIN LUTHER, Martin Luther Christmas Book
0 likes
---
God writes His Gospel not in the Bible alone, but in trees and flowers and clouds and stars.
MARTIN LUTHER, Watchwords for the Warfare of Life
0 likes
---
A theologian should be thoroughly in possession of the basis and source of faith--that is to say, the Holy Scriptures. Armed with this knowledge it was that I confounded and silenced all my adversaries; for they seek not to fathom and understand the Scriptures; they run them over negligently and drowsily; they speak, they write, they teach, according to the suggestion of their heedless imaginations.
MARTIN LUTHER, "Of God's Word", Table Talk
0 likes
---
If it were art to overcome heresy with fire, the executioners would be the most learned doctors on earth.
MARTIN LUTHER, To the Christian Nobility of the German States
0 likes
---
He who knoweth and understandeth Christ's life, knoweth and understandeth Christ Himself; and in like manner, he who understandeth not His life, doth not understand Christ Himself. And he who believeth on Christ, believeth that His life is the best and noblest life that can be, and if a man believe not this, neither doth he believe on Christ Himself.
MARTIN LUTHER, The Theologia Germanica
0 likes
---
We refuse to have our conscience bound by any work or law, so that by doing this or that we should be righteous, or leaving this or that undone we should be damned.
MARTIN LUTHER, Commentary on the Epistle to the Galatians
0 likes
---