MADNESS QUOTES
quotations about madness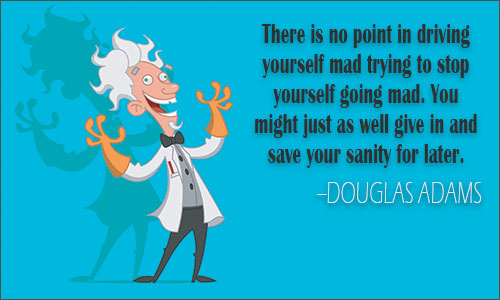 Madness designates the equinox between the vanity of night's hallucinations and the non-being of light's judgments.
MICHEL FOUCAULT, Madness & Civilization
2 likes
---
Perhaps this is the bottom line to mental illness: incomprehensible events occur; your life becomes a bin for hoax-like fluctuations of what used to be reality. And not only that--as if that weren't enough--but you ... ponder forever over these fluctuations in an effort to order them into a coherancy, when in fact the only sense they make is the sense you impose on them, out of necessity to restore everything into shapes and processes you can recognize. The first thing to depart in mental illness is the familiar. And what takes its place is bad news because not only can you not understand it, you also cannot communicate it to other people. The madman experiences something, but what it is or where it comes from he does not know.
PHILIP K. DICK, Valis
2 likes
---
The mentally disturbed do not employ the Principle of Scientific Parsimony: the most simple theory to explain a given set of facts. They shoot for the baroque.
PHILIP K. DICK, Valis
1 likes
---
To think that the spectre you see is an illusion does not rob him of his terrors: it simply adds the further terror of madness itself -- and then on top of that the horrible surmise that those whom the rest call mad have, all along, been the only people who see the world as it really is.
C. S. LEWIS, Perelandra
1 likes
---
Great wits are sure to madness near allied;
And thin partitions do their bonds divide.
JOHN DRYDEN, Absalom and Achitophel
1 likes
---
Too much sanity may be madness. And maddest of all, to see life as it is and not as it should be!
MIGUEL DE CERVANTES, Don Quixote
1 likes
---
Sanity brings pain
but madness is a vile thing.
EURIPIDES, Hippolytus
1 likes
---
Men have called me mad; but the question is not yet settled, whether madness is or is not the loftiest intelligence--whether much that is glorious--whether all that is profound--does not spring from disease of thought--from moods of mind exalted at the expense of the general intellect.
EDGAR ALLAN POE, "Eleonora"
1 likes
---
I don't know what it is with the mad, but they've certainly got force of will. Maybe it's not having the checks and balances the rest of us have, or perhaps I'm kidding myself: maybe their minds are simply clearer, unclouded with the anxieties and morality that the rest of us are swaddled with. Perhaps they have the courage to point their magical thinking at the stars.
MICHAEL MARSHALL, The Upright Man
1 likes
---
Madness need not be all breakdown. It may also be break-through. It is potential liberation and renewal as well as enslavement and existential death.
R. D. LAING, "Transcendental Experience in Relation to Religion and Psychosis", The Psychedelic Review, 1964
1 likes
---
I have seen mad people, and I have known some who were quite intelligent, lucid, even clear-sighted in every concern of life, except on one point. They could speak clearly, readily, profoundly on everything; till their thoughts were caught in the breakers of their delusions and went to pieces there, were dispersed and swamped in that furious and terrible sea of fogs and squalls which is called MADNESS.
GUY DE MAUPASSANT, "The Horla"
1 likes
---
It is an unfortunate fact that the bulk of humanity is too limited in its mental vision to weigh with patience and intelligence those isolated phenomena, seen and felt only by a psychologically sensitive few, which lie outside its common experience. Men of broader intellect know that there is no sharp distinction betwixt the real and the unreal; that all things appear as they do only by virtue of the delicate individual physical and mental media through which we are made conscious of them; but the prosaic materialism of the majority condemns as madness the flashes of super-sight which penetrate the common veil of obvious empiricism.
H. P. LOVECRAFT, "The Tomb"
1 likes
---
There is no point in driving yourself mad trying to stop yourself going mad. You might just as well give in and save your sanity for later.
DOUGLAS ADAMS, The Restaurant at the End of the Universe
1 likes
---
In an age of madness, to expect to be untouched by madness is a form of madness.
SAUL BELLOW, Henderson the Rain King
1 likes
---
Much madness is divinest sense
To a discerning eye;
Much sense the starkest madness.
'Tis the majority
In this, as all, prevails.
Assent, and you are sane;
Demur -- you're straightway dangerous,
And handled with a chain.
EMILY DICKINSON, "Much Madness is divinest Sense"
1 likes
---
Sometimes even the devil on my shoulder asks "What the f*** are you doing?"
ANONYMOUS
1 likes
---
Madness is like gravity--all you need is a little push.
JONATHAN & CHRISTOPHER NOLAN, The Dark Knight
1 likes
---
I had noticed that both in the very poor and very rich extremes of society the mad were often allowed to mingle freely.
CHARLES BUKOWSKI, Ham on Rye
1 likes
---
Flirting with madness was one thing; when madness started flirting back, it was time to call the whole thing off.
ROHINTON MISTRY, A Fine Balance
1 likes
---
Mad, adj. Affected with a high degree of intellectual independence; not conforming to standards of thought, speech, and action derived by the conformants from study of themselves.
AMBROSE BIERCE, The Devil's Dictionary
1 likes
---