MARRIAGE QUOTES
quotations about marriage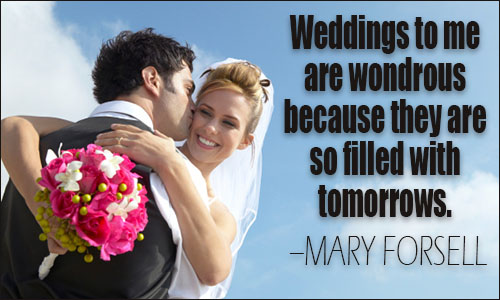 Marriage is a dance of growing together, apart, together.
DANI SHAPIRO, PBS News Hour, November 3, 2017
3 likes
---
Marry'd in haste, we oft repent at leisure.
BENJAMIN FRANKLIN, Poor Richard's Almanac
3 likes
---
If variety is the spice of life, marriage is the big can of leftover Spam.
JOHNNY CARSON, The Tonight Show
3 likes
---
Keep the eyes wide open before marriage and half shut afterwards.
BENJAMIN FRANKLIN, attributed, Wise Words and Quotes
3 likes
---
More marriages might survive if the partners realized that sometimes the better comes after the worse.
DOUG LARSON, attributed, Better Off Wed
3 likes
---
Marriage is popular because it combines the maximum of temptation with the maximum of opportunity.
GEORGE BERNARD SHAW, Maxims for Revolutionists
2 likes
---
Love, the strongest and deepest element in all life, the harbinger of hope, of joy, of ecstasy; love, the defier of all laws, of all conventions; love, the freest, the most powerful molder of human destiny; how can such an all-compelling force be synonymous with that poor little State- and Church-begotten weed, marriage?
EMMA GOLDMAN, Anarchism and Other Essays
2 likes
---
A lady's imagination is very rapid; it jumps from admiration to love, from love to matrimony in a moment.
JANE AUSTEN, Pride and Prejudice
2 likes
---
A man doesn't know what happiness is until he's married. By then it's too late.
FRANK SINATRA, The Joker Is Wild
2 likes
---
Marriage is the flimsiest weapon against desire. You may as well take a pop-gun to a python.
JEANETTE WINTERSON, Written on the Body
2 likes
---
People stay married because they want to, not because the doors are locked.
PAUL NEWMAN, Paul Newman: A Life in Pictures
2 likes
---
When a man marries a woman, they become one--the trouble starts when they try to decide which one.
CROFT M. PENTZ, The Complete Book of Zingers
2 likes
---
Therefore shall a man leave his father and mother, and shall cleave unto his wife: and they shall be one flesh.
BIBLE, Genesis 2:24
2 likes
---
It takes patience to appreciate domestic bliss; volatile spirits prefer unhappiness.
GEORGE SANTAYANA, The Life of Reason
2 likes
---
Marriage? That's for life! It's like cement!
WOODY ALLEN, What's New, Pussycat?
2 likes
---
Some women marry for love, some for money, and some for a home. It is not known why men marry.
EDGAR WATSON HOWE, Country Town Sayings
2 likes
---
The problem with marriage is that it ends every night after making love, and it must be rebuilt every morning before breakfast.
GABRIEL GARCÍA MÁRQUEZ, Love in the Time of Cholera
2 likes
---
To "catch" a husband is an art; to "hold" him is a job.
SIMONE DE BEAUVOIR, The Second Sex
2 likes
---
Marriage is just an elaborate game that allows two selfish people to periodically feel that they're not.
PAUL REISER, Couplehood
2 likes
---
Marriages don't last. When I meet a guy, the first question I ask myself is: "Is this the man I want my children to spend their weekends with?"
RITA RUDNER, stand-up routine
2 likes
---