MEDITATION QUOTES
quotations about meditation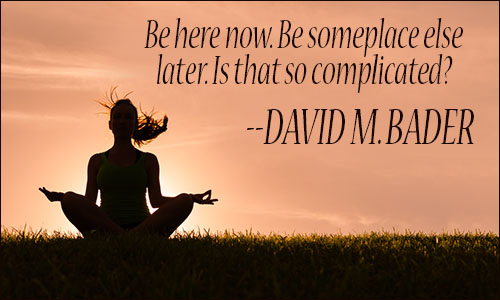 Meditation practice is like piano scales, basketball drills, ballroom dance class. Practice requires discipline; it can be tedious; it is necessary. After you have practiced enough, you become more skilled at the art form itself. You do not practice to become a great scale player or drill champion. You practice to become a musician or athlete. Likewise, one does not practice meditation to become a great meditator. We meditate to wake up and live, to become skilled at the art of living.
ELIZABETH LESSER, The Seeker's Guide
3 likes
---
Be here now. Be someplace else later. Is that so complicated?
DAVID M. BADER, Zen Judaism
3 likes
---
You contemplate and you wander without any worries, between heaven and earth, in your own private world, and in this way you acquire supreme freedom.
GAO XINGJIAN, Nocturnal Wanderer
2 likes
---
That is the whole art of meditation: becoming conscious of consciousness itself.
OSHO, The Book of the Books
2 likes
---
When the mind is silent like a lake the lotus blossoms.
AMIT RAY, Enlightenment Step by Step
2 likes
---
Meditation is fathoming the Unfathomable until It reveals Itself.
KESHAVADAS, Gayatri: The Highest Meditation
2 likes
---
I meditate. I burn candles. I drink green tea. And I still want to smack some people.
ANONYMOUS
1 likes
---
The most weighty truths may strike, but without meditation cannot enter and influence the mind.
JOHN THORNTON, Maxims and Directions for Youth
1 likes
---
Happy the heart that keeps its twilight hour,
And, in the depths of heavenly peace reclined,
Loves to commune with thoughts of tender power,--
Thoughts that ascend, like angels beautiful,
A shining Jacob's-ladder of the mind!
PAUL H. HAYNE, "Sonnet IX"
1 likes
---
Without meditation we do but talk one after another like parrots, and take up things by mere hearsay, and repeat them by rote, without affection and life, or discerning the worth and excellency of what we speak. It is meditation that maketh truths always ready and present with us.
THOMAS MANTON, One Hundred and Ninety Sermons on the Hundred and Nineteenth Psalm
1 likes
---
Quiet the mind, and the soul will speak.
MA JAYA SATI BHAGAVATI, The 11 Karmic Spaces
1 likes
---
Sit still with me in the shade of these green trees, which have no weightier thought than the withering of their leaves when autumn arrives, or the stretching of their many stiff fingers into the cold sky of the passing winter. Sit still with me and meditate on how useless effort is, how alien the will, and on how our very meditation is no more useful than effort, and no more our own than the will. Meditate too on how a life that wants nothing can have no weight in the flux of things, but a life the wants everything can likewise have no weight in the flux of things, since it cannot obtain everything, and to obtain less than everything is not worthy of souls that seek the truth.
FERNANDO PESSOA, The Education of the Stoic
1 likes
---
Meditation is the cooling drink at the oasis spring for the thirsty pilgrim across the deserts of the commonplace.
GUY BOGART, The Open Court, September 1921
1 likes
---
Meditation is the act of turning consciousness towards its own center, so that it perceives itself.
LAWRENCE GALANTE, Tai Chi
1 likes
---
Meditation takes chaos and begins magically morphing it into nothing.
MICHAEL SCOTT GALLEGOS, "Internally Strewn Selves: The 'All' Surprisingly Includes Everything", October 5, 2014
1 likes
---
In meditation we discover our inherent restlessness. Sometimes we get up and leave. Sometimes we sit there but our bodies wiggle and squirm and our minds go far away. This can be so uncomfortable that we feel it's impossible to stay. Yet this feeling can teach us not just about ourselves but what it is to be human ... we really don't want to stay with the nakedness of our present experience. It goes against the grain to stay present. These are the times when only gentleness and a sense of humor can give us the strength to settle down ... so whenever we wander off, we gently encourage ourselves to "stay" and settle down. Are we experiencing restlessness? Stay! Are fear and loathing out of control? Stay! Aching knees and throbbing back? Stay! What's for lunch? Stay! I can't stand this another minute! Stay!
PEMA CHODRON, The Places That Scare You
1 likes
---
I once sat on the rim of a mesa above the Rio Grande for three days and nights, trying to have a vision. I got hungry and saw God in the form of a beef pie.
EDWARD ABBEY, "How It Was", Beyond the Wall: Essays from the Outside
1 likes
---
Music without words means leaving behind the mind. And leaving behind the mind is meditation. Meditation returns you to the source. And the source of all is sound.
KABIR, attributed, Wisdom for the Soul
0 likes
---
Meditation and water are wedded for ever.
HERMAN MELVILLE, Moby Dick
0 likes
---
Finding a calm place inside myself through meditation kind of helped me to get over a lot of mental illness ... it's just been a really great thing in my life.
ROSEANNE BARR, Larry King Live, March 2, 2006
0 likes
---