Never joke at funerals, or during business transactions.
War being the greatest of evils, all its accessories necessarily partake of the same character.
Were civilization itself to be estimated by some of its results, it would seem perhaps better for what we call the barbarous part of the world to remain unchanged.
War should be carried on like a monsoon; one changeless determination of every particle towards the one unalterable aim.
HERMAN MELVILLE, Israel Potter
All we discover has been with us since the sun began to roll; and much we discover, is not worth the discovering.
HERMAN MELVILLE, "The Stone Fleet"
In placid hours well-pleased we dream

Of many a brave unbodied scheme.

But form to lend, pulsed life create,

What unlike things must meet and mate:

A flame to melt--a wind to freeze;

Sad patience--joyous energies;

Humility--yet pride and scorn;

Instinct and study; love and hate;

Audacity--reverence. These must mate,

And fuse with Jacob's mystic heart,

To wrestle with the angel--Art.
A laugh's the wisest, easiest answer to all that's queer.
Life was to these a dream fulfilled,

And death a starry night.
HERMAN MELVILLE, "Chattanooga"
All wars are boyish, and are fought by boys,

The champions and enthusiasts of the state:

Turbid ardors and vain joys

Not barrenly abate--

Stimulants to the power mature,

Preparatives of fate.
HERMAN MELVILLE, "The March Into Virginia"
Youth is the time when hearts are large.
HERMAN MELVILLE, "On the Slain Collegians"
Faith, like a jackal, feeds among the tombs, and even from these dead doubts she gathers her most vital hope.
HERMAN MELVILLE, Moby Dick
Nothing so aggravates an earnest person as a passive resistance.
HERMAN MELVILLE, Bartleby, the Scrivener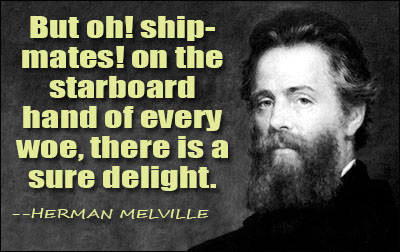 In this world, shipmates, sin that pays its way can travel freely, and without a passport; whereas Virtue, if a pauper, is stopped at all frontiers.
HERMAN MELVILLE, Moby Dick
I have no objection to any person's religion, be it what it may, so long as that person does not kill or insult any other person, because that other person don't believe it also. But when a man's religion becomes really frantic; when it is a positive torment to him; and, in fine, makes this earth of ours an uncomfortable inn to lodge in; then I think it high time to take that individual aside and argue the point with him.
HERMAN MELVILLE, Moby Dick
Thus it often is, that the constant friction of illiberal minds wears out at last the best resolves of the more generous.
HERMAN MELVILLE, Bartleby, the Scrivener
All things that God would have us do are hard for us to do--remember that--and hence, he oftener commands us than endeavours to persuade.
HERMAN MELVILLE, Moby Dick
Be sure of this, O young ambition, all mortal greatness is but disease.
HERMAN MELVILLE, Moby Dick
Ah, happiness courts the light, so we deem the world is gay; but misery hides aloof, so we deem that misery there is none.
HERMAN MELVILLE, Bartleby, the Scrivener
Old age is always wakeful; as if, the longer linked with life, the less man has to do with aught that looks like death.
HERMAN MELVILLE, Moby Dick
Whenever I find myself growing grim about the mouth; whenever it is a damp, drizzly November in my soul; whenever I find myself involuntarily pausing before coffin warehouses, and bringing up the rear of every funeral I meet; and especially whenever my hypos get such an upper hand of me, that it requires a strong moral principle to prevent me from deliberately steppint into the street, and methodically knocking people's hats off--then, I account it high time to get to sea as soon as I can.
HERMAN MELVILLE, Moby Dick
But oh! shipmates! on the starboard hand of every woe, there is a sure delight; and higher the top of that delight, than the bottom of the woe is deep.
HERMAN MELVILLE, Moby Dick
I recommend all adventurous youths who abandon vessels in romantic islands during the rainy season to provide themselves with umbrellas.
The easiest way of life is the best.
HERMAN MELVILLE, Bartleby, the Scrivener
The urbane activity with which a man receives money is really marvellous, considering that we so earnestly believe money to be the root of all earthly ills, and that on no account can a monied man enter heaven. Ah! how cheerfully we consign ourselves to perdition!
HERMAN MELVILLE, Moby Dick