MISFORTUNE QUOTES
quotations about misfortune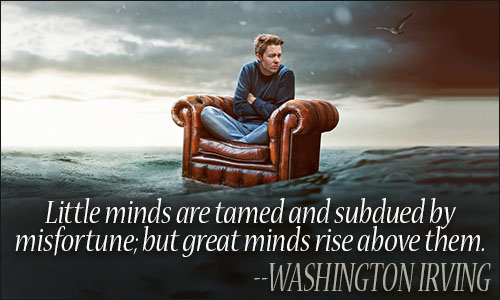 A man is the sum of his misfortunes.
WILLIAM FAULKNER, The Sound and the Fury
4 likes
---
Little minds are tamed and subdued by misfortune; but great minds rise above them.
WASHINGTON IRVING, attributed, Business Philosopher, 1913
3 likes
---
When the soul suffers too much, it develops a taste for misfortune.
ALBERT CAMUS, The First Man
2 likes
---
Only he has a right to complain of undeserved misfortune, that is unwilling to accept undeserved good fortune.
IVAN PANIN, Thoughts
2 likes
---
We bear, all of us, the misfortunes of other people with heroic constancy.
FRANÇOIS DE LA ROCHEFOUCAULD, Moral Maxims
2 likes
---
There's only one kind of happiness, but misfortune comes in all shapes and sizes.
HARUKI MURAKAMI, Kafka on the Shore
2 likes
---
We have seen better days.
WILLIAM SHAKESPEARE, Timon of Athens
2 likes
---
Life is thickly sown with thorns, and I know no other remedy than to pass quickly through them. The longer we dwell on our misfortunes, the greater is their power to harm us.
VOLTAIRE, Candide
2 likes
---
It never rains but it pours.
L. M. MONTGOMERY, The Blue Castle
2 likes
---
It is often better to have a great deal of misfortune happen to one; a great deal may arouse you to remove what a little will only accustom you to endure.
LORD GREVILLE, attributed, Day's Collacon
2 likes
---
Misfortune nobly born is good fortune.
MARCUS AURELIUS, Meditations
2 likes
---
There is no accident so exquisitely unfortunate, but wise men will make some advantage of it.
WELLINS CALCOTT, Thoughts Moral and Divine
1 likes
---
Misfortune begets misfortune: life is a misfortune, for it may be the means of enduring misfortune; and death is a misfortune, as it abridges the enjoyments of life.
JAMES FENIMORE COOPER, The Spy
1 likes
---
When two laugh it is certain a misfortune has happened--to a third.
CHARLES EDWARD JERNINGHAM, The Maxims of Marmaduke
1 likes
---
The danger from lightning is gone when the thunder is heard, and the worst is over when misfortune has arrived.
IVAN PANIN, Thoughts
1 likes
---
The most fortunate of us, in our journey through life, frequently meet with calamities and misfortunes which may greatly afflict us; and, to fortify our minds against the attacks of these calamities and misfortunes should be one of the principal studies and endeavors of our lives. The only method of doing this is to assume a perfect resignation to the Divine will, to consider that whatever does happen, must happen; and that, by our uneasiness, we cannot prevent the blow before it does fall, but we may add to its force after it has fallen. These considerations, and others such as these, may enable us in some measure to surmount the difficulties thrown in our way; to bear up with a tolerable degree of patience under the burden of life; and to proceed with a pious and unshaken resignation, till we arrive at our journey's end, when we may deliver up our trust into the hands of Him who gave it, and receive such reward as to him shall seem proportioned to our merit.
THOMAS JEFFERSON, letter to John Page, July 15, 1763
1 likes
---
As the worm crawleth up to the surface only when it rains, so doth a man's best self emerge only in misfortune.
IVAN PANIN, Thoughts
1 likes
---
During misfortunes, nothing aggravates our condition more, than to be esteemed deserving of them.
NORMAN MACDONALD, Maxims and Moral Reflections
1 likes
---
It is time enough to bear a misfortune when it comes, without anticipating it; for why should we torment ourselves with what may fall out, perhaps, twenty years hence, or never.
WELLINS CALCOTT, Thoughts Moral and Divine
1 likes
---
Those who have endured some misfortune will always be set apart but that it is just that misfortune which is their gift and which is their strength and that they must make their way back into the common enterprise of man for without they do so it cannot go forward and they themselves will whither in bitterness.
CORMAC MCCARTHY, All the Pretty Horses
1 likes
---