MONSTERS QUOTES
quotations about monsters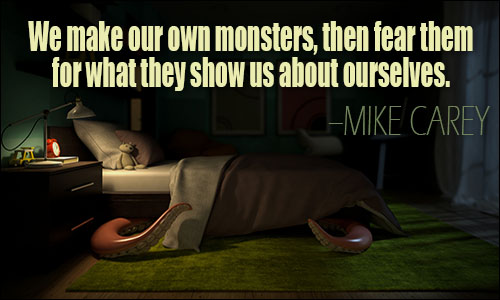 We are a race prone to monsters ... and when we produce one we worship it.
IAIN M. BANKS, Against a Dark Background
2 likes
---
Death is when the monsters get you.
STEPHEN KING, Salem's Lot
1 likes
---
Whoever fights monsters should see to it that in the process he does not become a monster. And when you look long into an abyss, the abyss also looks into you.
FRIEDRICH NIETZSCHE, Beyond Good and Evil
1 likes
---
A human being does not turn another human being over to the monsters. Not for any reason.
LAURELL K. HAMILTON, Guilty Pleasures
1 likes
---
Calling someone a monster does not make him more guilty; it makes him less so by classing him with beasts and devils.
MARY MCCARTHY, "The Hue and Cry", The Writing on the Wall
1 likes
---
It seemed to be a sort of monster, or symbol representing a monster, of a form which only a diseased fancy could conceive. If I say that my somewhat extravagant imagination yielded simultaneous pictures of an octopus, a dragon, and a human caricature, I shall not be unfaithful to the spirit of the thing. A pulpy, tentacled head surmounted a grotesque and scaly body with rudimentary wings; but it was the general outline of the whole which made it most shockingly frightful.
H. P. LOVECRAFT, "The Call of Cthulhu"
1 likes
---
Every monster was a man first.
EDWARD ALBEE, Tiny Alice
1 likes
---
We make our own monsters, then fear them for what they show us about ourselves.
MIKE CAREY, The Unwritten
1 likes
---
"Oh, monsters are scared," said Lettie. "That's why they're monsters."
NEIL GAIMAN, The Ocean at the End of the Lane
1 likes
---
They begot giants and monsters ... they begot, and, behold, all the earth was corrupted.
MANI, The Book of Giants
1 likes
---
Like any normal fifth grader, I preferred my villains to be evil and stay that way, to act like Dracula rather than Frankenstein's monster, who ruined everything by handing that peasant girl a flower. He sort of made up for it by drowning her a few minutes later, but, still, you couldn't look at him the same way again.
DAVID SEDARIS, When You Are Engulfed in Flames
1 likes
---
Monsters are afraid of water. Fill a spray bottle with water and lightly mist problem areas, including under the bed, around the door, and in the closet. Place sentries outside of closets and by windows. Monsters will avoid friendly-looking stuffed animals, dolls, clowns, and puppets. Assemble a battalion of these around all likely points of entry.
DAVID BORGENICHT, The Complete Worst-Case Scenario Survival Handbook
1 likes
---
We often read of monstrous births; but we see a greater monstrosity in education, when a father begets a son, and trains him up into a beast.
ROBERT SOUTH, attributed, Day's Collacon
1 likes
---
Don't be so simple. People adore monsters. They fill their songs and stories with them. They define themselves in relation to them. You know what a monster is, young shade? Power. Power and choice. Monsters make choices. Monsters shape the world. Monsters force us to become stronger, smarter, better. They sift the weak from the strong and provide a forge for the steeling of souls. Even as we curse monsters, we admire them. Seek to become them, in some ways.... There are far, far worse things to be than a monster.
JIM BUTCHER, Ghost Story
1 likes
---
The problem with people who say monsters don't really exist is that they're almost never saying it to the monsters.
SEANAN MCGUIRE, Discount Armageddon
1 likes
---
Accursed creator! Why did you form a monster so hideous that even you turned from me in disgust? God, in pity, made man beautiful and alluring, after his own image; but my form is a filthy type of yours, more horrid even from the very resemlance. Satan had his companions, fellow-devils, to admire and encourage him; but I am solitary and abhorred.
MARY SHELLEY, Frankenstein
1 likes
---
There's this idea that monsters don't have reflections in a mirror. And what I've always thought isn't that monsters don't have reflections in a mirror. It's that if you want to make a human being into a monster, deny them, at the cultural level, any reflection of themselves. And growing up, I felt like a monster in some ways. I didn't see myself reflected at all. I was like, "Yo, is something wrong with me? That the whole society seems to think that people like me don't exist?" And part of what inspired me, was this deep desire that before I died, I would make a couple of mirrors. That I would make some mirrors so that kids like me might see themselves reflected back and might not feel so monstrous for it.
JUNOT DIAZ, attributed, Superwomen: Gender, Power, and Representation
1 likes
---
The monsters of the mind are far worse than those that actually exist. Fear, doubt, and hate have hamstrung more people than beasts ever have.
CHRISTOPHER PAOLINI, Brisingr
0 likes
---
In a world of monsters, you had to be a ghost to survive.
ROB THURMAN, Nightlife
0 likes
---
There are very few monsters who warrant the fear we have of them.
ANDRE GIDE, Autumn Leaves
0 likes
---