MOTHER QUOTES
quotations about mothers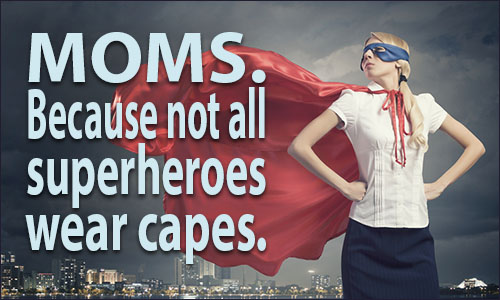 If evolution works, how come mothers still have only two hands?
CROFT M. PENTZ, The Complete Book of Zingers
2 likes
---
There is no occupancy limit on a mother's heart. It expands with each child, whether you gave birth to that child or not--you just add another room.
HEATHER LENDE, Woman's Day, May 2011
2 likes
---
Moms. Because not all superheroes wear capes.
ANONYMOUS
2 likes
---
If a man has been his mother's undisputed darling he retains throughout life the triumphant feeling, the confidence in success, which not seldom brings actual success along with it.
SIGMUND FREUD, A Childhood Recollection
1 likes
---
All women become like their mothers. That is their tragedy.
OSCAR WILDE, The Importance of Being Earnest
1 likes
---
When I feel like I'm not doing what I am supposed to as a mother, I will torture myself. I don't know how to deal with it. I find some consolation in the fact that all mommies feel it. If there was a way to cure mommy guilt, I would bottle it and be a bazillionaire.
ANGIE HARMON, Good Housekeeping, Jul. 2011
1 likes
---
One of the very few reasons I had any respect for my mother when I was thirteen was because she would reach into the sink with her bare hands - bare hands - and pick up that lethal gunk and drop it into the garbage. To top that, I saw her reach into the wet garbage bag and fish around in there looking for a lost teaspoon. Bare hands - a kind of mad courage.
ROBERT FULGHUM, It Was On Fire When I Lay Down On It
1 likes
---
If every child might live the life predestined in a mother's heart, all the way from the cradle to the coffin, he would walk upon a beam of light, and shine in glory.
HENRY WARD BEECHER, Proverbs from Plymouth Pulpit
1 likes
---
Behind all your stories is always your mother's story, because hers is where yours begin.
MITCH ALBOM, For One More Day
1 likes
---
Mother is food; she is love; she is warmth; she is earth.
ERICH FROMM, The Sane Society
1 likes
---
The best place to cry is on a mother's arms.
JODI PICOULT, House Rules
1 likes
---
Whatever else is unsure in this stinking dunghill of a world a mother's love is not.
JAMES JOYCE, A Portrait of the Artist as a Young Man
1 likes
---
The mother's love is at first an absorbing delight, blunting all other sensibilities; it is an expansion of the animal existence; it enlarges the imagined range for self to move in: but in after years it can only continue to be joy on the same terms as other long-lived love--that is, by much suppression of self, and power of living in the experience of another.
GEORGE ELIOT, Felix Holt
0 likes
---
Mother love is the most powerful, the most irrational force on earth, even more powerful than sexual love. However, one does lead to the other, so best not to spurn the former.
RITA MAE BROWN, Full Cry
0 likes
---
My happiest childhood memories are of times in our backyard. My mother had an old clothesline that hung out in front. It seemed like it stretched a mile long, and I loved sitting in the sun while she hung clothes.
TRACI LORDS, Underneath It All
0 likes
---
It is a fact perhaps kept a little too much in the background, that mothers have a self larger than their maternity, and that when their sons have become taller than themselves, and are gone from them to college or into the world, there are wide spaces of their time which are not filled with praying for their boys, reading old letters, and envying yet blessing those who are attending to their shirt-buttons.
GEORGE ELIOT, Felix Holt
0 likes
---
If my mother put on a helmet and shoulder pads and a uniform that wasn't the same as the one I was wearing, I'd run over her if she was in my way. And I love my mother.
BO JACKSON
0 likes
---
Pity the mother who assumes the name without being all this implies!
AMOS BRONSON ALCOTT, Table Talk
0 likes
---
Motherhood is an early retirement position. Your children do grow up.
COLLEEN PARRO, PBS interview
0 likes
---
I wanted to go to a place where you were important and people listened to what you had to say. Mothering hadn't done that ... and yet ... wouldn't it be ironic if my turf yielded the most important commodity being grown today? A family? A crop of children, seeded by two people, nourished by love, watered by tears, and in eighteen or twenty years harvested into worthwhile human beings to go through the process again.
ERMA BOMBECK, Family: The Ties that Bind--and Gag!
0 likes
---