MUSIC QUOTES
quotations about music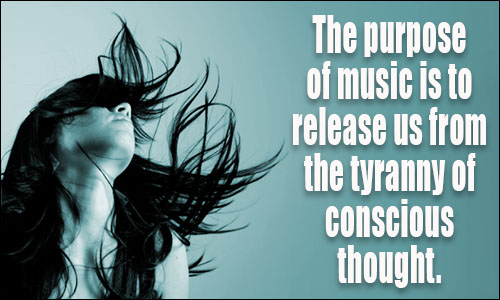 Music has charms to soothe the savage breast.
WILLIAM CONGREVE, The Mourning Bride
2 likes
---
The best music is the music that persuades us that there is no other music in the world.
ALEX ROSS, Listen to This
2 likes
---
What passion cannot Music raise and quell?
JOHN DRYDEN, St. Cecilia's Day
1 likes
---
Music was my refuge. I could crawl into the space between the notes and curl my back to loneliness.
MAYA ANGELOU, attributed, Women Know Everything!
1 likes
---
That's one of the great things about music. You can sing a song to 85,000 people and they'll sing it back for 85,000 different reasons.
DAVE GROHL, "Twenty years after In Utero, The Guardian, August 31, 2013
1 likes
---
The purpose of music is to release us from the tyranny of conscious thought.
ANONYMOUS
1 likes
---
When people hear good music, it makes them homesick for something they never had, and never will have.
EDGAR WATSON HOWE, Country Town Sayings
1 likes
---
I saw my music, and indeed all pop music, as simply a form of entertainment, a way to please audiences for an hour or two, in live concert or on an album. What I failed to understand then, but came to learn again and again, is the incredible power that music possesses -- the power to heal, to shape destiny, even to change lives. A popular song may be three minutes of not terribly profound poetry, but the right combination of words and music can touch people at their very core.
ANNE MURRAY, All of Me
1 likes
---
Music, once admitted to the soul becomes ... a sort of spirit, and never dies. It wanders perturbedly through the halls and galleries of the memory.
EDWARD BULWER LYTTON, Zanoni
1 likes
---
Where words fail, music speaks.
HANS CHRISTIAN ANDERSEN, "The Writing on the Wall"
1 likes
---
Music, the greatest good that mortals know,
And all of heaven we have here below.
JOSEPH ADDISON, A Song for St. Cecilia's Day
0 likes
---
It was by music that the ancient kings gave elegant expression to their joy. By their armies and axes they gave the same to their anger.
CONFUCIUS, The Wisdom of Confucius
0 likes
---
Music exists when rhythmic, melodic or harmonic order is deliberately created, and consciously listened to, and it is only language-using, self-conscious creatures ... who are capable of organizing sounds in this way, either when uttering them or when perceiving them. We can hear music in the song of the nightingale, but it is music that no nightingale has heard.
ROGER SCRUTON, Understanding Music
0 likes
---
Such sweet compulsion doth in music lie.
JOHN MILTON, Arcades
0 likes
---
Music without words means leaving behind the mind. And leaving behind the mind is meditation. Meditation returns you to the source. And the source of all is sound.
KABIR
0 likes
---
The inner nature of man is the province of music.
CONFUCIUS, The Wisdom of Confucius
0 likes
---
It is one thing to get all the notes right; any number of unsocialized conservatory prodigies can do that. It is another thing to play the thoughts within the notes, the light around them, the darkness behind them, the silence at the end of the phrase. That is what inspires awe.
ALEX ROSS, "The Art of Fantasy", The New Yorker, Mar. 17, 2003
0 likes
---
Music may appeal to crude and coarse feelings or to refined and noble ones; and in so far as it does the latter it awakens the higher nature and works an effect, though but a transitory effect, of a beneficial kind. But the primary purpose of music is neither instruction nor culture but pleasure; and this is an all-sufficient purpose.
HERBERT SPENCER, Facts and Comments
0 likes
---
Though I am not endowed with an ear to seize those earthly harmonies, which to some devout souls have seemed, as it were, the broken echoes of the heavenly choir--I apprehend that there is a law in music, disobedience whereunto would bring us in our singing to the level of shrieking maniacs or howling beasts.
GEORGE ELIOT, Felix Holt
0 likes
---
For me, my voice and music was always an outlet. Growing up in an unstable environment and whatnot, music was my only real escape.
CHRISTINA AGUILERA, Rolling Stone, Aug. 24, 2006
0 likes
---