NATURE QUOTES II
quotations about nature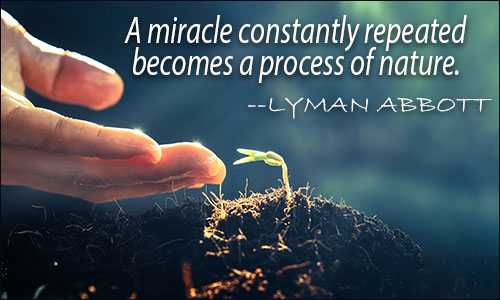 Somehow we instinctively know that our own nature is revived when we expose it to real nature, and real nature, by definition, is wild.
RICK BROUSSARD, "Health and Wildness", New Hampshire Magazine, August 14, 2017
1 likes
---
All those who love Nature she loves in return, and will richly reward, not perhaps with the good things, as they are commonly called, but with the best things of this world--not with money and titles, horses and carriages, but with bright and happy thoughts, contentment and peace of mind.
JOHN LUBBOCK, The Beauties of Nature
0 likes
---
Nature goes her own way, and all that to us seems an exception is really according to order.
GOETHE, Conversations with Goethe
0 likes
---
Man is Nature's sole mistake.
W. S. GILBERT, Princess Ida
0 likes
---
Nature, in her indifference, makes no distinction between good and evil.
ANATOLE FRANCE, The Revolt of the Angels
0 likes
---
Nature, with equal mind,
Sees all her sons at play,
Sees man control the wind,
The wind sweep man away.
MATTHEW ARNOLD, Empedocles on Etna
0 likes
---
Gie me ae spark o' Nature's fire,
That's a' the learning I desire.
ROBERT BURNS, First Epistle to John Lapraik
0 likes
---
When Nature has work to be done, she creates a genius to do it.
RALPH WALDO EMERSON, Method of Nature
0 likes
---
Nature has no compassion. Nature accepts no excuses and the only punishment it knows is death.
ERIC HOFFER, Reflections on the Human Condition
0 likes
---
Even minor tampering with nature is apt to bring serious consequences, as did the introduction of a single chemical (DDT). Genetic engineering is tampering on a monumental scale, and nature will surely exact a heavy toll for this trespass.
EVA NOVOTNY, attributed, Environmental Biotechnology: A Biosystems Approach
0 likes
---
All things are artificial, for nature is the art of God.
SIR THOMAS BROWNE, Religio Medici
0 likes
---
Nature admits no lie.
THOMAS CARLYLE, Latter-Day Pamphlets
0 likes
---
The volume of Nature is the book of knowledge.
OLIVER GOLDSMITH, Citizen of the World
0 likes
---
Nature, hating art and pains,
Baulks and baffles plotting brains;
Casualty and Surprise
Are the apples of her eyes.
RALPH WALDO EMERSON, Nature I
0 likes
---
Mid-summer ... when the alchemy of Nature transmutes the sylvan landscape to one vivid and almost homogeneous mass of green; when the senses are well-nigh intoxicated with the surging seas of moist verdure and the subtly indefinable odours of the soil and the vegetation. In such surroundings the mind loses its perspective; time and space become trivial and unreal, and echoes of a forgotten prehistoric past beat insistently upon the enthralled consciousness.
H. P. LOVECRAFT, "The Tomb"
0 likes
---
Where a love of natural beauty has been cultivated, all nature becomes a stupendous gallery, as much superior in form and in coloring to the choicest collections of human art, as the heavens are broader and loftier than the Louvre or the Vatican.
HORACE MANN, A Few Thoughts for a Young Man
0 likes
---
The world's a scene of changes, and to be
Constant, in Nature were inconstancy.
ABRAHAM COWLEY, Inconstancy
0 likes
---
Nature is a temple where living pillars
Sometimes emit confused words;
There man passes through the forests of symbols
Which observe him with familiar looks.
CHARLES BAUDELAIRE, Correspondences
0 likes
---
Nature, always inartistic, takes pleasure in creating the impossible.
JEROME K. JEROME, "Reginald Blake, Financier and Cad"
0 likes
---
Look at a tree, a flower, a plant. Let your awareness rest upon it. How still they are, how deeply rooted in Being. Allow nature to teach you stillness.
ECKHART TOLLE, Stillness Speaks
0 likes
---