NEGLECT QUOTES
quotations about neglect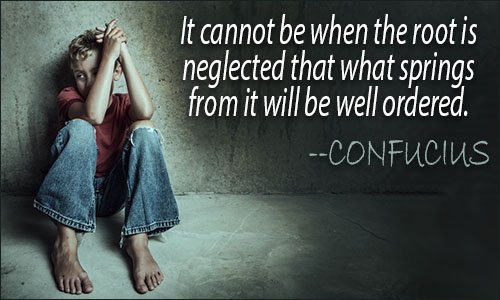 It cannot be when the root is neglected that what springs from it will be well ordered.
CONFUCIUS, The Wisdom of Confucius
3 likes
---
Neglect is an insidious form of maltreatment. It starves the developing mind of stimulation. It denies the child information and interest about the self and others.
DAVID HOWE, Child Abuse and Neglect: Attachment, Development and Intervention
3 likes
---
Many of us were abandoned or neglected by important people in our life. We may have concluded that the reason we weren't loved was because we were unlovable. Blaming ourselves is an understandable reaction, but an inappropriate one. If others couldn't love us, or love us in ways that worked, that's not our fault. In recovery, we're learning to separate ourselves from the behavior of others. And we're learning to take responsibility for our healing, regardless of the people around us. Just as we may have believed that we're unlovable, we can become skilled at practicing the belief that we are lovable. This new belief will improve the quality of our relationships. It will improve our most important relationship: our relationship with our self.
MELODY BEATTIE, The Language of Letting Go
2 likes
---
Misunderstandings and neglect occasion more mischief in the world than even malice and wickedness.
GOETHE, The Sorrows of Young Werther
1 likes
---
If you neglect the pot, it boils over and extinguishes the fire.
NIGERIAN PROVERB
1 likes
---
Neglect will banish love, kill a lie, and silence slander; yet it will feed a malady, nourish hatred, and fill a garden with weeds.
E. P. DAY, Day's Collacon
1 likes
---
A little neglect may breed great mischief; for want of a nail the shoe was lost; for want of the shoe the horse was lost; for want of the horse the rider was lost--being overtaken and slain by an enemy--all for the want of care about a horse-shoe nail.
BENJAMIN FRANKLIN, Memoirs of the Life and Writings of Benjamin Franklin
1 likes
---
They leave us so to the way we took,
As two in whom they were proved mistaken,
That we sit sometime in the wayside nook,
With mischievous, vagrant, seraphic look,
And try if we cannot feel forsaken.
ROBERT FROST, "In Neglect"
1 likes
---
What sand-storm kills true love: neglect alone!
WILLIAM JONATHAN NEIDIG, "The Prince of Paupers"
1 likes
---
Very useless things we neglect, till they become old and useless enough to be put in Museums: and so very important things we study till, when they become important enough, we ignore them -- and rightly.
SAMUEL BUTLER, Notebooks
0 likes
---
A wise and salutary neglect.
EDMUND BURKE, Speech on the Conciliation of America
0 likes
---
The cold iron of neglect is sharper to a child's sensitive nature than any alteration of harshness and affection.
ANNIE EDWARDS, attributed, Day's Collacon
0 likes
---
Where men or nations have broken down, it will almost invariably be found that neglect of little things was the rock on which they split.
SAMUEL SMILES, Self-help: With Illustrations of Characters, Conduct, and Perseverance
0 likes
---
Neglect will drive a noble mind to depart for another land.
IBN MUNER, attributed, Day's Collacon
0 likes
---
Oh! it is deplorable to behold neglect aiding in the triumph of decay.
JAMES LINEN, "Impressions of Jamaica", The Poetical and Prose Writings of James Linen
0 likes
---
Neglect is the death of friendship.
F. S. OSGOOD, attributed, Day's Collacon
0 likes
---
The weak man who whines of neglect gives the sign of his own weakness.
ADA ISAACS MENKEN, attributed, Day's Collacon
0 likes
---
Often has a small spark through neglect raised a great conflagration.
RUFUS, attributed, Day's Collacon
0 likes
---
Give me a look, give me a face,
That makes simplicity a grace:
Robes loosely flowing, hair as free;
Such sweet neglect more taketh me
Than all the adulteries of art;
They strike mine eyes, but not my heart.
BEN JONSON, The Silent Woman
0 likes
---
There is the same difference between diligence and neglect, that there is between a garden curiously kept and the sluggard's field when it was all overgrown with nettles and thorns; the one is clothed with beauty and the gracious amiableness of content and cheering loveliness; while the other hath nothing but either little smarting pungencies or else such transpiercings as rankle the flesh within.
OWEN FELTHAM, "Of Neglect", The Saturday Magazine, February 20, 1836
0 likes
---