NEGOTIATION QUOTES
quotations about negotiation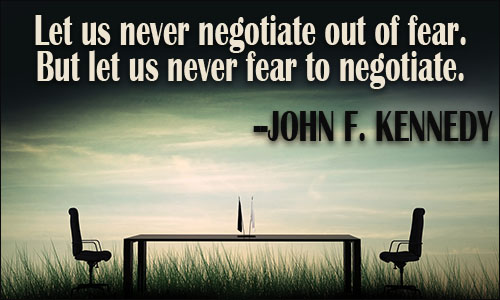 Let us never negotiate out of fear. But let us never fear to negotiate.
JOHN F. KENNEDY, Inaugural Address, January 20 1961
2 likes
---
Any seasoned deal maker will tell you that spontaneous negotiation's a bad strategy; the ad hoc approach will leave you ripped-off, busted, conned, stiffed, outsmarted and generally holding the shitty end of the stick.
GLEN DUNCAN, I, Lucifer
1 likes
---
Negotiation is in some ways like chess. You are prepared to sacrifice particular pieces in the interest of winning the game. In chess you know the pieces but you can't see into the other person's mind. In negotiation you don't necessarily know the "pieces". You have to discover and develop your own pieces and find ways of uncovering your counterpart's.
DAVID OLIVER, How to Negotiate Effectively
1 likes
---
As a process, negotiation involves common and often overlapping interests. It is, after all, the recognition of a mutual interest or joint problem that produces a dialogue. The underlying mutuality of the decision to negotiate is in fact the key to the process.
BRIGID STARKEY, International Negotiation in a Complex World
1 likes
---
Questions are far more effective than defensive statements. They do not imply agreement, but they do convey interest and a desire to understand and facilitate an environment for peak performance, a central thread of effective leadership.... The next time someone accuses you of virtually anything, ask some questions. Resolving the situation may take more time, but the outcome will likely be more productive for both of you.
STEPHEN YOUNG, Micro Messaging
0 likes
---
So, the first challenge is you. It is people who negotiate; not machines, or companies. We all have prejudices, values, ideologies, preferences, pressures, objectives, and judgment, as will the other party in your negotiations. So one part of our journey will involve you understanding why your greatest challenge in negotiation is yourself and how, by nature, you naturally see the world from your perspective rather than that of others.
STEVE GATES, The Negotiation Book
0 likes
---
When the final result is expected to be a compromise, it is often prudent to start from an extreme position.
JOHN MAYNARD KEYNES, The Economic Consequences of the Peace
0 likes
---
The trick to negotiation was to hold all the cards going in and, even if you didn't, to try to look as though you did.
DAVID EDDINGS, Crystal Gorge
0 likes
---
Negotiation is not a policy. It's a technique. It's something you use when it's to your advantage, and something that you don't use when it's not to your advantage.
JOHN R. BOLTON, "Bolton on Obama", atlasshrugs2000, May 23, 2008
0 likes
---
The true test of the success of a negotiation is the results of the relationship formed as a result of the negotiation.
WILLIAM FOSDICK MORRISON, The Savvy Negotiator: Building Win-win Relationships
0 likes
---
If there is negotiation, it must be rooted in mutual respect and concern for the rights of others.
JOHN F. KENNEDY, UN speech, September 25, 1961
0 likes
---
Anger can be an effective negotiating tool, but only as a calculated act, never as a reaction.
MARK MCCORMICK, What They Don't Teach You at Harvard Business School
0 likes
---
The hallmark of futile negotiations is that each side regards overarching reality as a problem for the people on the other side of the table, rather than one for everyone at the table.
WILLIAM VOEGELI, Never Enough
0 likes
---
The thing about negotiations, not to mention the manipulation, is you can't go too far in any direction. Refusing once is good, twice is usually okay but a third is risky. You never know when the third person will stop playing and you end up with nothing.
SARAH DESSEN, Lock and Key
0 likes
---
History has taught us that those with power will at some point seek to exercise it. Therefore, it is vital to understand the balance of power, be clear where the negotiation is likely to take place on the clock face, and prepare accordingly. The type of relationship you have with those you negotiate with will directly influence how and where you choose to negotiate.
STEVE GATES, The Negotiation Book
0 likes
---
The best move you can make in negotiation is to think of an incentive the other person hasn't even thought of -- and then meet it.
ELI BROAD, "Eli Broad offers life lessons in 'The Art of Being Unreasonable'", Los Angeles Times, May 4, 2012
0 likes
---
No one should be under the illusion that negotiations for the sake of negotiations always advance the cause of peace. If for lack of preparation they break up in bitterness, the prospects of peace have been endangered. If they are made a forum for propaganda or a cover for aggression, the processes of peace have been abused. But it is a test of our national maturity to accept the fact that negotiations are not a contest spelling victory or defeat. They may succeed--they may fail. They are likely to be successful only if both sides reach an agreement which both regard as preferable to the status quo--an agreement in which each side can consider its own situation to be improved. And this is most difficult to obtain.
JOHN F. KENNEDY, Address at the University of Washington, November 16, 1961
0 likes
---
No wonder women don't negotiate as much as men. It's like trying to cross a minefield backward in high heels.
SHERYL SANDBERG, Lean In: Women, Work, and the Will to Lead
0 likes
---
A negotiation is a strategic conflict.
D. MARK KILGOUR & KEITH W. HIPEL, "Conflict Analysis Methods: The Graph Model for Conflict Resolution", Handbook of Group Decision and Negotiation
0 likes
---
A negotiator only uses force as a last resort.
CHIAKA KONAKA, The Big O
0 likes
---