NEW YORK QUOTES
quotations about New York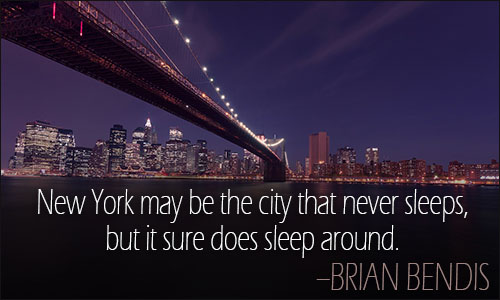 New York may be the city that never sleeps, but it sure does sleep around.
BRIAN BENDIS, "AKA Ladies Night", Jessica Jones
6 likes
---
New York is a six-reel movie, with the film running backwards, sideways, cross-ways, but never in sequence. Nobody seems to be going anywhere, but is in an awful hurry to get there.
WILLIAM HENRY MCMASTERS, "On New York--A City In Process", Originality and Other Essays
3 likes
---
New York is cold, glittering, malign. The buildings dominate. There is a sort of atomic frenzy to the activity going on; the more furious the pace, the more diminished the spirit. A constant ferment, but it might just as well be going on in a test tube. Nobody knows what it's all about. Nobody directs the energy. Stupendous. Bizarre. Baffling. A tremendous reactive urge, but absolutely uncoordinated.
HENRY MILLER, Tropic of Cancer
3 likes
---
New York is the capital, the national headquarters of homelessness.... No one feels he belongs here.
GERALD STANLEY LEE, The House of Twenty Seven Gardens
3 likes
---
Everybody ought to have a lower East Side in their life.
IRVING BERLIN, Vogue, November 1, 1962
3 likes
---
New York City has 2 million rats. We used to have 8 million rats. Now we're down to 2 million. You know what that means? We lose four electoral votes.
DAVID LETTERMAN, Late Show with David Letterman, November 7, 2014
2 likes
---
I saw a robin redbreast in Central Park today, but it turned out to be a sparrow with an exit wound.
DAVID LETTERMAN, attributed, The Mammoth Book of Comic Quotes
2 likes
---
If Paris was the city of the eighteenth century and London was the city of the nineteenth century, New York is unquestionably the city of the twentieth century. It is a city of almost unimaginable opulence, a place electric with possibility, the setting for technological wonders that scrape the heavens, and the acknowledged center for opportunity. Yet amid the wealth and technological marvels is another city, a city that resembles Dante's Inferno. This is the place of the underclass, an ambience of dope and violence, horrors that defy the imagination, and a fascination with consumption. It is unsettling to think that ... one wrong turn on a highway can alter one's comfortable existence into the dark and unpredictable world of incivility and barbarism.
HERBERT LONDON, introduction, Housing in New York: Study of City
2 likes
---
To outsiders, it may seem that that fusion of souls called New Yorkers has arthritis in its middle finger from overuse. But it is merely people's way of greeting each other as they run around like ferrets on double espressos with little or no time to make illiterate requests upon the art of conversation.
BERT RANDOLPH SUGAR, introduction, The Ultimate Book of New York Lists
2 likes
---
I'm laying out my winter clothes and wishing I was gone,
Going home, where the new york city winters aren't bleedin' me.
PAUL SIMON, The Boxer
1 likes
---
I was in love with New York. I do not mean "love" in any colloquial way, I mean that I was in love with the city, the way you love the first person who ever touches you and you never love anyone quite that way again. I remember walking across Sixty-second Street one twilight that first spring, or the second spring, they were all alike for a while. I was late to meet someone but I stopped at Lexington Avenue and bought a peach and stood on the corner eating it and knew that I had come out of the West and reached the mirage. I could taste the peach and feel the soft air blowing from a subway grating on my legs and I could smell lilac and garbage and expensive perfume and I knew that it would cost something sooner or later.
JOAN DIDION, Slouching Towards Bethlehem
1 likes
---
Traffic signals in New York are just rough guidelines.
DAVID LETTERMAN, New York Observer, September 9, 1991
1 likes
---
Power in New York is nurtured, fussed over, married, loved, faked and hoarded. New York is as much a city of power as Boston is a city of background, San Francisco a city of style and Los Angeles a city of celebrity. Power is New York's sex and none of the people living here are unconscious of that fact. Watch the face of an off-duty cab driver in the rain; the painfully slow fingers of a token attendant as a subway rumbles into a station or the deliberate way a patrolman has of writing out a parking ticket. Power in New York is courted like a woman, and even her most ineffectual romancers write of her seduction like erotic monks.
NICHOLAS PILEGGI, "Rules of the Power Game", New York Magazine, December 23, 1968
1 likes
---
I love New York. You can pop out of the Underworld in Central Park, hail a taxi, head down Fifth Avenue with a giant hellhound loping behind you, and nobody even looks at you funny.
RICK RIORDAN, The Last Olympian
1 likes
---
As only New Yorkers know, if you can get through the twilight, you'll live through the night.
DOROTHY PARKER, "New York at 6:30 PM"
1 likes
---
In order to love New York you have to hate it too. It's like a love affair--you don't hunger for it till it's out of reach, and when you've had your fill, you need to separate. When you return, some of it is unfamiliar, but, oh my god, the beauty of it.
CONNIE EISENSTAT, New York Magazine, November 10, 1980
1 likes
---
There is no question that there is an unseen world. The problem is, how far is it from midtown and how late is it open.
WOODY ALLEN, The Insanity Defense: The Complete Prose
1 likes
---
New York is itself an act of will, and to live in and with New York requires a matching set of will. One must be prepared to love New York without requiring that it love you back. The New York Nationalist understands this early; he senses that New York is too large, too grand, too much an idea in itself, too filled with multiple universes of function and feeling to care about any of us, one at a time.
PETE HAMILL, "Notes of a New York Nationalist", New York Magazine, June 5, 1972
1 likes
---
It is ridiculous to set a detective story in New York City. New York City is itself a detective story.
AGATHA CHRISTIE, Life magazine, May 14, 1956
0 likes
---
There is something in the New York air that makes sleep useless.
SIMONE DE BEAUVOIR, America Day by Day
0 likes
---