OBSESSION QUOTES
quotations about obsession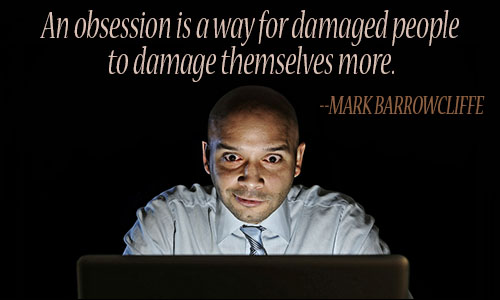 We can't win against obsession. They care, we don't. They win.
DOUGLAS ADAMS, Life, the Universe and Everything
2 likes
---
I began to understand that the most worthwhile obsession is an obsession that is actually independent of the object of fixation. The object is only borrowed as a pretext, a means, an environment, through which or in which the obsessed person can project his own eternal and essential hunger.
THI HOAI PHAM, Night, Again: Contemporary Fiction from Vietnam
2 likes
---
Obsession is the single most wasteful human activity, because with an obsession you keep coming back and back and back to the same question and never get an answer.
NORMAN MAILER, American Way, June 15, 1995
1 likes
---
Obsession is just another round on the merry-go-round of unfinished business.
DALE ANDREWS, Things I Say to Myself
1 likes
---
This isn't a crush, it's obsession.You are never not in my thoughts. Your scent carries across a room and paralyzes me with longing. I don't want to hold your hand. Part of me wants to set you on fire and hold you while the flame consumes us both, to eat your heart so I know that only I possess it entirely.
GWEM HAYES, Falling Under
1 likes
---
Obsession is so extreme and so hard to imagine with the rational mind that it has a science-fiction-like quality to it--it's almost as if the obsessed one has been taken over by a replica, a pod, a facsimile of the rational person. When one is in the grip of an obsession, everything else--children, regular meals, sleep, work--is swept away. The entire being is one yearning, frothing bath of desire. It's the dirty trick of obsession that getting its way--spending time with the object of desire, having sex with the object of desire--doesn't lessen the obsession, but increases it. Although an addict, while obsessed, truly believes that being with the object of the obsession will cure the obsession, the opposite is true. When an alcoholic promises that all he needs is one last bender to achieve satisfaction, he's chasing a chimera.
SUSAN CHEEVER, Desire: Where Sex Meets Addiction
0 likes
---
An obsession is a way for damaged people to damage themselves more.
MARK BARROWCLIFFE, The Elfish Gene
0 likes
---
A purely individualized myth is an obsession, sometimes a psychosis.
NORTHROP FRYE, Late Notebooks, 1982-1990: Architecture of the Spiritual World
0 likes
---
All extremes of feeling are allied with madness.
VIRGINIA WOOLF, Orlando
0 likes
---
Our thoughts shape us. We become our obsessions.
KILROY J. OLDSTER, Dead Toad Scrolls
0 likes
---
An obsession is an idea which you must get out of your mind if you are not to go out of your mind.
EVAN ESAR, 20,000 Quips & Quotes
0 likes
---
These obsessions are really only ways for us to mask what we need to be feeling inside and don't know how to feel.
GARY MENDIOLA, Afraid of God
0 likes
---
Obsessions are psychological rituals.
CATHAL O'BRIAN, Powerful Mind Through Self-Hypnosis
0 likes
---
Romantic obsession is like a cataclysm breaking up the empty landscape. Like a strange exotic plant, it grows in arid soil.
ROSEMARY SULLIVAN, Labyrinth of Desire
0 likes
---
A man may dwell so long upon a thought that it may take him prisoner.
GEORGE SAVILE, Political, Moral, and Miscellaneous Reflections
0 likes
---
Bond's own obsessions are conveniently displaced onto his enemies: 007 remains the good Nietzschean, whereas Drax, Mr. Big, Dr. No and Co. are the evil Nietzscheans.
ISHAY LANDA, James Bond and Philosophy: Questions Are Forever
0 likes
---
Anything that inspires addiction or obsession - substances, entertainment, beauty, secrecy -- is dangerous in that it can lead to isolation, self-absorption, and disconnection, to paralyzed stasis: an immobility that gathers like a force.
GREG CARLISLE, Elegant Complexity
0 likes
---
Obsession is the rocket fuel of our creativity.
JORDAN RITTER, "What Are the Challenges of Running a Values-Based Company?", Huffington Post, January 26, 2017
0 likes
---
The train of thought of an obsessed person always runs on a single track.
EVAN ESAR, 20,000 Quips & Quotes
0 likes
---
I don't believe outstandingly beautiful and charismatic women create obsession in what would otherwise be normal men, but rather they attract the weirdos and the stalkers; flames in the darkness that these disturbing people inhabit, unwittingly drawing them closer until they extinguish the very flame they were drawn to.
ROSAMUND LUPTON, Sister
0 likes
---