OPTIMISM QUOTES
quotations about optimism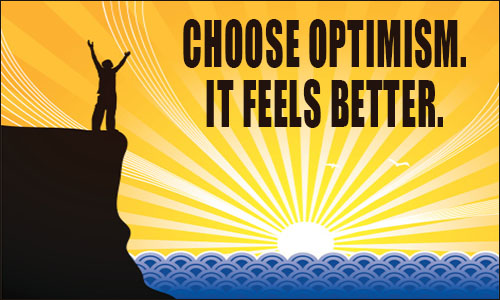 Two men look out through the same bars:
One sees the mud, and one the stars.
FREDERICK LANGBRIDGE, A Cluster of Quiet Thoughts
7 likes
---
It's not that optimism solves all of life's problems; it is just that it can sometimes make the difference between coping and collapsing.
LUCY MACDONALD, Learn to Be an Optimist
5 likes
---
Keep your thoughts positive, because your thoughts become your words.
Keep your words positive, because your words become your behavior.
Keep your behavior positive, because your behavior become your habits.
Keep your habits positive, because your habits become your values.
Keep your values positive, because your values become your destiny.
MAHATMA GANDHI, Open Your Mind, Open Your Life: A Book of Eastern Wisdom
5 likes
---
Optimism, then, is a fact within my own heart. But as I look out upon life, my heart meets no contradiction. The outward world justifies my inward universe of good.
HELEN KELLER, Optimism: An Essay
4 likes
---
It doesn't hurt to be optimistic. You can always cry later.
LUCIMAR SANTOS DE LIMA, attributed, Words of Wellness
4 likes
---
The optimist proclaims that we live in the best of all possible worlds; and the pessimist fears this is true.
JAMES BRANCH CABELL, The Silver Stallion
3 likes
---
Optimism is the madness of insisting that all is well when we are miserable.
VOLTAIRE, Candide
2 likes
---
Optimism and pessimism are mere matters of optics, of how you look at things, and that can change from day to day, or with a new prescription for your glasses -- or with a new set of ideological filters.
GEORGE WEIGEL, Letters to a Young Catholic
2 likes
---
Optimism is the opium of the people.
MILAN KUNDERA, The Joke
1 likes
---
The predominant quality of successful people is optimism.... Your level of optimism is the very best predictor of how happy, healthy, wealthy, and long-lived you will be.
BRIAN TRACY, Focal Point
1 likes
---
For myself I am an optimist -- it does not seem to be much use being anything else.
WINSTON CHURCHILL, speech, November 9, 1954
1 likes
---
Optimism is synonymous with Existence. The fundamental principle is to survive. Whatever persists is organically optimistic.
MEREDITH F. TITTERINGTON, "Is Optimism Irrational?", The Plebs Magazine, February 1910
1 likes
---
Optimism is joyful searching; pessimism is a prison of fear and a clutching at illusionary safety.
KATHLEEN A. BREHONY, After the Darkest Hour
0 likes
---
Deep, solemn optimism, it seems to me, should spring from this firm belief in the presence of God in the individual; not a remote, unapproachable governor of the universe, but a God who is very near every one of us, who is present not only in earth, sea and sky, but also in every pure and noble impulse of our hearts.
HELEN KELLER, Optimism
0 likes
---
Optimism refuses to believe that the road ends without options.
ROBERT H. SCHULLER, Don't Throw Away Tomorrow
0 likes
---
The basis of optimism is sheer terror.
OSCAR WILDE, The Picture of Dorian Gray
0 likes
---
Optimism is the faith that leads to achievement; nothing can be done without hope.
HELEN KELLER, Optimism
0 likes
---
Optimism is cowardice.
OSWALD SPENGLER, Man and Technics
0 likes
---
Optimism is not only a false but also a pernicious doctrine, for it presents life as a desirable state and man's happiness as its aim and object. Starting from this, everyone then believes he has the most legitimate claim to happiness and enjoyment. If, as usually happens, these do not fall to his lot, he believes that he suffers an injustice, in fact that he misses the whole point of his existence.
ARTHUR SCHOPENHAUER, The World As Will and Representation
0 likes
---
Optimism is wide-open in contrast to pessimism's closed heart.
KATHLEEN A. BREHONY, After the Darkest Hour
0 likes
---