ORDER QUOTES
quotations about order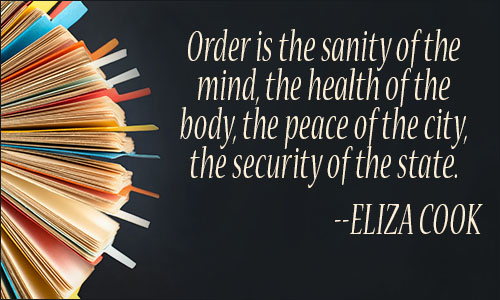 Order is Heaven's first law.
ALEXANDER POPE, Essay on Man
2 likes
---
All things began in order, so shall they end, and so shall they begin again; according to the ordainer of order and mystical mathematics of the city of heaven.
SIR THOMAS BROWNE, Cyrus' Garden
1 likes
---
Chaos often breeds life, when order breeds habit.
HENRY ADAMS, The Education of Henry Adams
1 likes
---
Chaos is God's body. Order is the Devil's chains.
JOHN UPDIKE, Rabbit Redux
1 likes
---
The order that our mind imagines is like a net, or like a ladder, built to attain something. But afterward you must throw the ladder away, because you discover that, even if it was useful, it was meaningless.
UMBERTO ECO, The Name of the Rose
1 likes
---
Order is the sanity of the mind, the health of the body, the peace of the city, the security of the state.
ELIZA COOK, Diamond Dust
1 likes
---
The friend of order has made half his way to virtue.
JOHANN CASPAR LAVATER, Aphorisms on Man
1 likes
---
For, what is order without common sense, but Bedlam's front parlor?
VERA NAZARIAN, Northanger Abbey and Angels and Dragons
1 likes
---
It turns out that an eerie type of chaos can lurk just behind a facade of order -- and yet, deep inside the chaos lurks an even eerier type of order.
DOUGLAS R. HOFSTADTER, Metamagical Themas: Questing for the Essence of Mind and Pattern
1 likes
---
Nature goes her own way, and all that to us seems an exception is really according to order.
JOHANN WOLFGANG VON GOETHE, Conversations with Goethe
0 likes
---
In all chaos there is a cosmos, in all disorder a secret order.
CARL JUNG, "Archetypes of the Collective Unconscious"
0 likes
---
Art ... is an attempt to bring order out of chaos.
STEPHEN SONDHEIM, interview, July 5, 2005
0 likes
---
Order is a prerequisite of survival; therefore the impulse to produce orderly arrangements is inbred by evolution.
RUDOLF ARNHEIM, Entropy and Art: An Essay on Disorder and Order
0 likes
---
Order is the framer of great things.
EDWARD COUNSEL, Maxims
0 likes
---
What is called chance is the instrument of Providence and the secret agent that counteracts what men call wisdom, and preserves order and regularity, and continuation in the whole, for ... I firmly believe, notwithstanding all our complaints, that almost every person upon earth tastes upon the totality more happiness than misery; and therefore if we could correct the world to our fancies, and with the best intentions imaginable, probably we should only produce more misery and confusion.
HORACE WALPOLE, letter, January 19, 1777
0 likes
---
When circumstances defy order, order should bend or break: anomalies and uncertainties give validity to architecture.
ROBERT VENTURI, Complexity and Contradiction in Architecture
0 likes
---
Chaos is a name for any order that produces confusion in our minds.
GEORGE SANTAYANA, Dominations and Powers
0 likes
---
The propitious smiles of Heaven can never be expected on a nation that disregards the eternal rules of order and right, which Heaven itself has ordained.
GEORGE WASHINGTON, First Inaugural Address, April 30, 1789
0 likes
---
All order, I've come to understand, is theoretical, unreal -- a harmless, sensible, smiling mask men slide between the two great, dark realities, the self and the world -- two snake-pits.
JOHN GARDNER, Grendel
0 likes
---
One man's idea of perfect order is another man's chaos.
DEAN KOONTZ, Dark Rivers of the Heart
0 likes
---