ORGANIZATION QUOTES
quotations about organization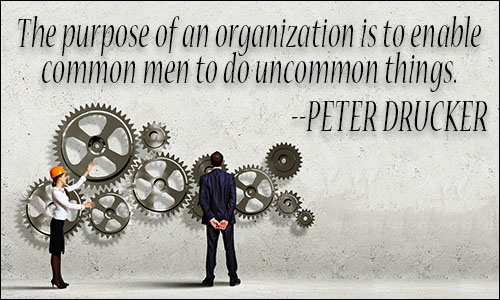 The only difference between a mob and a trained army is organization.
CALVIN COOLIDGE, Calvin Coolidge: His Ideals of Citizenship as Revealed Through His Speeches and Writings
1 likes
---
The purpose of an organization is to enable common men to do uncommon things.
PETER DRUCKER, Management: Tasks, Responsibilities, Practices
1 likes
---
The essence of an organisation is not the bricks, or the people, but the means in which these are combined.
PAUL GRISERI, An Introduction to the Philosophy of Management
1 likes
---
There is no reason why good cannot triumph as often as evil. The triumph of anything is a matter of organization. If there are such things as angels, I hope that they are organized along the lines of the Mafia.
KURT VONNEGUT, JR., The Sirens of Titan
0 likes
---
Organisms organize.
JAMES GLEICK, The Information: A History, a Theory, a Flood
0 likes
---
Organizations are for weak men, who are nothing individually, but collectively of some importance; strong men have less need of them, except to rule or use them.
CHRISTIAN NESTELL BOVEE, attributed, Day's Collacon
0 likes
---
We are organizational creatures. We are born not only into a society and culture but usually into a specific, complex organization: a family. Our marriages are organizations. We study in schools that are organizations; we earn a living in businesses that are organizations; at some time or another we will likely worship in an organization; and when we die there will be organizations to usher us out of this world.
M. SCOTT PECK, "Something is Seriously Wrong", A World Waiting to Be Born
0 likes
---
An idea can only become a reality once it is broken down into organized, actionable elements.
SCOTT BELSKY, Making Ideas Happen: Overcoming the Obstacles Between Vision and Reality
0 likes
---
Management of many is the same as management of few. It is a matter of organization.
SUN TZU, The Art of War
0 likes
---
It isn't the incompetent who destroy an organization. The incompetent never get into a position to destroy it. It is those who have achieved something and want to rest upon their achievements who are forever clogging things up.
CHARLES E. SORENSEN, My Forty Years with Ford
0 likes
---
General Good is the plea of the scoundrel, hypocrite and flatterer, for Art and Science cannot exist but in minutely organized Particulars.
WILLIAM BLAKE, Jerusalem
0 likes
---
Almost every organization ... exhibits two faces -- a smiling face which it turns toward its members and a frowning face which it turns to the world outside.
KENNETH BOULDING, The Organizational Revolution: A Study in the Ethics of Economic Organization
0 likes
---
I firmly believe that any organization, in order to survive and achieve success, must have a sound set of beliefs on which it premises all its policies and actions. Next I believe that the most important single factor in corporate success is faithful adherence to those beliefs. And, finally I believe if an organization is to meet the challenge of a changing world, it must be prepared to change everything about itself except those beliefs.
THOMAS WATSON, JR., attributed, Organisation and Identities: Text and Readings in Organizational Behaviour
0 likes
---
We create organizations to serve us, but somehow they also force us to serve them.
HENRY MINTZBERG, Mintzberg on Management
0 likes
---
The organized identity of man consists in a participation of the same continued life, by constantly fleeting particles in succession vitally united to the same organized body.
JOHN LOCKE, attributed, Day's Collacon
0 likes
---
In every organization, factions speak louder than words.
EVAN ESAR, 20,000 Quips & Quotes
0 likes
---
People do not exist just for organizations. They track all kinds of mud from the rest of their lives into the organization.
CHARLES PERROW, Complex Organizations: A Critical Essay
0 likes
---
The things we fear most in organizations -- fluctuations, disturbances, imbalances -- need not be signs of an impending disorder that will destroy us. Instead, fluctuations are the primary source of creativity.
MARGARET WHEATLEY, Leadership and the New Science
0 likes
---
This natural organization is called society. The object of society is therefore the most complete satisfaction of man's needs. The division of labor and exchange are the means by which this is accomplished.
GUSTAVE DE MOLINARI, The Production of Security
0 likes
---
Everything is organised, nothing is spontaneous.
BERTRAND RUSSELL, Authority and the Individual
0 likes
---