PAIN QUOTES
quotations about pain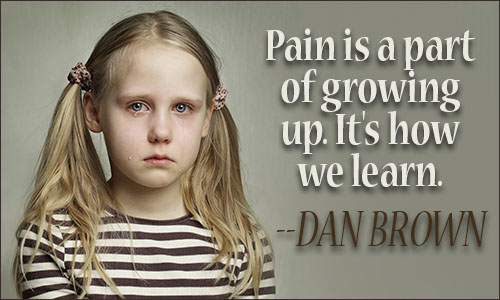 Pain has a way of clipping our wings and keeping us from being able to fly ... and if left unresolved for very long, you can almost forget that you were ever created to fly in the first place.
WM. PAUL YOUNG, The Shack
13 likes
---
Every nerve that can thrill with pleasure, can also agonize with pain.
HORACE MANN, A Few Thoughts for a Young Man
10 likes
---
Lord, help us to accept the pains and conflicts that come to us each day as opportunities to grow as people and become more like you.
MOTHER TERESA, A Gift for God
10 likes
---
Pain can only feed on pain. Pain cannot feed on joy. It finds it quite indigestible.
ECKHART TOLLE, The Power of Now
8 likes
---
Pain can be endured and defeated only if it is embraced. Denied or feared, it grows.
DEAN KOONTZ, Velocity
7 likes
---
That's the thing about pain.... It demands to be felt.
JOHN GREEN, The Fault in Our Stars
7 likes
---
Of all the things we can feel with our minds and bodies, severe pain is the purest, for it drives everything else from our awareness and focuses us as perfectly as we can ever be focused.
DEAN KOONTZ, Dark Rivers of the Heart
6 likes
---
It would be better to die once and for all than to suffer pain for all one's life.
AESCHYLUS, Prometheus Bound
5 likes
---
No pain, no gain.
JANE FONDA, Jane Fonda's Workout
5 likes
---
The power to cause pain is the only power that matters, the power to kill and destroy, because if you can't kill then you are always subject to those who can, and nothing and no one will ever save you.
ORSON SCOTT CARD, Ender's Game
4 likes
---
A little bit of pain is good for you. I feel alive. Everybody needs struggle. Once you overcome an obstacle, you springboard into the future. Life is interesting and short and it's not supposed to be easy, and if it is, you're probably just in denial and you're existing here like a zombie.
PAMELA ANDERSON, interview
3 likes
---
Politeness only teaches us to save others from unnecessary pain.... You are not bound by politeness to tell any falsehoods.
MARIA EDGEWORTH, The Flowerpot
3 likes
---
Pain is a part of growing up. It's how we learn.
DAN BROWN, Angels & Demons
3 likes
---
It's much easier to wear your pain on the outside.
E. L. JAMES, Fifty Shades of Freed
3 likes
---
I hate all pain,
Given or received; we have enough within us
The meanest vassal as the loftiest monarch,
Not to add to each other's natural burden
Of mortal misery.
LORD BYRON, Sardanapalus
2 likes
---
There are cases in which it is necessary to inflict pain now to avoid greater pain later on, or to gain future pleasure that is worth the current pain.
SUSAN HUBBARD, The Society of S
2 likes
---
It's so hard to forget pain, but it's even harder to remember sweetness. We have no scar to show for happiness. We learn so little from peace.
CHUCK PALAHNIUK, Diary
2 likes
---
Effort is only effort when it begins to hurt.
JOSÉ ORTEGA Y GASSET, attributed, Building a Life of Value
1 likes
---
Pain is rewarding, in every capacity.
CHRISTINA AGUILERA, Rolling Stone, August 24, 2006
1 likes
---
Pain is a gift. Humanity, without pain, would know neither fear nor pity. Without fear, there could be no humility, and every man would be a monster. The recognition of pain and fear in others gives rise in us to pity, and in our pity is our humanity, our redemption.
DEAN KOONTZ, Velocity
1 likes
---