PAINTING QUOTES
quotations about painting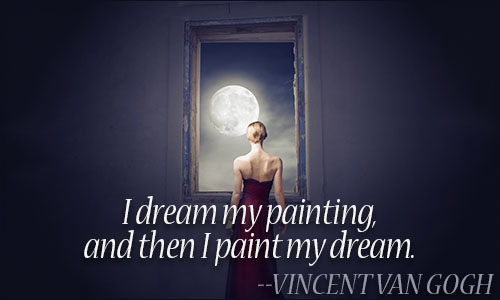 I dream my painting, and then I paint my dream.
VINCENT VAN GOGH, attributed, Marry Your Muse: Making a Lasting Commitment to Your Creativity
7 likes
---
Painting is a blind man's profession. He paints not what he sees, but what he feels, what he tells himself about what he has seen.
PABLO PICASSO, attributed, "War and Peace", Jean Cocteau's Journals
4 likes
---
Painting is silent poetry.
SIMONIDES OF CEOS, attributed, Plutarch's Essays
4 likes
---
Painting is the most beautiful of all arts. In it, all sensations are condensed; contemplating it, everyone can create a story at the will of his imagination and--with a single glance--have his soul invaded by the most profound recollections; no effort of memory, everything is summed up in one instant. A complete art which sums up all the others and completes them. Like music, it acts on the soul through the intermediary of the senses: harmonious colors correspond to the harmonies of sound. But in painting a unity is obtained which is not possible in music, where the accords follow one another, so that the judgment experiences a continuous fatigue if it wants to reunite the end with the beginning. The ear is actually a sense inferior to the eye. The hearing can only grasp a single sound at a time, whereas the sight takes in everything and simultaneously simplifies it at will.
PAUL GAUGUIN, Notes Synthetiques
2 likes
---
The canvas has an idiotic stare and mesmerises some painters so much that they turn into idiots themselves.
VINCENT VAN GOGH, letter to Theo van Gogh, October 1884
2 likes
---
I've been doing a lot of abstract painting lately, extremely abstract. No brush, no paint, no canvas, I just think about it.
STEVEN WRIGHT, stand-up routine
2 likes
---
I am not sick. I am broken. But I am happy to be alive as long as I can paint.
FRIDA KAHLO, "Mexican Autobiography", Time Magazine, April 27, 1953
2 likes
---
I don't paint what I look at, but what looks at me.
FRANÇOISE GILOT, "Artist Françoise Gilot, on life with and after Picasso", CBS News, August 20, 2017
2 likes
---
There are only two styles of portrait painting: the serious and the smirk.
CHARLES DICKENS, Nicholas Nickleby
1 likes
---
If a painting of a tree was only the exact representation of the original, so that it looked just like the tree, there would be no reason for making it; we might as well look at the tree itself. But the painting, if it is of the right sort, gives something that neither a photograph nor a view of the tree conveys. It emphasizes something of character, quality, individuality. We are not lost in looking at thorns and defects; we catch a vision of the grandeur and beauty of a king of the forest.
CALVIN COOLIDGE, speech, January 17, 1925
1 likes
---
Painting doesn't mean just describing, it's a state of spirit.
CARYL CHURCHILL, Mad Forest
1 likes
---
Painting dissolves the forms at its command ... it melts them into color.
ALEXANDER ELIOT, Sight and Insight
1 likes
---
Painting is something that takes place among the colors ... one has to leave them alone completely, so that they can settle the matter among themselves. Their intercourse: this is the whole of painting. Whoever meddles, arranges, injects his human deliberation, his wit, his advocacy, his intellectual agility in any way, is already disturbing and clouding their activity.
RAINER MARIA RILKE, letter to his wife, October 21, 1907
1 likes
---
Life is a great big canvas, throw all the paint you can on it.
DANNY KAYE, attributed, Say It Right: A Guide to Effective Oral Business Presentations
1 likes
---
If I didn't start painting, I would have raised chickens.
GRANDMA MOSES, My Life's History
1 likes
---
Painting with all its technicalities, difficulties, and peculiar ends, is nothing but a noble and expressive language, invaluable as the vehicle of thought, but by itself nothing.
JOHN RUSKIN, attributed, Hoyt's New Cyclopedia Of Practical Quotations
1 likes
---
Every now and then one paints a picture that seems to have opened a door and serves as a stepping stone to other things.
PABLO PICASSO, attributed, A Year of Painting: Exercises for Expressive Painting
1 likes
---
Once, Turner had himself lashed to the mast of a ship for several hours, during a furious storm, so that he could later paint the storm. Obviously, it was not the storm itself that Turner intended to paint. What he intended to paint was a representation of the storm.
DAVID MARKSON, Wittgenstein's Mistress
1 likes
---
The painter's work will be of little merit if he takes the painting of others as his standard, but if he studies from nature he will produce good fruits.
LEONARDO DA VINCI, Thoughts on Art and Life
0 likes
---
I would rather see the portrait of a dog that I know, than all the allegorical paintings they can show me in the world.
SAMUEL JOHNSON, Johnsonian Miscellanies
0 likes
---