PARIS QUOTES
quotations about Paris, France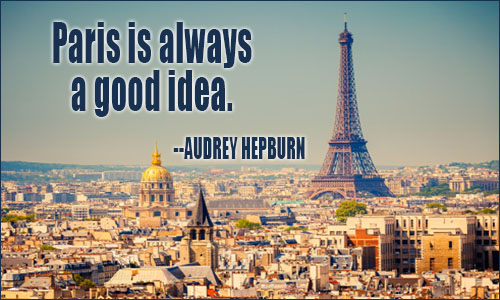 Paris is a city of gaieties and pleasures, where four fifths of the inhabitants die of grief.
CHAMFORT, The Cynic's Breviary
1 likes
---
France is going to endure and I'll tell you why. If you are in a war of culture and lifestyle with France, good f***ing luck. Go ahead, bring your bankrupt ideology. They'll bring Jean-Paul Sartre, Edith Piaf, fine wine, Gauloise cigarettes, Camus, camembert, madeleines, macarons, and the f***ing croquembouche. You just brought a philosophy of rigorous self-abnegation to a pastry fight, my friend.
JOHN OLIVER, statement on 11-13-2015 terrorist attacks on Paris, Last Week Tonight
1 likes
---
Paris is the principal city of loungers; it is laid out, built, arranged expressly for lounging.
JULES GABRIEL JANIN, The American in Paris
1 likes
---
Paris was a museum displaying exactly itself.
JEFFREY EUGENIDES, The Marriage Plot
0 likes
---
In Paris, everything's for sale: wise virgins, foolish virgins, truth and lies, tears and smiles.
EMILE ZOLA, The Attack on the Mill and Other Stories
0 likes
---
Paris is a city of centralisation--and centralisation and classification are closely allied. In the early times, when centralisation is becoming a fact, its forerunner is classification. All things which are similar or analogous become grouped together, and from the grouping of groups rises one whole or central point. We see radiating many long arms with innumerable tentaculae, and in the centre rises a gigantic head with a comprehensive brain and keen eyes to look on every side and ears sensitive to hear--and a voracious mouth to swallow.
BRAM STOKER, "The Burial of the Rats"
0 likes
---
Paris is always a good idea.
AUDREY HEPBURN, Sabrina
0 likes
---
Paris is like a whore. From a distance she seems ravishing, you can't wait until you have her in your arms. And five minutes later you feel empty, disgusted with yourself. You feel tricked.
HENRY MILLER, Tropic of Cancer
0 likes
---
After you've lived in Paris for a while, you don't want to live anywhere, including Paris.
JOHN ASHBERY, Selected Prose
0 likes
---
Paris was sad. One of the saddest towns: weary of its now-mechanical sensuality, weary of the tension of money, money, money, weary even of resentment and conceit, just weary to death, and still not sufficiently Americanized or Londonized to hide the weariness under a mechanical jig-jig-jig!
D. H. LAWRENCE, Lady Chatterley's Lover
0 likes
---
Yea, Paris is a festive ton -- a festive
Ton for all! Skate o'er on joy --
Thin crust of gilded, polished joy!
What matters it if Hell's beneath?
WILLIAM BATCHELDER GREENE, "Paris the Ton", Cloudrifts at Twilight
0 likes
---
Paris was a very old city and we were young and nothing was simple there, not even poverty, nor sudden money, nor the moonlight, nor right and wrong nor the breathing of someone who lay beside you in the moonlight.
ERNEST HEMINGWAY, A Moveable Feast
0 likes
---
In Paris you're always surrounded by French people.
DAVID SEDARIS, Time Magazine, June 2004
0 likes
---
Paris is "the city," isn't it, and I am a lover of cities. It can be experienced much more pleasantly and conveniently than any other city I know. It's so easy to get around on the metro, and so interesting when you get there--each arrondissement is like a separate province, with its own capital and customs and even costumes.
JOHN ASHBERY, The Paris Review, winter 1983
0 likes
---
The whole of Paris was lit up. The tiny dancing flames had bespangled the sea of darkness from end to end of the horizon, and now, like millions of stars, they burned with a steady light in the serene summer night. There was no breath of wind to make them flicker as they hung there in space. They made the unseen city seem as vast as a firmament, reaching out into infinity.
EMILE ZOLA, Une page d'amour
0 likes
---
Paris is the only city in the world where starving to death is still considered an art.
CARLOS RUIZ ZAFON, The Shadow of the Wind
0 likes
---
In the 1920s and '30s artists went to Paris and had a hell of a good time, as I tried to do in '48. I went there directly after the war because I was eager to see the action. But I found no great action when I got there. There were not many flowers of culture in 1947-48. Everybody concentrated on gluing the pieces together. For artists the great age had already been petering out before the war. By the great age I mean the international culture -- the gathering in Paris of a group of great figures, few of them French: Stein, Hemingway, Joyce, Pound, Picasso, Brancusi, Modigliani, Diaghilev, Stravinski, and so on. It was an international culture that made Paris its headquarters. But it was French only in location.
SAUL BELLOW, Contemporary Literature, 1984
0 likes
---
The American arrives in Paris with a few French phrases he has culled from a conversational guide or picked up from a friend who owns a beret.
FRED ALLEN, attributed, The Concise Columbia Dictionary of Quotations
0 likes
---
Paris hints of sacrifice. But here we deal with that large dusty facet known to indulgent and congruous kind. It is in its capacity of delicious inn and majestic Baedeker where western Venuses twang its responsive streets, and hush to soft growl before its statues, that it is seen.
WYNDHAM LEWIS, Tarr
0 likes
---
Paris flared -- Paris, which the divine sun had sown with light, and where in glory waved the great future harvest of Truth and of Justice.
EMILE ZOLA, Paris
0 likes
---