PARTISANSHIP QUOTES
quotations about partisanship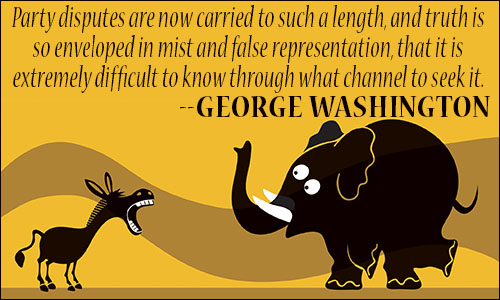 Much indeed to be regretted, party disputes are now carried to such a length, and truth is so enveloped in mist and false representation, that it is extremely difficult to know through what channel to seek it. This difficulty to one, who is of no party, and whose sole wish is to pursue with undeviating steps a path which would lead this country to respectability, wealth, and happiness, is exceedingly to be lamented. But such, for wise purposes, it is presumed, is the turbulence of human passions in party disputes, when victory more than truth is the palm contended for.
GEORGE WASHINGTON, letter to Timothy Pickering, July 27, 1795
1 likes
---
Differences in political opinions are as unavoidable as, to a certain point, they may perhaps be necessary; but it is exceedingly to be regretted that subjects cannot be discussed with temper on the one hand, or decisions submitted to without having the motives, which led to them, improperly implicated on the other; and this regret borders on chagrin when we find that men of abilities, zealous patriots, having the same general objects in view, and the same upright intentions to prosecute them, will not exercise more charity in deciding on the opinions and actions of one another.
GEORGE WASHINGTON, letter to Alexander Hamilton, August 26, 1792
0 likes
---
It is not the principled partisan, however obnoxious he may seem to his opponents, who degrades our public debate, but the preening, self-styled statesman who elevates compromise to a first principle.
TOM DELAY, CNN, June 9, 2006
0 likes
---
There's never a perfect bipartisan bill in the eyes of a partisan.
BILL CLINTON, The Economist, December 18, 2010
0 likes
---
A party spirit betrays the greatest men to act as meanly as the vulgar herd.
JEAN DE LA BRUYÈRE, "Of Mankind", Les Caractères
0 likes
---
You should have disagreements with your leaders and your colleagues, but if it becomes immediately a question of questioning people's motives, and if immediately you decide that somebody who sees a whole new situation differently than you must be a bad person and somehow twisted inside, we are not going to get very far in forming a more perfect union.
BILL CLINTON, statement, May 21, 2004
0 likes
---
There is always the danger that those who think alike should gravitate together into 'coteries' where they will henceforth encounter opposition only in the emasculated form of rumor that the outsiders say thus and thus. The absent are easily refuted, complacent dogmatism thrives, and differences of opinion are embittered by group hostility. Each group hears not the best, but the worst, that the other groups can say.
C. S. LEWIS, God in the Dock: Essays on Theology and Ethics
0 likes
---
partisanship -- to the exclusion of all else -- is a prescription for paralysis.
MIKE QUIGLEY, "A Call for Bipartisanship", Huffington Post, October 2, 2012
0 likes
---
Living means taking sides. Those who really live cannot help being a citizen and a partisan. Indifference and apathy are parasitism, perversion, not life.
ANTONIO GRAMSCI, attributed, Faces of Communities: Social Ties between Trust, Loyalty and Conflict
0 likes
---
For too long, our controversies seem to boil down to conservatives and liberals (or, if you prefer, traditionalists and progressives) talking past each other for the benefit of stirring up their loyalists, as partisans do in the primary campaigns of electoral politics. The rest of us are expected to line up with our team just as soon as they show their colors.
KEN WILSON, A Letter to My Congregation
0 likes
---
We can't allow ourselves to descend down the rabbit hole of unbridled partisanship for partisan sake. The complex problems confronting this country require thoughtful responses from both parties -- not reflexive dogma that appeases the rowdy and unreasonable few.
MIKE QUIGLEY, "A Call for Bipartisanship", Huffington Post, October 2, 2012
0 likes
---
I don't judge a regime by the damning criticism of the opposition, but by the ingenuous praise of the partisan.
JEAN ROSTAND, The Substance of Man
0 likes
---
One tell-tale sign of a wingnut: they always confuse partisanship with patriotism.
JOHN AVLON, Wingnuts: How the Lunatic Fringe is Hijacking America
0 likes
---
The man who knows only half of any question is worse off than the man who knows nothing of it. He is not only one sided, but his partisanship soon turns him into an intolerant and a fanatic.
JAMES E. TALMAGE, The Pittsburgh Conference on Mormonism
0 likes
---
Partisanship is our great curse. We too readily assume that everything has two sides and that it is our duty to be on one or the other. We must be defending or attacking something; only the lily-livered hide their natural cowardice by asking the impudent question: What is it all about?
JAMES HARVEY ROBINSON, The Mind in the Making: The Relation of Intelligence to Social Reform
0 likes
---
My fixed principle never to be the tool of any man, nor the partisan of any nation, would forever exclude me from the smiles and favors or courts.
JOHN ADAMS, diary, 1782
0 likes
---
Truth gathers itself spotless and unhurt after all our surrenders and concealments and partisanship.
RALPH WALDO EMERSON, "The Sovereignty of Ethics", Select Writings of Ralph Waldo Emerson
0 likes
---
I have never seen such extreme partisanship, such bitter partisanship, and such forgetfulness of the fate of our fathers and of the Constitution.
ROBERT BYRD, attributed, Swimming in Cosmic Soup
0 likes
---
Bipartisanship ought to consist of Democrats coming to the Republican point of view.
RICHARD LUGER, attributed, "A Call for Bipartisanship", Huffington Post, October 2, 2012
0 likes
---
There are a few things which are found to have a worse influence upon the character than to embark in partisan politics.
G. W. BURNAP, attributed, Day's Collacon
0 likes
---