PERFORMANCE ART QUOTES
quotations about performance art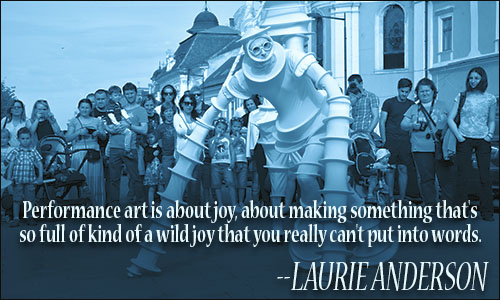 Performance art is about joy, about making something that's so full of kind of a wild joy that you really can't put into words.
LAURIE ANDERSON
1 likes
---
Performance art is often treated as part of a subculture in which its practices operate only in a closed-off section of the cultural field. Yet, historically, subcultures often anticipate major changes in society.
THOMAS J. BERGHUIS, Performance Art in China
1 likes
---
Theatre is fake ... The knife is not real, the blood is not real, and the emotions are not real. Performance is just the opposite: the knife is real, the blood is real, and the emotions are real.
MARINA ABRAMOVIC, The Guardian, October 2, 2010
0 likes
---
Tomorrow night I'm giving a lecture on silence and invisibility. Don't be surprised if I don't show up.
JAROD KINTZ, Seriously Delirious, But Not All Serious
0 likes
---
I realise the power of art that does not hang on the walls of galleries.
MARINA ABRAMOVIC, The Guardian, October 2, 2010
0 likes
---
The history of performance art in the twentieth century is the history of a permissive, open-ended medium with endless variables, executed by artists impatient with the limitations of mere established art forms, and determined to take art directly to the public.
ROSELEE GOLDBERG, attributed, Critical Theory and Performance
0 likes
---
If you learn to be a psychoanalyst, and you're working as a psychoanalyst, your job is in that context. If you're a baker, making bread, you're a baker. If you make the best bread in the world, you're not an artist, but if you bake the bread in the gallery, you're an artist. So the context makes the difference. And my context is art.
MARINA ABRAMOVIC, "Marina Abramovic Makes Sundance Shut Up", Interview Magazine
0 likes
---
In certain respects performance art is like theater with the priorities reversed. The text recedes or disappears altogether, while the supporting elements of ordinary theater--the acting style, the gesture system, the sound, the lights, the mise-en-scene--emerge singly or in combination as the focus of attention.
SALLY BANES, Subversive Expectations: Performance Art and Paratheater in New York
0 likes
---
Performance art is the "unconscious" of theatre. Dreams and traumas are the content of this unconscious, and the performer's art is to externalize these and enlarge them, so that they become available, ultimately, to the gaze of the Other.
A. HOWELL, The Analysis of Performance Art: A Guide to Its Theory and Practice
0 likes
---
Talking about performance is such a strange thing because it's so immaterial. We are talking about soft matter. We are talking about something that is invisible. You can't see it. You can't touch it. You just can feel it.
MARINA ABRAMOVIC, "Marina Abramovic Makes Sundance Shut Up", Interview Magazine
0 likes
---
Because I did an event with Jay Z, she said I'd killed performance art. But who made these rules?
MARINA ABRAMOVIC, The Guardian, May 12, 2014
0 likes
---
For me, the interesting thing about performance art is that it will have no tradition, in the sense that the pieces are made for the moment. They are not made to last, the way, say, a play of Shakespeare, Moliere, or Tennessee Williams is. They are events of our time, like a shooting star.
ROBERT WILSON, "Legend Robert Wilson Talks the Rise -- and Rise -- of Performance Art", Observer, July 29, 2015
0 likes
---
Performance art may be something of a moving target, but there's a prevailing sentiment among critics, dealers, and curators that it might also just be "the medium of our time."
JULIE BAUMGARDNER, "How Performance Art Entered the Mainstream", Artsy, November 3, 2015
0 likes
---
Imagine spending seven years at MIT and research laboratories, only to find that you're a performance artist.
GOLAN LEVIN, "Software (as) art", TED talk, April 2007
0 likes
---
Therein lies the truth about contemporary performance art: It encourages people to do ever more outrageous things, resulting in spectacles that resemble not so much an ironic Theater of the Absurd as a bad TV game show.
LIZZIE CROCKER, "The Latest Proof That Performance Art Is Bullshit", The Daily Beast, April 25, 2014
0 likes
---
Part of performance art is the unknown -- the unexpected. You can stop by and check one out, and then know that the next one is going to be completely different.
CYNTHIA POST HUNT, "Expanding Art: Inverse Festival turns performance upside down", Northwest Arkansas Democrat Gazette, April 15, 2016
0 likes
---
I felt limited after coming out of Transformers. Or all the stuff I'd done with Steven Spielberg, not to pooh-pooh those films, but you have no creative control.... That's why I turned to performance art, because it's just about the process. It's all aired out.
SHIA LABEOUF, "Shia LaBeouf: 'Why do I do performance art? Why does a goat jump?'", The Guardian, December 10, 2015
0 likes
---
Visual art is really great, but performance art is just as important. And they go together really well, like a peanut butter and jelly sandwich. Peanut butter is fine by itself, and jelly is fine by itself. But when they come together, there's something new to be had.
MAGGIE BLANK, "'ID: Coming Home' brings pop-up art to North Carolina Study Center", Daily Tarheel, April 1, 2016
0 likes
---
Honey, come look at this! is this real? is this performance art? is this viral like cats playing keyboards? is this music?
MATTHEW MOYER, "Hijokaidan performance footage to further muddy April Fools' Day online waters", Orlando Weekly, April 1, 2016
0 likes
---
Performance art is a real-life, high-risk form of artistic expression.
ANDREW CASTO, "Graduate student presents performance art", Kansas State Collegian, April 11, 2016
0 likes
---