PERSONALITY QUOTES
quotations about personality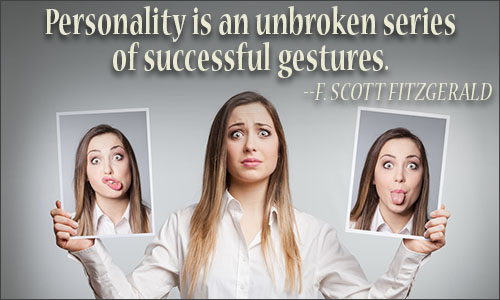 We continue to shape our personality all our life. If we knew ourselves perfectly, we should die.
ALBERT CAMUS, Notebooks, 1935-1942
2 likes
---
I use bits and pieces of others personalities to form my own.
KURT COBAIN, Journals
1 likes
---
I don't think we will ever get along. I have too many personalities, and you haven't even got one ...
ANONYMOUS
1 likes
---
The largest part of what we call 'personality' is determined by how we've opted to defend ourselves against anxiety and sadness.
ALAIN DE BOTTON, attributed, "22 Calming Quotes for People with Anxiety", Psychology Today, September 17, 2014
1 likes
---
Personality is an unbroken series of successful gestures.
F. SCOTT FITZGERALD, The Great Gatsby
0 likes
---
Man is concentric: you have to take fold after fold off of him before you get to the centre of his personality. You must get below his animal nature, habits, customs, affections, daily life, and sometimes go away down into the heart of the man, before you know what is really in him. But when you get into the last core of these concentric rings of personality you find a sense of the infinite--a consciousness of immortality linked to something higher and better.
E. H. CHAPIN, Living Words
0 likes
---
Humans are different in private than in the presence of others. While the private persona merges into the social persona in varying degrees, the union is never complete. Something is always held back.
BRIAN HERBERT & KEVEN J. ANDERSON, Dune: House Corrino
0 likes
---
Even in the most insignificant details of our daily life, none of us can be said to constitute a material whole, which is identical for everyone, and need only be turned up like a page in an account-book or the record of a will; our social personality is a creation of the thoughts of other people.
MARCEL PROUST, Swann's Way
0 likes
---
Our personality should be impenetrable even to ourselves.
FERNANDO PESSOA, The Book of Disquiet
0 likes
---
How many friends have you lost, how many have you gained, because they glimpsed some element of your personality that shone through for only an instant, and in circumstances you could never reproduce? An illusion of water shimmering at the far bend of a highway.
KEVIN BROCKMEIER, The View from the Seventh Layer
0 likes
---
By its very nature, all action is the projection of the personality onto the external world and since the external world is very largely made up of other human beings, it follows that any such projection of the personality will involve crossing someone else's path and bothering, hurting or trampling on others, depending on how one acts.
FERNANDO PESSOA, The Book of Disquiet
0 likes
---
I want freedom for the full expression of my personality.
MAHATMA GANDHI, The Essential Gandhi: An Anthology of His Writings on His Life, Work, and Ideas
0 likes
---
Personality is that which is thrust upon us.
BALKRISHNA PANDAY, Personality
0 likes
---
To go from life to life means having no personality of your own. But to have a personality of your own is an idea which is peculiar to a certain form of civilization.
ALBERT CAMUS, Notebooks
0 likes
---
The really valuable thing in the pageant of human life seems to me not the State but the creative, sentient individual, the personality; it alone creates the noble and the sublime, while the herd as such remains dull in thought and dull in feeling.
ALBERT EINSTEIN, The World as I See it
0 likes
---
I sell the things you need to be
I'm the smiling face on your T.V.
I'm the cult of personality.
I exploit you
Still you love me
I tell you one and one makes three.
I'm the cult of personality
Like Joseph Stalin and Gandhi.
I'm the cult of personality.
LIVING COLOUR, "Cult of Personality"
0 likes
---
The cult of personality is the curse of modern communication. Why should we believe that the actor, the entertainer or the sportsperson, the well-born, rich (whether by talent or accident,) or just famous for being famous, have anything original, wise, or philosophical to say? Yet, smitten by celebrity, we hang upon their lips.
ANITA ROBINSON, "Cult of personality is curse of the modern age", Irish News, April 5, 2016
0 likes
---
The most important kind of freedom is to be what you really are.
JIM MORRISON, The Lizard King: The Essential Jim Morrison
0 likes
---
We all want to grow up and move on and appear to be different to people. And we want people to see us in a different way. But, I don't know, I think the personality is very, very strongly cemented, and we just bear whatever shortcomings we have and learn to live with it.
MORISSEY, radio interview with Jed the fish, 1997
0 likes
---
Personality is defined as the series of traits that make you unique. Between 40 and 50 per cent of traits have genetic roots that are passed down from parents, but are shaped by your environment when you are young. Some are encouraged, and they develop, while others are discouraged. By about age 30, they are inextricably part of who you are.
JERRY WEST, "Narcissistic perfectionists hurt those around them, says Dalhousie team", CBC News, April 14, 2016
0 likes
---