PHYSICS QUOTES
quotations about physics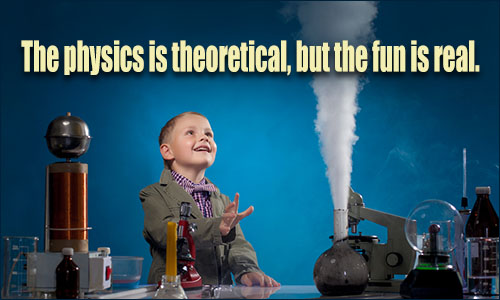 In the history of physics, every time we've looked beyond the scales and energies we were familiar with, we've found things that we wouldn't have thought were there.
LISA RANDALL, Discover Magazine, July 2006
1 likes
---
There is nothing special in the world. Nothing magic. Just physics.
CHUCK PALAHNIUK, Diary
1 likes
---
Physics is like sex: sure, it may give some practical results, but that's not why we do it.
RICHARD FEYNMAN, attributed, Mad about Physics
1 likes
---
Most people think of "seeing" and "observing" directly with their senses. But for physicists, these words refer to much more indirect measurements involving a train of theoretical logic by which we can interpret what is "seen."
LISA RANDALL, New York Times, September 18, 2005
0 likes
---
A lot of fundamental physics is the solemn statement of the absurdly obvious. Any drunk who has tried to put his car where a lamppost stands is a self-educated physicist.
DEAN KOONTZ, Odd Thomas
0 likes
---
The physics is theoretical, but the fun is real.
ANONYMOUS
0 likes
---
Physicists use the wave theory on Mondays, Wednesdays and Fridays and the particle theory on Tuesdays, Thursdays and Saturdays.
WILLIAM HENRY BRAGG, attributed, Dictionary of Scientific Quotations
0 likes
---
Physics is the Supreme Court of the sciences.
DAVE MAIULLO, "Review: 'That Physics Show,' Where Newton Meets Nitrogen", New York Times, April 7, 2016
0 likes
---
I try to keep one finger on new physics discoveries and what's going on with dark matter and dark energy, and the Higgs Boson, and gravitational waves, but it's all so completely foreign to us because we've evolved to function on particular scales of space and time. And that's what we're good at: seeing and hearing on that scale and thinking on that scale. But essentially as we scratch the borders of reality, we realize that it's something that we just can't intuit or understand. It's not like that we just say "Oh that's it. That's how the pieces fit together." Instead, every time we discover something it's like "What does that mean?"
DAVID EAGLEMAN, "Think Big: Neuroscientist David Eagleman on What Is Possible in the Cosmos", Smithsonian, April 29, 2016
0 likes
---
The laws of physics are the canvas God laid down on which to paint his masterpiece.
DAN BROWN, Angels & Demons
0 likes
---
Physics is really nothing more than a search for ultimate simplicity, but so far all we have is a kind of elegant messiness.
BILL BRYSON, A Short History of Nearly Everything
0 likes
---
Physics made me sick the whole time I learned it. What I couldn't stand was this shrinking everything into ... hideous, cramped, scorpion-lettered formulas.
SYLVIA PLATH, The Bell Jar
0 likes
---
We have a closed circle of consistency here: the laws of physics produce complex systems, and these complex systems lead to consciousness, which then produces mathematics, which can then encode in a succinct and inspiring way the very underlying laws of physics that gave rise to it.
ROGER PENROSE, The Road to Reality: A Complete Guide to the Laws of the Universe
0 likes
---
Assessing existence while failing to embrace the insights of modern physics would be like wrestling in the dark with an unknown opponent.
BRIAN GREENE, The Fabric of the Cosmos: Space, Time, and the Texture of Reality
0 likes
---
To what extent can physics be abridged for popular consumption before it loses its essential meaning? How apt are the metaphors that stand in for the overtly mathematical processes that govern the universe? Is physics sans equations the Mona Lisa with a Charlie Brown smile?
ALAN HIRSHFELD, "Hitching a Ride on a Light Beam", Wall Street Journal, April 22, 2016
0 likes
---
Physics is becoming too difficult for the physicists.
DAVID HILBERT, attributed, German-Jewish Pioneers in Science 1900-1933
0 likes
---
Photons have mass? I didn't even know they were Catholic.
WOODY ALLEN, attributed, The Quantum Zoo: A Tourist's Guide to the Neverending Universe
0 likes
---
Physics is mathematical, not because we know so much about the physical world, but because we know so little: it is only its mathematical properties that we can discover.
BERTRAND RUSSELL, Philosophy
0 likes
---
Mathematical physics represents the purest image that the view of nature may generate in the human mind; this image presents all the character of the product of art; it begets some unity, it is true and has the quality of sublimity; this image is to physical nature what music is to the thousand noises of which the air is full.
THEOPHILE DE DONDER, Autobiography
0 likes
---
Both the old and new physics were dealing with shadow-symbols, but the new physics was forced to be aware of that fact -- forced to be aware that it was dealing with shadows and illusions, not reality.
KEN WILBER, Quantum Questions: Mystical Writings of the World's Greatest Physicists
0 likes
---