PIETY QUOTES
quotations about piety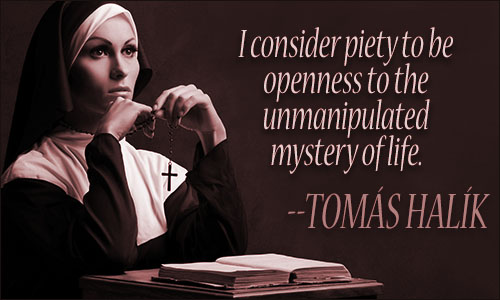 Simple, sincere people seldom speak much of their piety. It shows itself in acts rather than in words, and has more influence than homilies or protestations.
LOUISA MAY ALCOTT, Little Women
1 likes
---
Faith, and hope, and patience and all the strong, beautiful, vital forces of piety are withered and dead in a prayerless life.
E. M. BOUNDS, The Weapon of Prayer
1 likes
---
If you cultivate piety as an end and not a means, you will become a hypocrite.
AUSTIN O'MALLEY, Keystones of Thought
0 likes
---
We are plated with piety, not alloyed with it.
AUSTIN O'MALLEY, Keystones of Thought
0 likes
---
Piety--warm, soft, and passive as the ether round the throne of Grace--is made callous and inactive by kneeling too much.
WALTER SAVAGE LANDOR, Imaginary Conversations
0 likes
---
Piety is not an end, but a means: a means of attaining the highest culture by the purest tranquility of soul. Hence it may be observed that those who set up piety as an end and object are mostly hypocrites.
JOHANN WOLFGANG VON GOETHE, The Maxims and Reflections of Goethe
0 likes
---
The pious man is alive to what is solemn in the simple, to what is sublime in the sensuous; but he is not aiming to penetrate into the sacred. Rather he is striving to be himself penetrated and actuated by the sacred, eager to yield to its force, to identify himself with every trend in the world which is toward the divine.
ABRAHAM JOSHUA HESCHEL, Man Is Not Alone: A Philosophy of Religion
0 likes
---
Whatever be the topic of conversation, the spirit of piety should be diffused through it--as the salt in our food should properly season it all, whatever the article of food may be.
ALBERT BARNES, Notes, Explanatory and Practical, on the Epistles of Paul: To the Ephesians, Philippians, and Colossians
0 likes
---
Piety does not mean that a man should make a sour face about things, and refuse to enjoy in moderation what his Maker has given.
THOMAS CARLYLE, Critical and Miscellaneous Essays
0 likes
---
He was very religious; he believed that he had a secret pact with God which exempted him from doing good in exchange for prayers and piety.
JORGE LUIS BORGES, The Aleph and Other Stories
0 likes
---
The piety that keeps the Sabbath with a great zeal of devotion, yet fails to keep its possessor honest on Monday, is not the kind that is stamped in the mint of heaven.
HERRICK JOHNSON, attributed, Dictionary of Burning Words of Brilliant Writers
0 likes
---
Piety cannot be an instinct craving for a mess of metaphysical and ethical crumbs.
FRIEDRICH SCHLEIERMACHER, On Religion: Speeches to Its Cultured Despisers
0 likes
---
Piety is a discipline of the will through respect. It admits the right to exist of things larger than the ego, of things different from the ego.
RICHARD M. WEAVER, Ideas Have Consequences
0 likes
---
A contemplative life has more the appearance of piety than any other; but the divine plan is to bring faith into activity and exercise.
RICHARD CECIL, attributed, A Dictionary of Thoughts: Being a Cyclopedia of Laconic Quotations from the Best Authors, Both Ancient and Modern
0 likes
---
Ours must be a robust piety--which does not get sick soon in the tainted air. The forces of evil are marshalled in unwonted activity--and there are liers in wait to surprise and to betray. Ours must be a watchful piety, which is not frightened from its steadfastness by the "noise of the captains and the shouting." Through the heavy night, and beyond the embattled hosts, there glitters the victor's recompense. It must be ours to press towards it on our patient way, saying to all who differ from us, "Hinder me not, I mean to wear that crown."
WILLIAM MORLEY PUNSHON, Lectures and Sermons
0 likes
---
Piety is not a thinking about coming but a real approach. It is not identical with the performance of rites and ceremonies, but is rather the care and affection put into their performance, the personal touch therein, the offering of life.
ABRAHAM JOSHUA HESCHEL, Man Is Not Alone: A Philosophy of Religion
0 likes
---
Piety stretched beyond a certain point is the parent of impiety. By attempting to keep up the fervour of devotion for so long a time, we have thinned our churches, and driven away those fluctuating, lukewarm Christians who will always outnumber the zealous and devout, and whom it should be our first object to animate, allure, and fix.
SYDNEY SMITH, A Memoir of the Reverend Sydney Smith
0 likes
---
Piety is a silver chain hanged up aloft, which ties heaven and earth, spiritual and temporal, God and man together.
N. CAUSSIN, attributed, Day's Collacon
0 likes
---
Earth has nothing more tender than a woman's heart when it is the abode of piety.
MARTIN LUTHER, attributed, History of the Reformation in the Sixteenth Century
0 likes
---
Short devotions are the bane of deep piety. Calmness, grasp, strength, are never the companions of hurry.
E. M. BOUNDS, Power Through Prayer
0 likes
---