PITY QUOTES
quotations about pity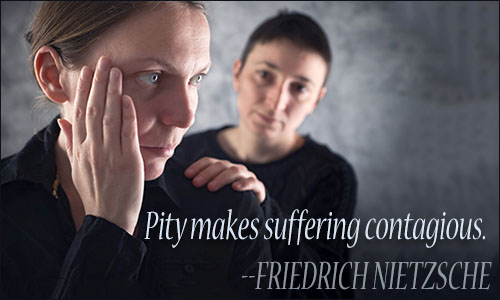 Pity makes suffering contagious.
FRIEDRICH NIETZSCHE, The Antichrist
3 likes
---
When men are about to commit, or sanction the commission of some injustice, it is not uncommon for them to express pity for the object either of that or some parallel proceeding, and to feel themselves, at the time, quite virtuous and moral, and immensely superior to those who express no pity at all. This is a kind of upholding of faith above works, and is very comfortable.
CHARLES DICKENS, Nicholas Nickleby
2 likes
---
Pity is sworn servant unto love:
And this be sure, wherever it begin
To make the way, it lets your master in.
SAMUEL DANIEL, The Queen's Arcadia
1 likes
---
The recognition of pain and fear in others give rise in us to pity, and in our pity is our humanity, our redemption.
DEAN KOONTZ, Velocity
1 likes
---
He best can pity who has felt the woe.
JOHN GAY, Dione
1 likes
---
Pity is not natural to man. Children are always cruel. Savages are always cruel. Pity is acquired and improved by the cultivation of reason. We may have uneasy sensations from seeing a creature in distress, without pity; for we have not pity unless we wish to relieve them. When I am on my way to dine with a friend, and finding it late, have bid the coachman make haste, if I happen to attend when he whips his horses, I may feel unpleasantly that the animals are put to pain, but I do not wish him to desist. No, sir, I wish him to drive on.
SAMUEL JOHNSON, attributed, The Life of Samuel Johnson
1 likes
---
It is only at first that pity, like morphine, is a solace to the invalid, a remedy, a drug, but unless you know the correct dosage and when to stop, it becomes a virulent poison. The first few injections do good, they soothe, they deaden the pain. But the devil of it is that the organism, the body, just like the soul, has an uncanny capacity for adaptation. Just as the nervous system cries out for more and more morphine, so do the emotions cry out for more and more pity, in the end more than one can give. Inevitably there comes a moment when one has to say 'no', and then one must not mind the other person's hating one more for this ultimate refusal than if one had never helped him at all.
STEFAN ZWEIG, Beware of Pity
1 likes
---
Pity is imagination or fiction of future calamity to ourselves, proceeding from the sense of another man's present calamity; but when it lighteth on such as we think have not deserved the same, the compassion is greater, because then there appeareth the more probability that the same may happen to us. For the evil that happeneth to an innocent man, may happen to every man.
THOMAS HOBBES, The Elements of Law Natural and Politic
1 likes
---
Pity is more spectator-like than compassion; we can pity people while maintaining a safe emotional distance from them.
AARON BEN-ZE'EV, The Subtlety of Emotions
1 likes
---
Pity is a deceptive emotional response to perceived suffering. Why deceptive? Because it feigns a closeness that is really distance. When unsure of ourselves and afraid to step outside the insularity of what is comfortable and reassuring about normalcy, we respond to undomesticated suffering with pity. Pity emerges from the presumption that we must do something to hide affliction when we encounter it, making it go away. This urge to cover up suffering is a symptom of shame, the shame we attribute to another whose out-of-control body elicits our own sense of shame. So we condescend to others as pathetic, feeling sorry for them in order to connect with their suffering as though it would be tragic if it were our own. It is as if to say, "There but for the grace of God go I." This feeling is not to be equated with compassion or sympathy, a feeling-along-with the other. For pity is a feeling for the other that presumes the other is unlike us, subject to a state of affairs that we are relieved to have avoided. Hence, the real focus of pity is directed toward the perceiver and not the perceived, who is left on the outside.
THOMAS E. REYNOLDS, Vulnerable Communion
1 likes
---
It is easy to pity when once one's vanity has been tickled.
WILLA CATHER, "On the Divide", The Troll Garden
0 likes
---
Pity is often an eloquent advocate.
EDWARD COUNSEL, Maxims
0 likes
---
Pity the laden one; this wandering woe
May visit you and me.
GEORGE ELIOT, Middlemarch
0 likes
---
Pity in its embrace strangles respect.
ABRAHAM MILLER, Unmoral Maxims
0 likes
---
Pity is always twinged with disgust.
DANIEL QUINN, The Holy
0 likes
---
A woman's pity often opens the door to love.
HENRY WARD BEECHER, Proverbs from Plymouth Pulpit
0 likes
---
They tell us that "Pity is akin to Love;" if so, Pity must be a poor relation.
ARTHUR HELPS, Thoughts in the Cloister and the Crowd
0 likes
---
More helpful than all wisdom is one draught of simple human pity that will not forsake us.
GEORGE ELIOT, The Mill on the Floss
0 likes
---
And pity, like a naked newborn babe,
Striding the blast, or heaven's cherubim, horsed
Upon the sightless couriers of the air,
Shall blow the horrid deed in every eye,
That tears shall drown the wind.
WILLIAM SHAKESPEARE, Macbeth
0 likes
---
Pity is occasioned by another's suffering but is conjoined with a disposition to keep that suffering alive and salient as a symptom of a claimed deep understanding of the despair that this earthly life engenders.
REX WELSHON, "Friedrich Nietzsche: The Genealogy of Morals"
0 likes
---