POKER QUOTES
quotations about poker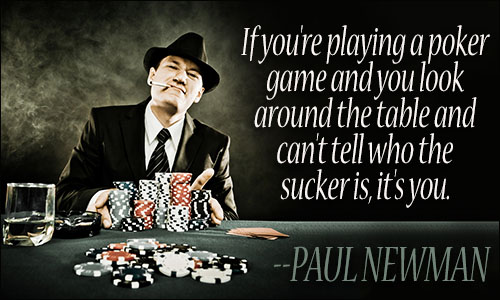 If you're playing a poker game and you look around the table and can't tell who the sucker is, it's you.
PAUL NEWMAN, attributed, Poker as Life: 101 Lessons from the World's Greatest Game
2 likes
---
Properly understood, poker is a betting game, not a card game. If you don't believe that, try playing for bottle caps or toothpicks. You will quickly find out that the game is pointless; no more strategic than War and involving less skill than Go Fish. Poker only becomes meaningful when played for real money, at which point considerations of fear, greed, over-confidence and self-doubt come into play.
STEVEN LUBET, "Here's betting a computer can't play poker", Chicago Tribune, April 6, 2016
2 likes
---
Poker is the only gambling game where the best hand does not always win, and where the worst hand can.
VICTOR H. ROYER, Powerful Profits From Poker
2 likes
---
Poker is a microcosm of all we admire and disdain about capitalism and democracy. It can be rough-hewn or polished, warm or cold, charitable and caring, or hard and impersonal, fickle and elusive, but ultimately it is fair, and right, and just.
LOU KRIEGER, Lou Krieger Online
1 likes
---
The cardinal sin in poker, worse than playing bad cards, worse even than figuring your odds correctly, is becoming emotionally involved.
KATY LEDERER, A Girlhood Among Gamblers
1 likes
---
In poker, as in business, the secret is in knowing how to manage risk and capitalize on opportunity.
LOU KRIEGER, More Hold'em Excellence
1 likes
---
Poker asks, nay, commands all its adherents to cut the bullshit and embrace reality. It will toy with the deluded -- those who have everything figured out -- with the playful cruelty of a cat toying with a mouse. Bring all of your convictions and credentials, your anger and insecurities to the poker table and the Poker Gods will tease you and mock you and fill you with false hopes and send you to the ATM a few times before releasing you, broke and steaming, at 5am.
KATYA G. COHEN, The American Spellbound
1 likes
---
There are few things that are so unpardonably neglected in our country as poker. The upper class knows very little about it. Now and then you find ambassadors who have sort of a general knowledge of the game, but the ignorance of the people is fearful. Why, I have known clergymen, good men, kind-hearted, liberal, sincere, and all that, who did not know the meaning of a 'flush.' It is enough to make one ashamed of one's species.
MARK TWAIN, Life As I Find It
1 likes
---
Poker is a predatory game, and the terms players use to describe one another -- "sharks" and "fish," among others -- make that abundantly clear. In theory, that cut-throat culture is supposed to be confined to the felt, but one thing that's struck me in the time I've been writing about poker is how thoroughly it has seeped out and permeated all other corners of the poker world as well. That's not to say that it's impossible to succeed in poker while behaving ethically away from the tables, only that it is a recipe for disaster to assume that others are equally trustworthy.
ALEX WELDON, "Poker Rewards Enthusiasm, but Punishes Innocence", Part Time Poker, April 7, 2016
1 likes
---
Poker is game that requires the blurring of fact and fiction. After all, every single hand of poker that has ever been played has featured a combination of the known and unknown, with the distinction between the two purposely complicated by the efforts of everyone involved to hide or misrepresent details regarding what is and what is not.
MARTIN HARRIS, "Poker & Pop Culture: Telling the Story of America's Favorite Card Game", Poker News, May 3, 2016
1 likes
---
We know poker as a game played by cowboys and card sharps, by soldiers and scouts, by presidents, peasants, and painted dogs. We know that unlike hearts or euchre or crazy eights, poker often requires players to match not just cards and wits, but egos and nerve as well. It's a game in which the competition can be intellectual, emotional, mental, psychological, analytical, verbal, and ... even physical.
MARTIN HARRIS, "Poker & Pop Culture: Telling the Story of America's Favorite Card Game", Poker News, May 3, 2016
1 likes
---
There is no sympathy in poker. Always keep cool. If you lose your head you will lose all your chips.
WILLIAM J. FLORENCE, The Gentleman's Handbook on Poker
0 likes
---
Whether he likes it or not, a man's character is stripped bare at the poker table; if the other players read him better than he does, he has only himself to blame. Unless he is both able and prepared to see himself as others do, flaws and all, he will be a loser in cards, as in life.
ANTHONY HOLDEN, Big Deal
0 likes
---
Poker is a fighting game, a game in which each player tries to get the better of every other player and does so by fair means or foul so long as he obeys the rules of the game. He may bluff or lie about his own strength, the object of the game being either to frighten the other players into believing that he has greater strength or else to prove it.
KARL MENNINGER, Love Against Hate
0 likes
---
In poker, good players win and poor players lose.
LOU KRIEGER, More Hold'em Excellence
0 likes
---
The poker player learns that sometimes both science and common sense are wrong; that the bumblebee can fly; that, perhaps, one should never trust an expert; that there are more things in heaven and earth than are dreamt of by those with an academic bent.
DAVID MAMET, Writing in Restaurants
0 likes
---
As batting practice is not baseball, reading about poker, or playing against computerized opponents -- while undeniably helpful -- is not the same as playing for real money, against live opponents, in public games.
LOU KRIEGER, Hold'em Excellence
0 likes
---
The seductive game of poker is one that I do not understand. I do not care to understand it, because it cannot be played without the putting up of a good deal of the coin of the realm, and although I have nothing to say against betting, my own theory of conduct in the matter is this, that I want no man's money which I do not earn, and I do not want any man to get my money unless he earns it.
ROBERT BARR, "The Society for the Reformation of Poker Players"
0 likes
---
Only losers and amateurs blame the cards. After all, cards don't care; they don't take sides, and they have no memory. They are blind justice holding her scales, and in the long run they'll tip evenly for the novice and the skilled alike.
LOU KRIEGER, More Hold'em Excellence
0 likes
---
Here's a freebie: Don't play poker with a kid who can read minds.
JAMES PATTERSON, The Final Warning
0 likes
---