POSSIBILITY QUOTES
quotations about possibility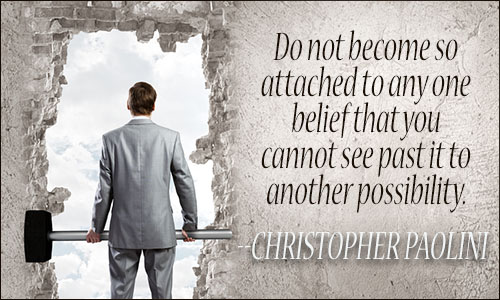 Possibilities are like cancer. The more I think about them, the more they multiply, and there's no way to stop them.
HARUKI MURAKAMI, Dance, Dance, Dance
2 likes
---
The world is full of hopeful analogies and handsome dubious eggs called possibilities.
GEORGE ELIOT, Middlemarch
1 likes
---
The attempt
Is all the wedge that splits its knotty way
Betwixt the impossible and possible.
ALICE CARY, "The Maiden of Tlalscala"
1 likes
---
Only the impossible is worth the effort.
JEANETTE WINTERSON, The Powerbook
1 likes
---
The world is supposed to be full of possibilities, but they narrow down to pretty few in most personal experience. There's lots of good fish in the sea ... maybe ... but the vast masses seem to be mackerel or herring, and if you're not mackerel or herring yourself, you are likely to find very few good fish in the sea.
D. H. LAWRENCE, Lady Chatterley's Lover
1 likes
---
As long as nothing happens anything is possible.
GRAHAM GREENE, Our Man in Havana
0 likes
---
Consider nothing impossible, then treat possibilities as probabilities.
CHARLES DICKENS, David Copperfield
0 likes
---
DAWN! thou hast every possibility of life! What canst thou not reveal to man in thy flaming sky? Enough thou sayest, to recreate a world of men. Blind are we. How many of us read thy words aright? We pass them by, cold letters, divining not the fire of eternal life behind them burning. Dawn, thy opportunity is full! We, alas, know not the meaning of thy gorgeous page. Dazed we watch thy letters pale; cold embers, left upon the sky; Life's opportunity flickering into naught.
ELISE PUMPELLY CABOT, "Arizona"
0 likes
---
Do not become so attached to any one belief that you cannot see past it to another possibility.
CHRISTOPHER PAOLINI, Brisingr
0 likes
---
Every second the Universe divides into possibilities and most of those possibilities never happen. It is not a uni-verse -- there is more than one reading. The story won't stop, can't stop, it goes on telling itself, waiting for an intervention that changes what will happen next.
JEANETTE WINTERSON, The Stone Gods
0 likes
---
We are afraid of the enormity of the possible.
EMIL CIORAN, A Short History of Decay
0 likes
---
Round about what is, lies a whole mysterious world of might be, -- a psychological romance of possibilities and things that do not happen. By going out a few minutes sooner or later, by stopping to speak with a friend at a corner, by meeting this man or that, or by turning down this street instead of the other, we may let slip some great occasion of good, or avoid some impending evil, by which the whole current of our lives would have been changed. There is no possible solution to the dark enigma but the one word, "Providence."
HENRY WADSWORTH LONGFELLOW, Table-Talk
0 likes
---
When nothing is sure, everything is possible.
MARGARET DRABBLE, The Middle Ground
0 likes
---
We repose too much upon the actual, when we should be seeking to develop the possibilities of our being. It is true of nearly all of us, that what we have done is little compared with what we might have accomplished, or may hereafter effect.
CHRISTIAN NESTELL BOVEE, Intuitions and Summaries of Thought
0 likes
---
The only way of discovering the limits of the possible is to venture a little way past them into the impossible.
ARTHUR C. CLARKE, Profiles of the Future
0 likes
---
When you have exhausted all possibilities, remember this -- you haven't.
THOMAS EDISON, attributed, Quote This!: A Collection of Illustrated Quotes for Educators
0 likes
---
By striving to do the impossible, man has always achieved what is possible.
MIKHAIL BAKUNIN, attributed, The Explorers
0 likes
---
Your inability to see other possibilities and your lack of vocabulary are your brain's limits, not the universe's.
SCOTT ADAMS, God's Debris: A Thought Experiment
0 likes
---
What after all has maintained the human race on this old Globe despite all the calamities of nature and all the tragic failings of mankind, if not faith in new possibilities and courage to advocate them.
JANE ADDAMS, Peace and Bread in Time of War
0 likes
---
Nothing is improbable until it moves into past tense.
GEORGE ADE, "The Fable of the Polite Poison Counter", Hand-Made Fables
0 likes
---