POVERTY QUOTES
quotations about poverty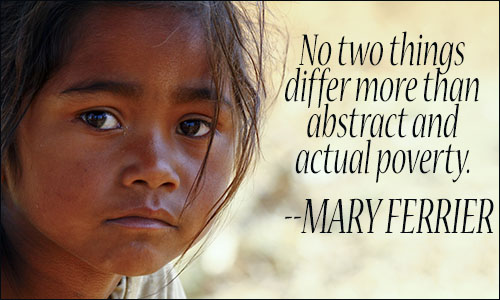 Poverty is the parent of revolution and crime.
ARISTOTLE, Politics
32 likes
---
It is not easy for men to rise whose qualities are thwarted by poverty.
JUVENAL, Satires
23 likes
---
Poverty is a noose that strangles humility and breeds disrespect for God and man.
NATIVE AMERICAN PROVERB
16 likes
---
Poverty is very good in poems ... in maxims and in sermons, but it is very bad in practical life.
HENRY WARD BEECHER, Proverbs from Plymouth Pulpit
10 likes
---
Poverty keeps the vision pure.
ROBERT LEIGHTON, "Let Us Rejoice That We Are Poor"
9 likes
---
A hungry man is not a free man.
ADLAI STEVENSON, speech, September 6, 1952
7 likes
---
The fact is that this generation -- yours, my generation ... we're the first generation that can look at poverty and disease, look across the ocean to Africa and say with a straight face, we can be the first to end this sort of stupid extreme poverty, where in the world of plenty, a child can die for lack of food in it's belly.
BONO, PENN Address, 2004
7 likes
---
Any strategy to reduce intergenerational poverty has to be centered on work, not welfare--not only because work provides independence and income but also because work provides order, structure, dignity, and opportunities for growth in people's lives.
BARACK OBAMA, The Audacity of Hope
7 likes
---
Poverty too often turns the milk of human kindness into gall.
ELIZA COOK, Diamond Dust
6 likes
---
Poverty, we are assured, is an 'error,' like ill-health and crime. It is an anachronism in civilization, a stain upon a wisely governed land. But into our country which, after a human fashion, is both wise and foolish, pours the poverty of Europe. Hundreds of thousands of immigrants with but a few dollars between them and want; with scant equipment, physical or mental, for the struggle of life; with an inheritance of feebleness from ill-nourished generations before them -- this is the problem which the United States faces courageously, and solves as best she can. What she cannot do is miraculously to convert poverty into plenty --certainly not before the next year doubles, and the third year trebles the miracle-seeking multitude. She cannot properly house or profitably employ a million of immigrants before the next million is clamoring at her doors.
AGNES REPPLIER, "Our Lady Poverty", Atlantic Classics
6 likes
---
Poverty is no disgrace to a man, but it is profoundly inconvenient.
SYDNEY SMITH, His Wit and Wisdom
5 likes
---
For the poor any choice was a gift with two faces.
CORMAC MCCARTHY, Cities of the Plain
5 likes
---
He who oppresses the poor shows contempt for their Maker, but whoever is kind to the needy honors God.
BIBLE, Proverbs 14:31
5 likes
---
Poverty is never by the grace of God in the estimation of a New-Englander. It comes to him by post from the other direction.
HENRY WARD BEECHER, Proverbs from Plymouth Pulpit
4 likes
---
What keeps some persons poor? and what has made some others rich? The true answers to these queries would often make the poor man more proud of his poverty, than the rich man is of his wealth, and the rich man more justly ashamed of his wealth, than the poor man unjustly now is, of his poverty.
CHARLES CALEB COLTON, Lacon
4 likes
---
Once poverty is gone, we'll need to build museums to display its horrors to future generations. They'll wonder why poverty continued so long in human society -- how a few people could live in luxury while billions dwelt in misery, deprivation and despair.
MUHAMMAD YUNUS, Creating a World Without Poverty
4 likes
---
Where justice is denied, where poverty is enforced, where ignorance prevails, and where any one class is made to feel that society is an organized conspiracy to oppress, rob and degrade them, neither persons nor property will be safe.
FREDERICK DOUGLASS, speech on the 24th anniversary of Emancipation in the District of Columbia, Washington, D.C., April 1886
4 likes
---
With poverty everything becomes frightful.
NICOLAS BOILEAU, Satires
3 likes
---
You cannot sift out the poor from the community. The poor are indispensable to the rich.
HENRY WARD BEECHER, Proverbs from Plymouth Pulpit
3 likes
---
Feel like a broke-down engine, ain't got no drivin' wheel.
You all been down and lonesome, you know just how a poor man feels.
BOB DYLAN, "Broke Down Engine"
3 likes
---