PRAYER QUOTES
quotations about prayer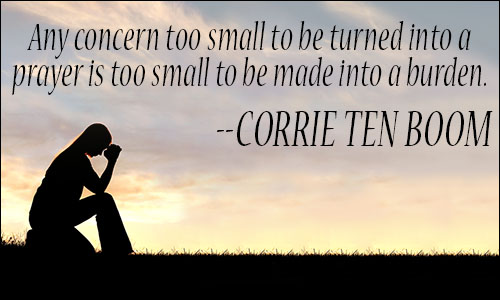 Prayer is more powerful than armies, in the end.
S. M. STIRLING, The Sunrise Lands
11 likes
---
Why pray? Evidently, God likes to be asked. God certainly does not need our wisdom or our knowledge, nor even the information contained in our prayers ("your Father knows what you need before you ask him"). But by inviting us into the partnership of creation, God also invites us into relationship. God is love, said the apostle John. God does not merely have love or feel love. God is love and cannot not love. As such, God yearns for relationship with the creatures made in his image.
PHILIP YANCEY, Prayer: Does It Make Any Difference?
9 likes
---
God answers sharp and sudden on some prayers,
And thrusts the thing we have prayed for in our face,
A gauntlet with a gift in 't.
ELIZABETH BARRETT BROWNING, Aurora Leigh
8 likes
---
There are people who do not find it necessary to use words or ideas for meditation. We know that we can hear a song, sung in a language of which we know not one word, but of the rhythm, the melody of it finds an answer in our heart, it echoes from our own soul. We can understand it without being able to translate a word of it into our own speech. For some, prayer is like that. The muted music of the human, suffering Christ touches a responsive chord in their own being. They do not require words and images, and indeed cannot use them. They cannot explain. They have no words, even for Christ. Perhaps they do not understand the music themselves. Perhaps if they uttered it aloud it would only confuse the world. It would not sound in their voice as it sounds in their souls.
CARYLL HOUSELANDER, This War is the Passion
4 likes
---
Prayer is to our relationship with our Divine Source what conversation is to our most intimate human relationships. Like water for a plant, it's a condition for growth.
DANIEL MURPHY, "Mochas, Midrash, and Mysteries: Prayer is conversation", Daily Tidings, May 4, 2016
4 likes
---
My God, is any hour so sweet
From blush of morn to evening star,
As that which calls me to Thy feet
The hour of prayer?
CHARLOTTE ELLIOTT, My God, Is Any Hour So Sweet
3 likes
---
If the only prayer you ever say in your entire life is "thank you," it will be enough.
MEISTER ECKHART, Woman's Day Magazine, November 13, 2007
3 likes
---
The fruit
and the purpose
of prayer
is
to be oned with
and like
God
in all things.
JULIAN OF NORWICH, Meditations with Julian of Norwich
2 likes
---
The creator who could put a cancer in a believer's stomach is above being interfered with by prayers.
BRET HARTE, attributed, "Views of Religion"
2 likes
---
Must a man get a correct philosophy of prayer before he prays? Must the child, ready to run into its father's arms, stop and study mental processes before it yields to the impulses of its love?
E. H. CHAPIN, Living Words
2 likes
---
Some who attempt prayer never have the sense of anyone listening on the other end. They blame themselves for doing it wrong.... Prayer requires the faith to believe that God listens.
PHILIP YANCEY, Prayer: Does It Make Any Difference?
2 likes
---
Praying without ceasing is not ritualized, nor are there even words. It is a constant state of awareness of oneness with God; it is a sincere seeking for a good thing; and it is a concentration on the thing sought, with faith that it is obtainable.
PEACE PILGRIM, Peace Pilgrim: Her Life and Work in Her Own Words
2 likes
---
As men's prayers are a disease of the will so are their creeds a disease of the intellect.
RALPH WALDO EMERSON, Essays
1 likes
---
Souls without prayer are like bodies, palsied and lame, having hands and feet they cannot use.
TERESA OF AVILA, The Interior Castle
1 likes
---
It is not possible to engage in the direct apostolate without being a soul of prayer. We must be aware of oneness with Christ, as he was aware of oneness with his Father. Our activity is truly apostolic only insofar as we permit him to work in us and through us with his power, with his desire, with his love.
MOTHER TERESA, A Gift for God
1 likes
---
I strain toward God; God strains toward me. I ache for God; God aches for me. Prayer is mutual yearning, mutual straining, mutual aching.
MACRINA WIEDERKEHR, A Tree Full of Angels
1 likes
---
Not in tears should we pray,
But in hope, smiling bright,
When the glory of day
Has forgotten the night!
EDWIN LEIBFREED, "Pray--Not When in Tears"
1 likes
---
To pray without faith is to make a small fire while it is raining heavily.
WILLIAM SCOTT DOWNEY, Proverbs
1 likes
---
God chooses to do His will according to His own time. He does not depend on our time. Our time is chronological and linear but God's time is timeless. He will act at the fullness of His time. Our prayer and urging may not necessarily rush God into action, but our prayer places us before Him in fellowship.
SAMUEL O. ENYIA, Prayer: God and You Alone
1 likes
---
If one man prays and another curses, whose voice will the Lord hear?
BEN SIRA, Sirach 34:24
1 likes
---