PRIDE QUOTES
quotations about pride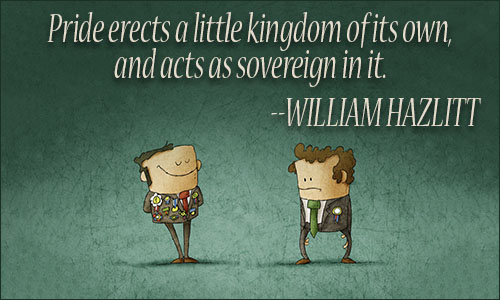 Proud people breed sad sorrows for themselves.
EMILY BRONTË, Wuthering Heights
3 likes
---
Every cock is proud on his own dunghill.
JOHN HEYWOOD, Proverbs
3 likes
---
The walls of pride are high and wide
Can't see over to the other side
BOB DYLAN, "Cold Irons Bound", Time Out of Mind
3 likes
---
There is a paradox in pride--it makes some men ridiculous, but prevents others from becoming so.
CHARLES CALEB COLTON, Lacon
2 likes
---
Pride is a cold, stormy, barren mountain.
JOHN THORNTON, Maxims and Directions for Youth
2 likes
---
Deep is the sea, and deep is hell, but Pride mineth deeper;
It is coiled as a poisonous worm about the foundations of the soul.
MARTIN FARQUHAR TUPPER, Proverbial Philosophy
2 likes
---
Pride leads to every other vice: it is the complete anti-God state of mind.
C. S. LEWIS, Mere Christianity
2 likes
---
The starting-point of all sin is pride and the starting point of human pride is rebellion against God.
APOCRYPHA, Sirach 10:12
2 likes
---
If you see any thing in yourself which may make you proud, look a little further, and you will find enough to make you humble.
WELLINS CALCOTT, Thoughts Moral and Divine
1 likes
---
Vanity and pride are different things, though the words are often used synonymously. A person may be proud without being vain. Pride relates more to our opinion of ourselves, vanity to what we would have others think of us.
JANE AUSTEN, Pride and Prejudice
1 likes
---
The pride of the body is a barrier against the gifts that purify the soul.
GEORGE ELIOT, Romola
1 likes
---
Pride is less ashamed of being ignorant, than of being instructed, and she looks too high to find that, which very often lies beneath her.
CHARLES CALEB COLTON, Lacon
1 likes
---
Pride, like the magnet, constantly points to one object, self; but unlike the magnet, it has no attractive pole, but at all points repels.
CHARLES CALEB COLTON, Lacon
1 likes
---
Pride erects a little kingdom of its own, and acts as sovereign in it.
WILLIAM HAZLITT, Characteristics
1 likes
---
Pride is often the chief cause of our reproving others faults, that we may be thereby judged not guilty of the like errors.
WELLINS CALCOTT, Thoughts Moral and Divine
1 likes
---
A proud man is seldom a grateful man, for he never thinks he gets as much as he deserves.
HENRY WARD BEECHER, Life Thoughts
1 likes
---
Remember that pride is the worst viper that is in the heart, the greatest disturber of the soul's peace and sweet communion with Christ; it was the first sin that ever was, and lies lowest in the foundation of Satan's whole building, and is the most difficultly rooted out, and is the most hidden, secret and deceitful of all lusts, and often creeps in, insensibly, into the midst of religion and sometimes under the disguise of humility.
JONATHAN EDWARDS, "To Deborah Hatheway", Letters and Personal Writings
1 likes
---
My pride fell with my fortunes.
WILLIAM SHAKESPEARE, As You Like It
1 likes
---
It is better to lose your pride with someone you love rather than to lose that someone you love with your useless pride.
JOHN RUSKIN, attributed, Words of Wisdom: John Ruskin
1 likes
---
In pride, in reas'ning pride, our error lies;
All quit their spere, and rush into the skies!
Pride still is aiming at the blessed abodes,
Men would be Angels, Angels would be Gods.
ALEXANDER POPE, An Essay on Man
0 likes
---