PRIVACY QUOTES
quotations about privacy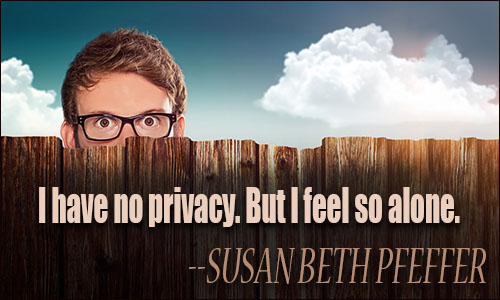 Without privacy there was no point in being an individual.
JONATHAN FRANZEN, The Corrections
1 likes
---
But there are other words for privacy and independence. They are isolation and loneliness.
MEGAN WHALEN TURNER, The King of Attolia
1 likes
---
Arguing that you don't care about the right to privacy because you have nothing to hide is no different than saying you don't care about free speech because you have nothing to say.
EDWARD SNOWDEN, Reddit, May 21, 2015
1 likes
---
I have no privacy. But I feel so alone.
SUSAN BETH PFEFFER, Life As We Knew It
1 likes
---
Civilization is the progress toward a society of privacy. The savage's whole existence is public, ruled by the laws of his tribe. Civilization is the process of setting man free from men.
AYN RAND, The Fountainhead
0 likes
---
Isn't privacy about keeping taboos in their place?
KATE MILLET, speech, March 22, 1975
0 likes
---
Privacy was in sufficient danger before TV appeared, and TV has given it its death blow.
LOUIS KRONENBERGER, The Cart and the Horse
0 likes
---
Who could deny that privacy is a jewel? It has always been the mark of privilege, the distinguishing feature of a truly urbane culture. Out of the cave, the tribal tepee, the pueblo, the community fortress, man emerged to build himself a house of his own with a shelter in it for himself and his diversions. Every age has seen it so. The poor might have to huddle together in cities for need's sake, and the frontiersman cling to his neighbors for the sake of protection. But in each civilization, as it advanced, those who could afford it chose the luxury of a withdrawing-place.
PHYLLIS MCGINLEY, "A Lost Privilege", The Province of the Heart
0 likes
---
I give the fight up: let there be an end,
A privacy, an obscure nook for me.
I want to be forgotten even by God.
ROBERT BROWNING, Paracelsus
0 likes
---
The trouble is that privacy is at once essential to, and in tension with, both freedom and security. A cabinet minister who keeps his mistress in satin sheets at the French taxpayer's expense cannot justly object when the press exposes his misuse of public funds. Our freedom to scrutinise the conduct of public figures trumps that minister's claim to privacy. The question is: where and how do we draw the line between a genuine public interest and that which is merely what interests the public?
TIMOTHY GARTON ASH, "Whether it's hacking or the NSA, some of us don't accept that privacy is dead", The Guardian, October 31, 2013
0 likes
---
Who are you? Why do you hide in the darkness and listen to my private thoughts?
WILLIAM SHAKESPEARE, Romeo and Juliet
0 likes
---
There is no such thing as privacy anymore; there is secrecy.
RICH HERSH, attributed, Instagram
0 likes
---
For what reason have I this vast range and circuit, some square miles of unfrequented forest, for my privacy, abandoned to me by men? My nearest neighbor is a mile distant, and no house is visible from any place but the hill-tops within half a mile of my own. I have my horizon bounded by woods all to myself; a distant view of the railroad where it touches the pond on the one hand, and of the fence which skirts the woodland road on the other. But for the most part it is as solitary where I live as on the prairies. It is as much Asia or Africa as New England. I have, as it were, my own sun and moon and stars, and a little world all to myself.
HENRY DAVID THOREAU, Walden
0 likes
---
Privacy is a hot-button issue. There is a raging war today for the personal data of the average consumer, and a Maginot line has been clearly drawn by the antagonists. On one side are marketers, advertisers, and Internet and data companies, who want unfettered access to as much personal information as possible. On the other side are consumer advocates, privacy purists and think tanks that want to limit or disallow commercial access to personal data, altogether. In the middle are consumers, who mostly want to keep getting as much free online stuff as possible, but who are clueless about the consequences.
ADONIS HOFFMAN, "On data privacy, Congress and agencies are both baffled", The Hill, May 24, 2016
0 likes
---
He has not spent his life badly who has passed it from his birth to his burial in privacy.
HORACE, attributed, Day's Collacon
0 likes
---
Do not be afraid of spending quality time by yourself. Find meaning or don't find meaning but 'steal' some time and give it freely and exclusively to your own self. Opt for privacy and solitude. That doesn't make you antisocial or cause you to reject the rest of the world. But you need to breathe. And you need to be.
ALBERT CAMUS, Notebooks 1951-1959
0 likes
---
When a private talk over a bottle of wine is broadcast on the radio, what can it mean but that the world is turning into a concentration camp?
MILAN KUNDERA, The Unbearable Lightness of Being
0 likes
---
Privacy is the space bad people need to do bad things in.
PAUL MCMULLAN, statement to the Leveson Inquiry, November 29, 2011
0 likes
---
There's nothing like privacy. You know, I like people. It's nice that they might like my books and all that...but I'm not the book, see? I'm the guy who wrote it, but I don't want them to come up and throw roses on me or anything. I want them to let me breathe.
CHARLES BUKOWSKI, Interview Magazine, September 1987
0 likes
---
All human beings have three lives: public, private, and secret.
GABRIEL GARCIA MARQUEZ, Gabriel Garcia Marquez: A Life
0 likes
---