PROCRASTINATION QUOTES
quotations about procrastination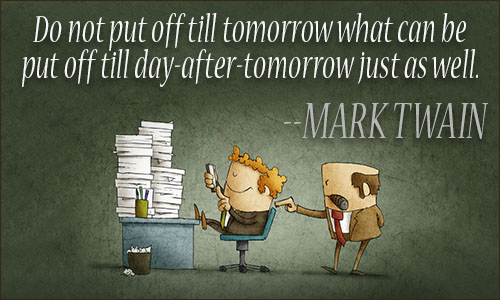 Do not put off till tomorrow what can be put off till day-after-tomorrow just as well.
MARK TWAIN, Mark Twain's Notebook
3 likes
---
Delay always breeds danger.
MIGUEL DE CERVANTES, Don Quixote
2 likes
---
If it wasn't for procrastination ... I'd have nothing to look forward to tomorrow.
TOM WILSON, Ziggy, March 27, 1998
2 likes
---
Don't put off for tomorrow what you should do today.
AESOP, "The Grasshopper and the Ants", Aesop's Fables
2 likes
---
Procrastination is the thief of time, collar him.
CHARLES DICKENS, David Copperfield
1 likes
---
Leave nothing for tomorrow which can be done today.
ABRAHAM LINCOLN, memorandum for law lecture, 1850
1 likes
---
Procrastination is the art of keeping up with yesterday.
DON MARQUIS, The Lives and Times of Archy & Mehitabel
1 likes
---
Putting off an easy thing makes it hard. Putting off a hard thing makes it impossible.
GEORGE HORACE LORIMER, Letters from a Self-Made Merchant to His Son
1 likes
---
Procrastination is like a credit card: it's a lot of fun until you get the bill.
CHRISTOPHER PARKER, attributed, The Psychology of Procrastination
1 likes
---
Time you enjoy wasting is not wasted time.
MARTHE TROLY-CURTIN, Phrynette Married
1 likes
---
Regardless of our level of procrastination, it's much easier to be ashamed about being late than it is to feel ashamed about finishing the task or making the decision, only to be told we've performed poorly. In this way, procrastination actually protects us from tapping into this pool of deeper feelings we'd just as soon avoid.
KAREN E. PETERSON, The Tomorrow Trap
0 likes
---
Time is a created thing. To say "I don't have time" is to say "I don't want to."
LAO TZU, attributed, O Magazine, January 2007
0 likes
---
A man who procrastinates in his choosing will inevitably have his choice made for him by circumstance.
HUNTER S. THOMPSON, The Proud Highway
0 likes
---
The scholar's greatest weakness: calling procrastination research.
STEPHEN KING, 11/22/63
0 likes
---
When faced with two equally tough choices, most people choose the third choice: to not choose.
JAROD KINTZ, This Book Title is Invisible
0 likes
---
Procrastination is opportunity's natural assassin.
VICTOR KIAM, Going for It!
0 likes
---
Every duty which is bidden to wait, returns with seven fresh duties at its back.
CHARLES KINSLEY, Sermons for the Times
0 likes
---
Defer not till to-morrow to be wise,
To-morrow's sun to thee may never rise.
WILLIAM CONGREVE, verses to the Right Honourable Lord Viscount Cobham, "Of Improving the Present Time"
0 likes
---
Procrastination is the foundation of all disasters.
PANDORA POIKILOS, Excuse Me, My Brains Have Stepped Out
0 likes
---
Remember, if you wait 'til the last minute, it only takes a minute.
ANONYMOUS
0 likes
---