PROPERTY QUOTES
quotations about property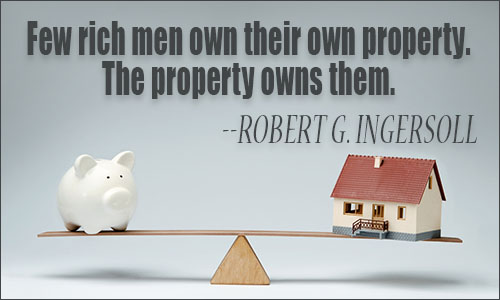 Thieves respect property; they merely wish the property to become their property that they may more perfectly respect it.
G. K. CHESTERTON, The Man Who Was Thursday
2 likes
---
Property has its duties as well as its rights.
THOMAS DRUMMOND, letter to the Earl of Donoughmore, May 22, 1838
1 likes
---
Private property was the original source of freedom. It is still its main bulwark.
WALTER LIPPMANN, The Method of Freedom
1 likes
---
If you want to be perfect, go, sell your possessions and give to the poor, and you will have treasure in Heaven.
JESUS, Matthew 19:21
1 likes
---
A human being needs only a small plot of ground on which to be happy, and even less to lie beneath.
JOHANN WOLFGANG VON GOETHE, The Sorrows of Young Werther and Selected Writings
1 likes
---
When a man assumes a public trust, he should consider himself as public property.
THOMAS JEFFERSON, conversation with Baron Humboldt, Life of Thomas Jefferson
0 likes
---
Well! some people talk of morality, and some of religion, but give me a little snug property.
MARIA EDGEWORTH, The Absentee
0 likes
---
You are horrified at our intending to do away with private property. But in your existing society, private property is already done away with for nine-tenths of the population; its existence for the few is solely due to its non-existence in the hands of those nine-tenths. You reproach us, therefore, with intending to do away with a form of property, the necessary condition for whose existence is the non-existence of any property for the immense majority of society.
KARL MARX, The Communist Manifesto
0 likes
---
A simple idea blinds us, and under the cover of darkness, much happens that most of us would reject if any of us looked. So uncritically do we accept the idea of property in ideas that we don't even notice how monstrous it is to deny ideas to a people who are dying without them. So uncritically do we accept the idea of property in culture that we don't even question when the control of that property removes our ability, as a people, to develop our culture democratically. Blindness becomes our common sense. And the challenge for anyone who would reclaim the right to cultivate our culture is to find a way to make this common sense open its eyes.
LAWRENCE LESSIG, Free Culture
0 likes
---
Private property has made us so stupid and partial that an object is only ours when we have it, when it exists for us as capital ... Thus all the physical and intellectual senses have been replaced by ... the sense of having.
KARL MARX, Early Writings
0 likes
---
All around us are the consequences of the most significant technological, and hence cultural, revolution in generations. This revolution has produced the most powerful and diverse spur to innovation of any in modern times. Yet a set of ideas about a central aspect of this prosperity -- "property" -- confuses us. This confusion is leading us to change the environment in ways that will change the prosperity. Believing we know what makes prosperity work, ignoring the nature of the actual prosperity all around, we change the rules within which the Internet revolution lives. These changes will end the revolution.
LAWRENCE LESSIG, The Future of Ideas
0 likes
---
The theory of the Communists may be summed up in the single sentence: Abolition of private property.
KARL MARX, The Communist Manifesto
0 likes
---
At one time in the world there were woods that no one owned.
CORMAC MCCARTHY, Child of God
0 likes
---
By doing good with his property, a man, as it were, stamps the image of God upon it, and makes it pass current for the merchandise of heaven.
ANDREW WYNTER, attributed, Day's Collacon
0 likes
---
No man's life, liberty or property are safe while the legislature is in session.
GIDEON J. TUCKER, Reports of Cases Argued and Determined in the Surrogate's Court
0 likes
---
The moment the idea is admitted into society, that property is not as sacred as the law of God, and that there is not a force of law and public justice to protect it, anarchy and tyranny commence. If "Thou shall not covet," and "Thou shall not steal," are not commandments of Heaven, they must be made inviolable precepts in every society, before it can be civilized or made free.
JOHN ADAMS, A Defense of the Constitutions of Government
0 likes
---
I've been so bothered with my property, that I'm tired of it, and don't mean to save up any more, but give it away as I go along, and then nobody will envy me, or want to steal it, and I shan't be suspecting folks and worrying about my old cash.
LOUISA MAY ALCOTT, Little Men
0 likes
---
When in the Land of Property think like a propertarian. Dress like one, eat like one, act like one, be one.
URSULA K. LE GUIN, The Dispossessed
0 likes
---
Civil government, so far as it is instituted for the security of property, is in reality instituted for the defense of the rich against the poor, or of those who have some property against those who have none at all.
ADAM SMITH, The Wealth of Nations
0 likes
---
No property has a lasting tenure, and heir comes upon heir, as wave on wave; what real benefit is there in landed property and ever-increasing hoards?
HORACE, attributed, Day's Collacon
0 likes
---