PROPHET QUOTES
quotations about prophets and prophecy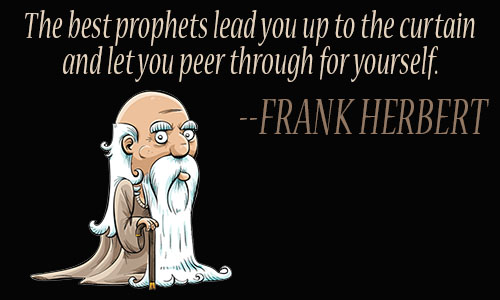 The best prophets lead you up to the curtain and let you peer through for yourself.
FRANK HERBERT, God Emperor of Dune
2 likes
---
I tell you the truth: all men are Prophets or else God does not exist.
JEAN-PAUL SARTRE, The Devil and the Good Lord
1 likes
---
Many a prophecy, by the mere force of its being believed, is transmuted to fact.
ISAAC ASIMOV, Prelude to Foundation
1 likes
---
Wild, dark times are rumbling toward us, and the prophet who wishes to write a new apocalypse will have to invent entirely new beasts, and beasts so terrible that the ancient animal symbols of St. John will seem like cooing doves and cupids in comparison.
HEINRICH HEINE, "Lutetia; or, Paris", Augsberg Gazette, 1842
1 likes
---
To know what will come is the same as to make it so.
CORMAC MCCARTHY, Suttree
1 likes
---
Prophecy is not an art, nor (when it is taken for prediction) a constant vocation, but an extraordinary and temporary employment from God, most often of good men, but sometimes also of the wicked.
THOMAS HOBBES, Leviathan
1 likes
---
It must be excellent to be a prophet, if people do whatever you say. So I spent a brief time wondering ... how one became a prophet ... and if there were any negative aspects to a prophet's calling. Having a flotilla of docile adherents was all very well, but prophethood would not be so fine if one was required to practice overzealous chastity or to cut one's heart in a ritual manner at the coming of winter. On the other hand, if one simply declared, "I am prophet," and people bent themselves obsequiously to fulfill your slightest whim ... that would not be a bad profession.
JAMES ALAN GARDNER, Ascending
1 likes
---
There is an excellent way to make predictions without the slightest risk of error: predict the past.
YEVGENY ZAMYATIN, The Future of the Theater
1 likes
---
All religions, with their gods, their demi-gods, and their prophets, their messiahs and their saints, were created by the prejudiced fancy of men who had not attained the full development and full possession of their faculties.
MIKHAIL BAKUNIN, God and the State
0 likes
---
Prophecy and prescience--How can they be put to the test in the face of unanswered questions? Consider: How much is actual prediction ... and how much is the prophet shaping the future to fit the prophecy? What are the harmonics inherent in the act of prophecy? Does the prophet see the future or does he see a line of weakness, a fault or cleavage that he may shatter with words or decisions as a diamond-cutter shatters his gem with a blow of the knife?
FRANK HERBERT, Dune
0 likes
---
The best prophet is common sense.
EURIPIDES, Helen
0 likes
---
Prophets have a way of dying by violence.
FRANK HERBERT, Dune
0 likes
---
My gran'ther's rule was safer 'n 'tis to crow:
Don't never prophesy -- onless ye know.
JAMES RUSSELL LOWELL, The Biglow Papers
0 likes
---
In every man sleeps a prophet, and when he wakes there is a little more evil in the world.
EMIL CIORAN, A Short History of Decay
0 likes
---
Coming events cast their shadows before.
DORIS LESSING, Shikasta
0 likes
---
Fear prophets ... and those prepared to die for the truth, for as a rule they make many others die with them, often before them, at times instead of them.
UMBERTO ECO, The Name of the Rose
0 likes
---
Men reject their prophets and slay them, but they love their martyrs and honor those they have slain.
FYODOR DOSTOEVSKY, The Brothers Karamazov
0 likes
---
Prophecy, that universal and perpetual torch by which faith is enlightened.
HENRI-DOMINIQUE LACORDAIRE, God and Man: Conferences Delivered at Notre Dame in Paris by the Rev. Père Lacordaire
0 likes
---
Legends of prediction are common throughout the whole Household of Man. God speaks, spirits speak, computers speak. Oracular ambiguity or statistical probability provides loopholes, and discrepancies are expunged by Faith.
URSULA K. LE GUIN, The Left Hand of Darkness
0 likes
---
The prophet must be his own disciple, or he will make none. Enthusiasm is contagious: belief creates belief.
GEORGE HENRY LEWES, The Principles of Success in Literature
0 likes
---