PSYCHOLOGY QUOTES
quotations about psychology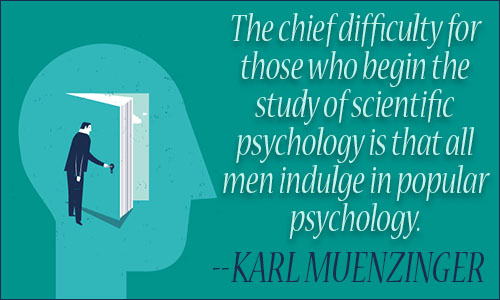 Recognizing the structure of your psychology doesn't mean that you can easily rebuild it.
DEAN KOONTZ, Odd Thomas
3 likes
---
Popular psychology is a mass of cant, of slush and of superstition worthy of the most flourishing days of the medicine man.
JOHN DEWEY, The Public and Its Problems
2 likes
---
If you cut a thing up, of course it will smell. Hence, nothing raises such an infernal stink at last, as human psychology.
D.H. LAWRENCE, St. Mawr
2 likes
---
The practical basis of the medical profession rested on psychology. Everyone felt better when self-confident, expensive experts could be called in to handle a vital emergency. Doctors relieved others of the responsibility for deciding what to do. As such, their role was strictly comparable to that of the priesthood, whose ministrations to the soul relieved anxieties parallel to those relieved by medical ministrations to the body.
WILLIAM HARDY MCNEILL, Plagues and Peoples
2 likes
---
The chief difficulty for those who begin the study of scientific psychology is that all men indulge in popular psychology.
KARL FRIEDRICH MUENZINGER, Psychology: The Science of Behavior
1 likes
---
Psychology keeps trying to vindicate human nature. History keeps undermining the effort.
MASON COOLEY, City Aphorisms
1 likes
---
Would there be any truth in saying that psychology was created by the sophists to sow distrust between man and his world?
RUDOLPH ARNHEIM, Parables of Sun Light
1 likes
---
It is a principle of modern psychology that the feelings most apt to influence behavior are those that we try hardest to suppress.
THEODORE ROSZAK, The Gendered Atom
1 likes
---
One of the symptoms of an approaching nervous breakdown is the belief that one's work is terribly important.
BERTRAND RUSSELL, The Conquest of Happiness
1 likes
---
Human psychology is hideously complex, and the various ways that people depart from rationality don't tend to fit together into a simple, measurable theory.
NOAH SMITH, "Behavioral Economics Isn't Dead Yet", Bloomberg, January 25, 2017
1 likes
---
A large part of the popularity and persuasiveness of psychology comes from its being a sublimated spiritualism: a secular, ostensibly scientific way of affirming the primacy of "spirit" over matter.
SUSAN SONTAG, Illness As Metaphor
0 likes
---
The strength of women comes from the fact that psychology cannot explain us. Men can be analysed, women ... merely adored.
OSCAR WILDE, The Ideal Husband
0 likes
---
The sexual life of adult women is a "dark continent" for psychology.
SIGMUND FREUD, The Question of Lay Analysis
0 likes
---
Anyone who wants to know the human psyche will learn next to nothing from experimental psychology. He would be better advised to abandon exact science, put away his scholar's gown, bid farewell to his study, and wander with human heart throughout the world.
CARL JUNG, "New Paths in Psychology"
0 likes
---
The separation of psychology from the premises of biology is purely artificial, because the human psyche lives in indissoluble union with the body.
CARL JUNG, Factors Determining Human Behavior
0 likes
---
All the lessons of psychiatry, psychology, social work, indeed culture, have taught us over the last hundred years that it is the acceptance of differences, not the search for similarities which enables people to relate to each other in their personal or family lives.
JOHN RALSTON SAUL, Reflection of a Siamese Twin
0 likes
---
Psychology should be the chief basic science upon which the practices of education depend. It should have supplied education with the information it needs concerning the processes of understanding, learning, and thinking, among other things. One of the difficulties has been that such theory as has been developed has been based primarily upon studies of behavior of rats and pigeons. As someone has said, some of the theory thus developed has been an insult even to the rat.
J. P. GUILFORD, The Nature of Human Intelligence
0 likes
---
It is still open to question whether psychology is a natural science, or whether it can be regarded as a science at all.
IVAN PAVLOV, Conditioned Reflexes
0 likes
---
The states of consciousness are all that psychology needs to do her work with. Metaphysics or theology may prove the Soul to exist; but for psychology the hypothesis of such a substantial principle of unity is superfluous.
WILLIAM JAMES, Psychology: The Briefer Course
0 likes
---
The human race has to be bad at psychology; if it were not, it would understand why it is bad at everything else.
CELIA GREEN, The Decline and Fall of Science
0 likes
---