QUESTION QUOTES
quotations about questions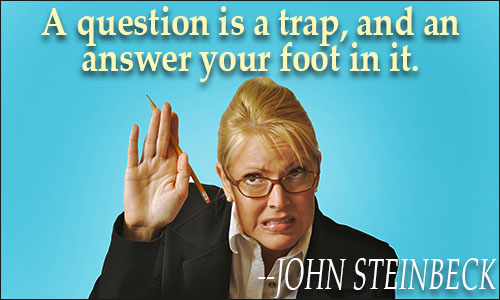 A question is a trap, and an answer your foot in it.
JOHN STEINBECK, Travels with Charley: In Search of America
2 likes
---
Wisdom is understanding when to ask questions.
BRIAN HERBERT & KEVIN J. ANDERSON, Dune: House Harkonnen
2 likes
---
Quality questions create a quality life. Successful people ask better questions, and as a result, they get better answers.
ANTHONY ROBBINS, attributed, 101 Best Ways to Get Ahead
1 likes
---
Why ... did so many people spend their lives not trying to find answers to questions -- not even thinking of questions to begin with? Was there anything more exciting in life than seeking answers?
ISAAC ASIMOV, Prelude to Foundation
1 likes
---
Questions are dangerous, for they have answers.
JACQUELINE CAREY, Kushiel's Dart
1 likes
---
Your questions are false if you already know the answer.
JOSÉ SARAMAGO, The Stone Raft
1 likes
---
He who asks a question remains a fool for five minutes. He who does not ask remains a fool forever.
CHINESE PROVERB
1 likes
---
Have patience with everything that remains unsolved in your heart. Try to love the questions themselves, like locked rooms and like books written in a foreign language. Do not now look for the answers. They cannot now be given to you because you could not live them. It is a question of experiencing everything. At present you need to live the question. Perhaps you will gradually, without even noticing it, find yourself experiencing the answer, some distant day.
RAINER MARIA RILKE, Letters to a Young Poet
1 likes
---
If they can get you asking the wrong questions, they don't have to worry about answers.
THOMAS PYNCHON, Gravity's Rainbow
1 likes
---
The most important questions in life can never be answered by anyone except oneself.
JOHN FOWLES, The Magus
1 likes
---
No man becomes a fool until he has stopped asking questions.
CHARLES PROTEUS STEINMETZ, attributed, The American Magazine, Volume 95, 1923
1 likes
---
Sometimes the questions are complicated and the answers are simple.
ANONYMOUS
1 likes
---
There are these four ways of answering questions. Which four? There are questions that should be answered categorically [straightforwardly yes, no, this, that]. There are questions that should be answered with an analytical (qualified) answer [defining or redefining the terms]. There are questions that should be answered with a counter-question. There are questions that should be put aside. These are the four ways of answering questions.
GAUTAMA BUDDHA, Sutta Pitaka
1 likes
---
He must be very ignorant for he answers every question he is asked.
VOLTAIRE, A Philosophical Dictionary
1 likes
---
Philosophy is to be studied, not for the sake of any definite answers to its questions, since no definite answers can, as a rule, be known to be true, but rather for the sake of the questions themselves; because these questions enlarge our conception of what is possible, enrich our intellectual imagination and diminish the dogmatic assurance which closes the mind against speculation; but above all because, through the greatness of the universe which philosophy contemplates, the mind is also rendered great, and becomes capable of that union with the universe which constitutes its highest good.
BERTRAND RUSSELL, The Problems of Philosophy
1 likes
---
Freedom is the right to question and change the established way of doing things.
RONALD REAGAN, speech at Moscow State University, May 31, 1988
0 likes
---
Animals are such agreeable friends -- they ask no questions, they pass no criticisms.
GEORGE ELIOT, Mr. Gilfil's Love Story
0 likes
---
Charm is a way of getting the answer yes without ever having asked a clear question.
ALBERT CAMUS, The Fall
0 likes
---
Well, my head's full of questions
My temp'rature's risin' fast
Well, I'm lookin' for some answers
But I don't know who to ask
BOB DYLAN, "Mixed-Up Confusion"
0 likes
---
Ask me no questions, and I'll tell you no fibs.
OLIVER GOLDSMITH, She Stoops to Conquer
0 likes
---