QUITTING QUOTES
quotations about quitting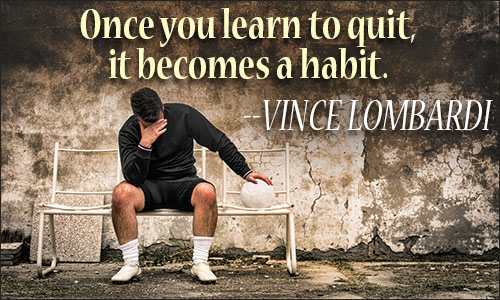 Once you learn to quit, it becomes a habit.
VINCE LOMBARDI, Coaching for Teamwork
1 likes
---
The first secret to not quitting is to focus only on the first step. Not beyond. Don't try to find the finish line. Do not look at the big picture. Focus only on one step at a time. After the first step, concentrate on the second step. Don't look beyond that. Focus on one move only, not the whole board. For beginners, one move is manageable. The whole board is not. Staring at the whole board builds mounds of pressure strong enough to make you crack.
GINO ARCARO, Soul of a Lifter
1 likes
---
Of all the stratagems, to know when to quit is the best.
CHINESE PROVERB
0 likes
---
There's a difference between quittin and knowin when you're beat.
CORMAC MCCARTHY, Cities of the Plain
0 likes
---
It's not whether you get knocked down, it's whether you get up.
VINCE LOMBARDI, attributed, Motivation Lombardi Style
0 likes
---
If at first you don't succeed, try again. Then quit. No use being a damn fool about it.
W. C. FIELDS, attributed, Working Woman, Volume 11, 1986
0 likes
---
Defeat doesn't finish a man -- quit does.
RICHARD NIXON, note written July 1969
0 likes
---
I've seen people that are extremely brilliant and they don't have the staying power. They don't have that never give up quality. I've always said that other than bad ideas, which is a reason for failure, the ability to never ever quit or give up is something that is very, very important for success as an entrepreneur.
DONALD TRUMP, Forbes, October 3, 2011
0 likes
---
Never give in -- never, never, never, never, in nothing great or small, large or petty, never give in except to convictions of honour and good sense. Never yield to force; never yield to the apparently overwhelming might of the enemy.
WINSTON CHURCHILL, speech at Harrow School in Harrow, England, October 29, 1941
0 likes
---
Inside of a ring or out, ain't nothing wrong with going down. It's staying down that's wrong.
MUHAMMAD ALI, attributed, Ignite the Fire Within
0 likes
---
The unfinished is nothing.
HENRI-FREDERIC AMIEL, Journal Intime
0 likes
---
There's no room at the chuck wagon for a quitter's blankets.
KEN ALSTAD, Savvy Sayin's
0 likes
---
Winners never quit and quitters never win.
VINCE LOMBARDI, attributed, 101 Reasons to Love the Packers
0 likes
---
Champions don't quit.
MIKE TYSON, Boxing Monthly, August 2000
0 likes
---
The difference in winning and losing is most often ... not quitting.
WALT DISNEY, attributed, Motivational Quotes
0 likes
---
Accepting the value of quitting sounds weird, counterintuitive, boneheaded, and maybe subversive. We've all been taught that quitting is a sign of weakness and that quitters are losers. But here it is in a nutshell: Successful and satisfied people know both how to persist and how to quit. Winners do quit but not in ways you think, and when they do, it's with authority and intelligence.
PEG STREEP & ALAN BERNSTEIN, Quitting: Why We Fear It and Why We shouldn't in Life, Love, and Work
0 likes
---
When you feel like quitting, think about why you started.
ANONYMOUS
0 likes
---
Pain is temporary. Quitting lasts forever.
LANCE ARMSTRONG, Every Second Counts
0 likes
---
No single measure or how-to formula can possibly address the question of the right time to quit. There are simply too many variables in any situation. Disengaging from a goal or a life path in the real world is often a complicated affair, which differentiates it from a laboratory setting, where hypotheses are set forth and tested. Deciding to change paths may be easier at certain times of life because there are fewer real-world consequences; it's safe to say that the more financial and emotional obligations you have to others, the more difficult it may be to find the right time to quit a relationship, job, or career path. In addition, the time may be right for you, but not for the other people in your life.
PEG STREEP & ALAN BERNSTEIN, Quitting: Why We Fear It and Why We shouldn't in Life, Love, and Work
0 likes
---
Quitting is, in many ways, admirable. This is not to say that perseverance isn't important -- it is. But that applies to a higher order of things -- like persevering in a quest toward enduring relevance. But conventional motivational folklore would have you believe that "quitting is never an option". It is. It always is. And so, if something is not working out for you -- and if you've tried enough ways, and collected enough evidence to suggest it's not working -- quitting is a smart move.
JASON FOX, How To Lead A Quest: A handbook for pioneering executives
0 likes
---