RAIN QUOTES
quotations about rain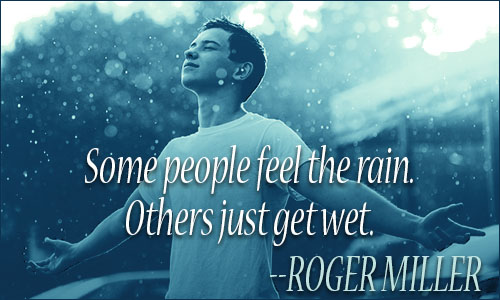 Into each life some rain must fall,
Some days must be dark and dreary.
HENRY WADSWORTH LONGFELLOW, "The Rainy Day"
2 likes
---
I don't just wish you rain, Beloved -- I wish you the beauty of storms.
JOHN GEDDES, A Familiar Rain
2 likes
---
Do not be angry with the rain; it simply does not know how to fall upwards.
VLADIMIR NABOKOV, attributed, Véra: Mrs. Vladimir Nabokov
2 likes
---
I'm singin' in the rain
Just singin' in the rain,
What a glorious feeling,
And I'm happy again.
I'm laughing at clouds
So dark, up above,
The sun's in my heart
And I'm ready for love.
ARTHUR FREED, "Singin' in the Rain"
2 likes
---
Some people feel the rain. Others just get wet.
ROGER MILLER, television special on ABC, "Roger Miller with His Friends and His Music", January 1, 1973
1 likes
---
Here comes the rain again
Falling on my head like a memory
Falling on my head like a new emotion
I want to walk in the open wind
I want to talk like lovers do
I want to dive into your ocean
Is it raining with you
EURYTHMICS, "Here Comes the Rain Again", Touch
1 likes
---
And it feels like rain
So batten down the hatches, baby
Leave your heart out on your sleeve
It looks like were in for stormy weather
That ain't no cause for us to leave
Just lie here in my arms
And let it wash away the pain
JOHN HIATT, "Feels Like Rain"
1 likes
---
The house is still and silent, and those small noises that make me start are only the imagination of the spirit or they are the rain. There is only the rain for it to feed on and to crawl in. The rain swallows it up as the sea does its own foam. I will lie still and stretch out my body and close my eyes. My breath is all that has been spared by the rain, and that comes softly and at long intervals, as if it were trying to hide itself from the rain. I feel that I am so little I have crept away into a corner and been forgotten by the rain. All else has perished except me and the rain. There is no room for anything in the world but the rain. It alone is great and strong.
EDWARD THOMAS, Selected Poems of Edward Thomas
1 likes
---
Thou slanting rain! Thou Hebe of the Skies,
That pours out drink to Earth; thou faithful wife
That with moist tears embraces her prone lord.
Thou mist intensified; thou double dew
That drowns the drought, that heals the parched and burnt --
Thou resurrection rain.
WILLIAM BATCHELDER GREENE, "The Earth's Athirst", Cloudrifts at Twilight
0 likes
---
For after all, the best thing one can do when it is raining, is to let it rain.
HENRY WADSWORTH LONGFELLOW, "The Poet's Tale", Tales of a Wayside Inn
0 likes
---
If you think it's going to rain, it will.
CLINT EASTWOOD, attributed, Words of Wisdom
0 likes
---
Now frowns the sky, the air bites bleak,
The young boughs rock, the old trunks creak,
And fast before the following gale
Come slanting drops, then slashing hail,
As keen as sword, as thick as shot.
Nay, do not cower, but heed them not!
For these one neither flies nor stirs;
They are but April skirmishers,
Thrown out to cover the advance
Of gleaming spear and glittering lance,
With which the sunshine scours amain
Heaven, earth, and air, and routs the rain.
ALFRED AUSTIN, "A Defence of English Spring", Lyrical Poems
0 likes
---
Weave, weave, weave, you streaks of rain! I am dissolved and woven again... Thousands of faces rise and vanish before me. Thousands of voices weave in the rain.
CONRAD AIKEN, The House of Dust
0 likes
---
From sunny woof and cloudy weft
Fell rain in sheets; so, to myself
I hummed these hazard rhymes, and left
The learned volume on the shelf.
ALFRED AUSTIN, "Nature and the Book", At the Gate of the Convent and Other Poems
0 likes
---
Not excepting the falling stars--for they are far less sudden--there is nothing in nature that so outstrips our unready eyes as the familiar rain. The rods that thinly stripe our landscape, long shafts from the clouds, if we had but agility to make the arrowy downward journey with them by the glancing of our eyes, would be infinitely separate, units, an innumerable flight of single things, and the simple movement of intricate points.
ALICE MEYNELL, "Rain", The Spirit of Place and Other Essays
0 likes
---
Baby of the cloud, rain is carried long enough within that troubled breast to make all the multitude of days unlike each other. Rain, as the end of the cloud, divides light and withholds it; in its flight warning away the sun, and in its final fall dismissing shadow. It is a threat and a reconciliation; it removes mountains compared with which the Alps are hillocks, and makes a childlike peace between opposed heights and battlements of heaven.
ALICE MEYNELL, "Rain", The Spirit of Place and Other Essays
0 likes
---
The long stroke of the raindrop, which is the drop and its path at once, being our impression of a shower, shows us how certainly our impression is the effect of the lagging, and not of the haste, of our senses. What we are apt to call our quick impression is rather our sensibly tardy, unprepared, surprised, outrun, lightly bewildered sense of things that flash and fall, wink, and are overpast and renewed, while the gentle eyes of man hesitate and mingle the beginning with the close. These inexpert eyes, delicately baffled, detain for an instant the image that puzzles them, and so dally with the bright progress of a meteor, and part slowly from the slender course of the already fallen raindrop, whose moments are not theirs. There seems to be such a difference of instants as invests all swift movement with mystery in man's eyes, and causes the past, a moment old, to be written, vanishing, upon the skies.
ALICE MEYNELL, "Rain", The Spirit of Place and Other Essays
0 likes
---
Inside a broken clock
Splashing the wine
With all the rain dogs
Taxi, we'd rather walk
Huddle a doorway with the Rain Dogs
For I am a Rain Dog, too
TOM WAITS, "Rain Dogs"
0 likes
---
Rain may fall as gently as mercy.
RICHARD GRANT WHITE, Words and Their Uses, Past and Present
0 likes
---
Life isn't about waiting for the storm to pass. It's about learning to dance in the rain.
ANONYMOUS
0 likes
---