READING QUOTES
quotations about reading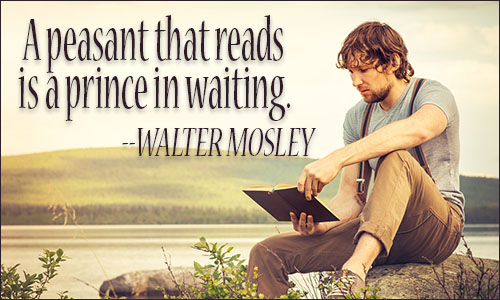 What is reading but silent conversation.
WALTER SAVAGE LANDOR, Imaginary Conversations
2 likes
---
Think before you speak. Read before you think.
FRAN LEBOWITZ, The Fran Lebowitz Reader
1 likes
---
The more that you read,
The more things you will know.
The more that you learn,
The more places you'll go.
DR. SEUSS, I Can Read with My Eyes Shut!
1 likes
---
Until I feared I would lose it, I never loved to read. One does not love breathing.
HARPER LEE, To Kill a Mockingbird
1 likes
---
Books are the plane, and the train, and the road. They are the destination, and the journey. They are home.
ANNA QUINDLEN, How Reading Changed My Life
1 likes
---
A house without books is like a room without windows.
HENRY WARD BEECHER, "The Duty of Owning Books", Manford's Magazine, Volume 30
1 likes
---
Education ... has produced a vast population able to read but unable to distinguish what is worth reading.
G. M. TREVELYAN, English Social History
0 likes
---
We never reflect whether the story we read be truth or fiction. If the painting be lively, and a tolerable picture of nature, we are thrown into a reverie, from which if we awaken it is the fault of the writer. I appeal to every reader of feeling and sentiment whether the fictitious murder of Duncan by Macbeth in Shakespeare does not excite in him as great a horror of villainy as the real one of Henry IV by Ravaillac as related by Davila? And whether the fidelity of Nelson and generosity of Blandford in Marmontel do not dilate his breast and elevate his sentiments as much as any similar incident which real history can furnish? Does he not, in fact, feel himself a better man while reading them, and privately covenant to copy the fair example?
THOMAS JEFFERSON, letter to Robert Skipwith, August 3, 1771
0 likes
---
Reading makes a full Man, Meditation a profound Man, Discourse a clear Man.
BENJAMIN FRANKLIN, Poor Richard's Almanac
0 likes
---
Trying to determine what is going on in the world by reading newspapers is like trying to tell the time by watching the second hand of a clock.
BEN HECHT, attributed, Jewish Wit and Wisdom
0 likes
---
If you don't have the time to read, you don't have the time or the tools to write.
STEPHEN KING, On Writing
0 likes
---
Whenever I read a poem that moves me, I know I'm not alone in the world. I feel a connection to the person who wrote it, knowing that he or she has gone through something similar to what I've experienced, or felt something like what I have felt. And their poem gives me hope and courage, because I know that they survived, that their life force was strong enough to turn experience into words and shape it into meaning and then bring it toward me to share.
GREGORY ORR, All Things Considered, February 20, 2006
0 likes
---
That was the problem with reading: you always had to pick up again at the very thing that had made you stop reading the day before.
NICHOLSON BAKER, Mezzanine
0 likes
---
One can read all one wants, and spend eternities in front of a blackboard with a tutor, but one is not going to learn to swim until one gets in the water.
DAVID MAMET, True and False
0 likes
---
What I look for most in the books I read is a sense of consciousness. It's so I know that I've lived. At the end, I can say, "Yes, I have been here--I was here, and I was paying attention."
LILI TAYLOR, O Magazine, August 2006
0 likes
---
Reading ... the best state possible in which to keep absolute loneliness at bay.
WILLIAM STYRON, Sophie's Choice
0 likes
---
A peasant that reads is a prince in waiting.
WALTER MOSLEY, The Long Fall
0 likes
---
Of all the diversions of life, there is none so proper to fill up its empty spaces as the reading of useful and entertaining authors.
JOSEPH ADDISON, The Spectator, June 18, 1711
0 likes
---
I read everywhere. It's like a bodily function. I don't need quiet. I write and read with the TV on. I follow the TV show while I read. TV doesn't require a lot of brainpower.
CHRIS ABANI, The Boston Globe, March 22, 2014
0 likes
---
The man who has not the habit of reading is imprisoned in his immediate world.
LIN YUTANG, The Importance of Living
0 likes
---