REALISM QUOTES
quotations about realism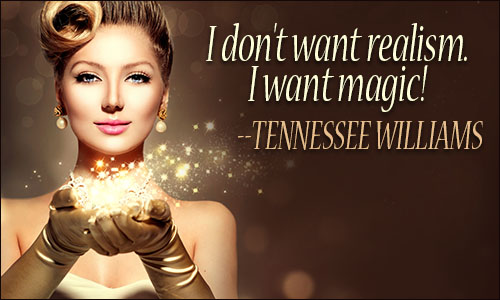 Realism, n. The art of depicting nature as it is seen by toads. The charm suffusing a landscape painted by a mole, or a story written by a measuring-worm.
AMBROSE BIERCE, The Devil's Dictionary
2 likes
---
Reality itself is too obvious to be true.
JEAN BAUDRILLARD, The Perfect Crime
2 likes
---
Reading the morning newspaper is the realist's morning prayer.
GEORG WILHELM FRIEDRICH HEGEL, Miscellaneous Writings of G. W. F. Hegel
1 likes
---
I don't want realism. I want magic!
TENNESSEE WILLIAMS, A Streetcar Named Desire
1 likes
---
People will kill you over time, and how they'll kill you is with tiny, harmless phrases, like "be realistic."
DYLAN MORAN, attributed, The Actor's Business Plan
1 likes
---
True realism consists in revealing the surprising things which habit keeps covered and prevents us from seeing.
JEAN COCTEAU, Le Mystère Laïc
1 likes
---
The monster I kill every day is the monster of realism. The monster who attacks me every day is destruction. Out of the duel comes the transformation. I turn destruction into creation over and over again.
ANAÏS NIN, Henry and June
1 likes
---
Realism ... falls short of reality. It shrinks it, attenuates it, falsifies it; it does not take into account our basic truths and our fundamental obsessions: love, death, astonishment. It presents man in a reduced and estranged perspective. Truth is in our dreams, in the imagination.
EUGENE IONESCO, The Tulane Drama Review, 1959
1 likes
---
It is a slice of life, a realistic play. If it can be criticised for being commonplace, it can certainly not be condemned for being untrue to life. So you will see mushrooms sprouting on the stage, which is incontrovertible proof not only that these mushrooms are real mushrooms, but that they are normal mushrooms too.
EUGENE IONESCO, Notes and Counter Notes
1 likes
---
I would rather create something that does not exist than pay homage to all the constraints of time, place, moment and specificity that realism dictates.
LYNDA LEHMANN, attributed, Art Quotes
1 likes
---
Realism and art cannot live together.
JENNETTE LEE, The Ibsen Secret
0 likes
---
Cynical is a fool's word for realist.
PAUL CHRISTOPHER, The Lucifer Gospel
0 likes
---
Some people argue against both optimism and pessimism in favor of so-called realistic thinking. They distrust optimism on the grounds that it causes us to sugercoat problems, discount risks, and exaggerate the upside. Pessimism, on the other hand, is criticized as too downbeat, de-energizing, and generally damaging in its impact. This crown prefers realism as the neutral and objective middle ground.
PRICE PRITCHETT, Hard Optimism
0 likes
---
Would it not be better to have it understood that realism, in so far as the word means reality to life, is always bad art -- although it may possibly be very good journalism?
SHERWOOD ANDERSON, "A Note on Realism", The Literary Review, October 25, 1924
0 likes
---
A realist is a man who knows both the world and his own dreams.
URSULA K. LE GUIN, The Word for World is Forest
0 likes
---
Scholars, who pride themselves on speaking their minds, often engage in a form of self-censorship which is called "realism." To be "realistic" in dealing with a problem is to work only among the alternatives which the most powerful in society put forth. It is as if we are all confined to a, b, c, or d in the multiple choice test, when we know there is another possible answer. American society, although it has more freedom of expression than most societies in the world, thus sets limits beyond which respectable people are not supposed to think or speak.
HOWARD ZINN, Howard Zinn on War
0 likes
---
Realism is a very sophisticated form of literature, a very grown-up one. And that may be its weakness. But fantasy seems to be eternal and omnipresent and always attractive to kids.
URSULA K. LE GUIN, interview, The Paris Review, fall 2013
0 likes
---
The secret of happiness is to face the fact that the world is horrible, horrible, horrible.
BERTRAND RUSSELL, attributed, Bertrand Russell: The Passionate Sceptic
0 likes
---
Nothing is more real than nothing.
SAMUEL BECKETT, Malone Dies
0 likes
---
After all, I, the reader, am the measure of all realism. Read as I do and you'll live up to Caesar's legacy.
MAURIZIO VIANO, A Certain Realism: Making Use of Pasolini's Film Theory and Practice
0 likes
---