REALITY QUOTES
quotations about reality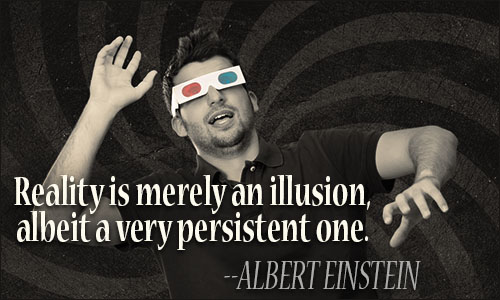 The people who say you are not facing reality actually mean that you are not facing their idea of reality. Reality is above all else a variable. With a firm enough commitment, you can sometimes create a reality which did not exist before.
MARGARET HALSEY, No Laughing Matter
27 likes
---
Reality is that which when you stop believing in it, it doesn't go away.
PHILIP K. DICK, Valis
11 likes
---
Reality is merely an illusion, albeit a very persistent one.
ALBERT EINSTEIN, attributed, Wisdom for the Soul: Five Millennia of Prescriptions for Spiritual Healing
9 likes
---
Every human being relies on and is bounded by his knowledge and experience to live. This is what we call "reality". However, knowledge and experience are ambiguous, thus reality can become illusion. Is it not possible to think that, all human beings are living in their assumptions?
ITACHI UCHIHA, Naruto: Shippūden
9 likes
---
We take a handful of sand from the endless landscape of awareness around us and call that handful of sand the world.
ROBERT M. PIRSIG, Zen and the Art of Motorcycle Maintenance
7 likes
---
The unreal is more powerful than the real. Because nothing is as perfect as you can imagine it. Because it's only intangibles, ideas, concepts, beliefs, fantasies that last. Stone crumbles. Wood rots. People, well, they die.
CHUCK PALAHNIUK, Choke
5 likes
---
If you try hard enough, you can bend the spoon; you can shift reality.
CHRISTOPHER MELONI, Men's Health, December 2005
5 likes
---
There's no remaking reality.... Just take it as it comes. Hold your ground and take it as it comes. There's no other way.
PHILIP ROTH, Everyman
5 likes
---
What we call reality is the inevitable persistence of a fact of consciousness.
SAMUEL HARRIS, The Philosophical Basis of Theism
5 likes
---
Sometimes legends make reality, and become more useful than the facts.
SALMAN RUSHDIE, Midnight's Children
4 likes
---
Reality doesn't impress me. I only believe in intoxication, in ecstasy, and when ordinary life shackles me, I escape, one way or another. No more walls.
ANAÏS NIN, diary, July 7, 1934
4 likes
---
I'm not crazy about reality, but it's still the only place to get a decent meal.
GROUCHO MARX, attributed, Philosophy on the Go
4 likes
---
Imagination might be scarier than reality ... but not by much.
JAMES SIEGEL, Detour
3 likes
---
True reality is what we experience when all the perception is set aside. For instance, when we go to Yellowstone National Park and we are looking at the beautiful mountain covered with snow and we are in awe of its beauty, in that instance we are experiencing reality. We are not thinking about anything but rather are just experiencing. When we start to put some thought to our experience, that is when it becomes perception rather than true reality. That is when the perception becomes skewed because we are relating our past experiences to an interpretation of the present experience.
RODNEY GROVES, Stepping Stones to Personal Empowerment
3 likes
---
He who has the bigger stick has the better chance of imposing his definitions of reality.
PETER BERGER, "The Social Construction of Reality"
3 likes
---
Isn't reality an insatiable AIDS-riddled whore?
ROBERTO BOLAÑO, 2666
2 likes
---
The fact that different species perceive reality very differently is quite evident. But it gets particularly interesting when it comes to human bodily experience. We are the only species able to transform our bodily perceptions into language that can then be used to create primary metaphors that then can be used to create more abstract metaphors. When we stop to think about how much of our daily communications are based upon bodily metaphors, we begin to realize how important bodily experience is to the thinking process. We "grasp" an idea, are out of "touch" with reality, "stretch" our mind, "grab" onto a possibility, "walk" through a problem, "feel" someone's pain, "smell" a rat, "see" through what someone is telling us, "lose ground," "stand up" for our principles, "run" up a bill, "stumble" into a relationship, and on and on. It is through the use of metaphors ... that we imagine and construct most of our reality. Using metaphors is a way of enriching our bodily experience and giving us a story-line that others can use to identify with us because they too base their experience on a common bodily, spatial, and temporal orientation that is the same for all human beings.
JEREMY RIFKIN, The Empathetic Civilization
2 likes
---
Existence is of little interest save on days when the dust of realities is mingled with magic sand.
MARCEL PROUST, Within a Budding Grove
2 likes
---
Perhaps reality is something quite different from what is proposed in any theory and the only remaining constraint on our knowledge is our personal efforts to make our thoughts cohere with one another.
R. G. A. DOLBY, Uncertain Knowledge
2 likes
---
We live on two levels ... the realistic level and the fantastic level, and which is the real one, really?
TENNESSEE WILLIAMS, The Night of the Iguana
2 likes
---