RECYCLING QUOTES
quotations about recycling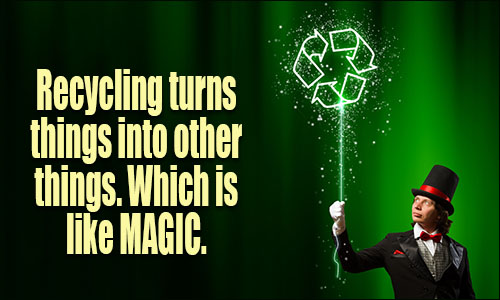 While recycling is great in a lot of ways, the ultimate goal is to get people to prevent waste in the first place.
MCKENZIE JONES, "Recycling made easier with new city app", Arizona Daily Sun, February 11, 2016
46 likes
---
Recycling is more than just a response to the environmental crisis and has assumed a symbolic role in beginning to change the nature of western societies and the culture of consumerism. Indeed many environmentalists assume that there will be an inevitable shift from our "throwaway" society to a post-industrial "recycling" society of the future.
MATTHEW GANDY, Recycling and the Politics of Urban Waste
44 likes
---
Recycling turns things into other things. Which is like MAGIC.
ANONYMOUS
21 likes
---
Recycle the present, save the future.
ANONYMOUS
17 likes
---
Recycle. The possibilities are endless.
ANONYMOUS
10 likes
---
All the human and animal manure which the world wastes, if returned to the land, instead of being thrown into the sea, would suffice to nourish the world.
VICTOR HUGO, Les Misérables
9 likes
---
There is no such thing as "away". When we throw anything away it must go somewhere.
ANNIE LEONARD, attributed, The Story of STUFF Project
6 likes
---
Never refuse to reuse.
ANONYMOUS
6 likes
---
If you're not buying recycled products, you're not really recycling.
ED BEGLEY, JR., attributed, Living an Eco-Friendly Life
5 likes
---
Recycle today for a better tomorrow.
ANONYMOUS
5 likes
---
Recycling is often portrayed within environmentalist literature as integral to the conception of an alternative society founded on small-scale community based industries and commune type human settlements. The aims is to create self-sufficient sustainable urban communities based around local production for local consumption from local resources.
MATTHEW GANDY, Recycling and the Politics of Urban Waste
4 likes
---
When you refuse to reuse it's our Earth you abuse.
ANONYMOUS
4 likes
---
It started as a selfish act and has turned into a way of life. I can't stand to watch someone throw anything away that belongs in my green bin.
JEN HATMAKER, 7: An Experimental Mutiny Against Excess
3 likes
---
One green bottle,
Drop it in the bank.
Ten green bottles,
What a lot we drank.
Heaps of bottles
And yesterday's a blank.
But we'll save the planet,
Tinkle, tinkle, clank!
WENDY COPE, "A Green Song", Serious Concerns
2 likes
---
Thanks to my mother, not a single cardboard box has found its way back into society. We receive gifts in boxes from stores that went out of business twenty years ago.
ERMA BOMBECK, attributed, The Official Mom Book
2 likes
---
Don't be trashy. Recycle.
ANONYMOUS
2 likes
---
I would rather see us recycle fewer things well, than more things poorly.
DAVID ALLAWAY, "Can circular thinking set us free from the 'recycling religion'?", Green Biz, February 5, 2016
2 likes
---
Listen up, you couch potatoes: each recycled beer can saves enough electricity to run a television for three hours.
DENIS HAYES, attributed, E Is for Environment: Stories to Help Children Care for Their World--at Home
1 likes
---
Is recycling to do with global warming? Need you ask? Well, I only ask because we've been recycling for twenty years or so, and no one was talking about global warming back then.
JULIAN BARNES, Pulse
1 likes
---
Solid wastes are the discarded leftovers of our advanced consumer society. This growing mountain of garbage and trash represents not only an attitude of indifference toward valuable natural resources, but also a serious economic and public health problem.
JIMMY CARTER, Journal of the House of Representatives of the United States, 1978
1 likes
---