REGRET QUOTES
quotations about regret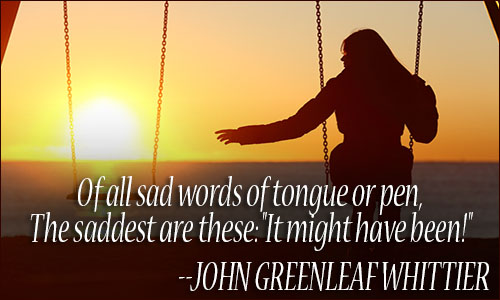 Speak when you are angry and you will make the best speech you will ever regret.
AMBROSE BIERCE, The Devil's Dictionary
6 likes
---
Remorse is the poison of life.
CHARLOTTE BRONTË, Jane Eyre
3 likes
---
So it is with all life. A tedium that includes the expectation of nothing but more tedium; a regret, right now, for the regret I'll have tomorrow for having felt regret today.
FERNANDO PESSOA, The Book of Disquiet
3 likes
---
Regret is ... an unavoidable result of any loss, for in loss we lose the tomorrow that we needed to make right our yesterday or today.
GERALD LAWSON SITTSER, A Grace Disguised
2 likes
---
Often regret is very false and displaced, and imagines the past to be totally other than it was.
JOHN O'DONOHUE, Anam Cara
2 likes
---
In history as in human life, regret does not bring back a lost moment and a thousand years will not recover something lost in a single hour.
STEFAN ZWEIG, Stellar Moments in Human History
2 likes
---
It is human nature to want to go back and fix things or change things that we regret.
JOHN GRAY, Mars and Venus on a Date
2 likes
---
Men become cannibals of their own hearts; remorse, regret, and restless impatience usurp the place of more wholesome feeling: every thing seems better than that which is.
MARY WOLLSTONECRAFT SHELLEY, Lodore
2 likes
---
O that word REGRET!
There have been nights and morns when we have sighed,
"Let us alone, Regret! We are content
To throw thee all our past, so thou wilt sleep
For aye." But it is patient, and it wakes;
It hath not learned to cry itself to sleep,
But plaineth on the bed that it is hard.
We did amiss when we did wish it gone
And over: sorrows humanize our race;
Tears are the showers that fertilize this world;
And memory of things precious keepeth warm
The heart that once did hold them.
JEAN INGELOW, "Regret"
2 likes
---
Regret for the things we did can be tempered by time; it is regret for the things we did not do that is inconsolable.
SYDNEY J. HARRIS, Sam Horn's Tongue Fu!
1 likes
---
Of all sad words of tongue or pen,
The saddest are these: "It might have been!"
JOHN GREENLEAF WHITTIER, "Maud Muller"
1 likes
---
Is it really so difficult to tell a good action from a bad one? I think one usually knows right away or a moment afterward, in a horrid flash of regret.
MARY MCCARTHY, My Confession
1 likes
---
Regret, which is guilt without the neurosis, enables us ... to move forward instead of back.
JANE ADAMS, When Our Grown Kids Disappoint Us
1 likes
---
The most frequent cause of regret for what we have done is because its effects interfere with what we would do.
NORMAN MACDONALD, Maxims and Moral Reflections
1 likes
---
Regret of neglected opportunity is the worst hell that a living soul can inhabit.
RAFAEL SABATINI, Scaramouche
1 likes
---
Love lives in sealed bottles of regret.
SEÁN O'FAOLÁIN, Saturday Evening Post, August 13, 1966
1 likes
---
How can you not have any regrets? It's impossible. No regrets? Bulls**t. I don't believe anybody who tells me that.
CHUCK BARRIS, Esquire, January 2003
1 likes
---
I see it all perfectly; there are two possible situations -- one can either do this or that. My honest opinion and my friendly advice is this: do it or do not do it -- you will regret both.
SOREN KIERKEGAARD, Either/Or: A Fragment of Life
1 likes
---
Something will be gathered from the tablet of the most faultless day for regret.
MRS. SIGOURNEY, attributed, Day's Collacon
1 likes
---
The best evidence of regret for wrong actions in the past, is right ones in the future; it is the best apology we can give to the world and to ourselves.
T. EDWARDS, attributed, Day's Collacon
1 likes
---