REINCARNATION QUOTES
quotations about reincarnation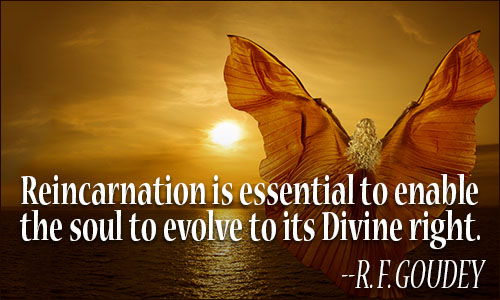 In the light of reincarnation life changes its aspect, for it becomes the school of the eternal Man within us, who seeks therein his development, the Man that was and is and shall be, for whom the hour will never strike.
ANNIE WOOD BESANT, Reincarnation
2 likes
---
I have been told that Reincarnation is a very gloomy religion; that the law of karma leaves life without hope. I can answer this by saying that Reincarnation has nothing to do with religion. Reincarnation is a natural law in operation, a penetration into the laws of cause and effect. Science has taught us (in the physical world) that nothing can die, for nothing is ever totally extinguished. When one form of animation leaves the body another is switched on. The body which is alive in all its cells begin to function in another direction. It fertilizes life, which life in turn fertilizes other life.
GERVEE BARONTE, Your Previous Life on Earth
1 likes
---
I don't believe in reincarnation because there's an expert on this question, and he's Jesus of Nazareth. He's the only person in history who died, rose from the dead, and spoke authoritatively on this question. And Jesus says reincarnation doesn't happen. He says that there's only one death and after that comes the judgment.
LEE STROBEL, The Case for Faith
1 likes
---
The object of our sojourns on earth, as apart from the gaining of experience, is but one. The loosing of ourselves from the coil of reincarnation, which, over and over again, brings us back to earth as on a coiled spring, until, having learned the last lesson of matter, leaped the last barrier, we are freed for ever from earth.
SHAW DESMOND, Reincarnation for Everyman
1 likes
---
Those who accept the truth of Reincarnation do not blame their parents for their poor talents, or for not possessing extraordinary powers, but they remain content with their own lot, knowing that they have made themselves as they are today by their own thoughts and deeds in their previous incarnations.
SWAMI ABHEDANANDA, Reincarnation
1 likes
---
We travel with the same clan over and over again, from one life to the next, until some ultimate purpose is fulfilled and we no longer need to return. When we Illuminate the road back to our ancestors, they have a way of reaching out, of manifesting themselves ... sometimes even physically.
RAQUEL CEPEDA, Bird of Paradise: How I Became Latina
1 likes
---
Reincarnation ... makes life what it is intended to be -- a glorious adventure in which victory is absolutely sure to be ours if we persist. It proves that man [is] ... master of his fate on his road to the stars.
SHAW DESMOND, Reincarnation for Everyman
0 likes
---
I believe we are reincarnated. You, I, we reincarnate over and over. We live many lives, and store up much experience. Some are older souls than others and so they know more. It seems to be an intuitive "gift." It is really hard-won experience.
HENRY FORD, Theosophist Magazine, February 1930
0 likes
---
Reincarnation is essential to enable the soul to evolve to its Divine right.
R. F. GOUDEY, Reincarnation: A Universal Truth
0 likes
---
The extent of the logical evidence for reincarnation is amazing. It is found to explain justly many of the problems of daily life ... it reasonably accounts for such psychological problems as sudden friendships, awakening memories of past associations, certain strange actions of children, the nature of genius, obsession, and dual personality.... By this doctrine the world becomes a huge training school, guided by law, and ruled by Divine Justice, instead of being a bewildering maze of chaotic and chance accidents.
R. F. GOUDEY, Reincarnation: A Universal Truth
0 likes
---
Reincarnation involves a free choice of action constantly, and constantly an opportunity for re-making one's self and one's surroundings.
EUSTACE MILES, Life After Life
0 likes
---
Sex is one of the nine reasons for reincarnation ... The other eight are unimportant.
HENRY MILLER, Big Sur and the Oranges of Hieronymus Bosch
0 likes
---
Reincarnation, at least as I conceive it, does not nullify what we know about evolution and genetics. It suggests, however, that there may be two streams of evolution -- the biological one and a personal one -- and that during terrestrial lives these streams may interact.
IAN STEVENSON, Children Who Remember Previous Lives
0 likes
---
Only one who denies that the soul lives on can deny reincarnation. For the rest ... it must be considered.
EDWARD REAUGH SMITH, The Soul's Long Journey
0 likes
---
What orthodox religion calls "inscrutable" ways of "Providence," the believer in Reincarnation calls justice.
EUSTACE MILES, Life After Life
0 likes
---
Did you ever begin to consider what would happen if everyone on Earth believed in reincarnation? If they believed that all that could happen to them in death would be rebirth in another being, we would have mass suicide every time something went wrong in their lives, along with total disregard for individual actions and of course, chaos.
JON CALLAGHAN, Again and Forever
0 likes
---
Reincarnation is, indeed, the key which unlocks all doors, the universal "combination," before which our manacles fall from our limbs -- the life-line by which the crooked way is made straight.
SHAW DESMOND, Reincarnation for Everyman
0 likes
---
My only fear of death is reincarnation.
TUPAC SHAKUR, "No More Pain"
0 likes
---
It may be that no life is found,
Which only to one engine bound
Falls off, but cycles always round.
ALFRED TENNYSON, The Two Voices
0 likes
---
I cannot think of permanent enmity between man and man, and believing as I do in the theory of reincarnation, I live in the hope that if not in this birth, in some other birth I shall be able to hug all of humanity in friendly embrace.
MAHATMA GANDHI, Teachings of Mahatma Gandhi
0 likes
---